Viber HD for Lumia Windows Phones pulled from the Marketplace?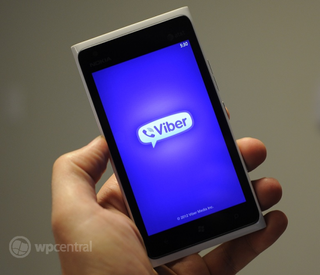 Now you see it, now you may not.
Viber has been pulled from the Marketplace, according to multiple sources which include reports from Windows Phone Central readers. The app, which is currently a Nokia exclusive, was released over the weekend but is no longer available to a number of consumers. We're still able to access the listing and download the Nokia exclusive Viber from the UK. So, has it vanished? If so, why?
We've seen on Twitter a number of users tweeting usage of the app so we know it's definitely available out in the wild - and we're able to confirm ourselves it's accessible. However, it appears as though certain markets are simply unable to download the app. We're not sure whether this is a Marketplace issue, or if the app has indeed been pulled.
A number of tips we received on this potential issue have also included details about possible bugs that may have caused Viber to be pulled. These include missing contacts and connectivity issues. If this is indeed the case, we expect to see details published by either Viber, Microsoft or Nokia to enlighten consumers on the situation.
We've reached out to Viber for confirmation. Are you experiencing issues when attempting to download Viber HD? Let us know in the comments.
Thanks to everyone who tipped us!
Windows Central Newsletter
Get the best of Windows Central in in your inbox, every day!
Rich Edmonds was formerly a Senior Editor of PC hardware at Windows Central, covering everything related to PC components and NAS. He's been involved in technology for more than a decade and knows a thing or two about the magic inside a PC chassis. You can follow him on Twitter at @RichEdmonds.
Me and a mate managed to download in the uk, but the voice call doesn't work and all you get is silence, followed by disconnection

Same issue ... Even messages are not being sent ... India.

Same for me. It's an absolute cock-up of an app. Voice calls are silent on both ends. Text messages are not being sent. The 'Connect to Facebook' option doesn't work. There's an option to turn of Push Notifications which then says you must have them on and turns them back on (what's the point in this option?) All in all, it works fine except for the actual purpose of this app.

Same thing here. Silence is a blessing, though.

Same problem to msg work but call not working pls update i sild my samsung and i have many buyer use viber but now i cant contact them bec viber call mot work i love nokia lumia pls update

I am facing voice problem only.
Lumia 900 & 800.

I have to re Sign Up every Day... Lumia 800 Germany

Same thing. Was able to download, but silence followed by disconnection when voice calling

Same issues here as well. Silence followed by disconnection. Never rings when someone calls or when you call them.

Am able to make/receive calls, but no voice is being heard by both party. Total silence followed by auto disconnection after around 10 seconds.

Mine is cant accept incoming call. When call out, no sound.

Viber still available in the Philippines...
but same issue as others...
VOICE service is having an issue not connecting...
but the messaging and photo sharing seem to be working...

Maybe if it wasn't an exclusive it would work.... Just kidding. Lol.

Downloaded Viber HD successfully last night, but just checked and can confirm that it has been pulled from the New Zealand marketplace.
Been having the same problems as people have already mentioned with the app.

Great quality control there, and this with only 4 lumia models they had to get it working on.

Can also confirm newzraland has pulled it

Just downloaded. India Lumia 710. https://skydrive.live.com/redir?resid=A2D089563418DFF2!229&authkey=!APBh...

Hi all,
This is an official member of the Viber R&D Team.
We have decided to pull our calling update from Market Place due to problems found with the calling feature for some users.
We are working around the clock to fix the problem, and we hope to make a new version available on Market Place shortly. We apologize for the temporary inconvenience, and we recommend that you stay tuned for news and updates. Regards,
the Viber Team.

Yeah right, in the mean time, also update the screenshot on your home page which shows an HTC Titan making voice calls using Viber. Also update the available on Windows Phone logo to Voice Calls on Nokia only. That way people are not misguided....
...or for God's sake remove the Nokia exclusivity

How about saying "thank you" to viber for being nice enough to keep us in the loop instead of bashing them and using this as as excuse to not-so-subtly complain about Nokia having exclusives? All smartphones, let alone Windows Phones have exclusives.

Apps like Nokia Maps if made exclusive, makes sense...not apps like Viber which are already available on multiple platforms. What if they make Whatsapp and Skype Samsung exclusive and Facebook and Instagram HTC exclusive, then we will see who doesn't complaint. Broadly, the entire apps ecosystem for WP is getting divided coz of this BS

That argument would make sense if most of the exclusives weren't timed, if Skype wasn't Microsoft's, if Facebook wasn't built into the OS, and Whatsapp and Instagram weren't two entirely optional apps with alternatives that were better than each respectively.

And thank you Viber for letting us know what is going on.

Thank you Viber for your response! Got excited when I downloaded the app and it's unfortunate that bugs existed but better late then never (hopefully not too late =p)...either way, thanks for making the app available and I'm really looking forward to making Viber calls soon! =)


I download it yesterday.Very Good UI,very beautyfull.But now,is no longer available.Germany.

issue with me on this new Viber was that during call audio was routed through speaker always and not the phones earpiece.

You can still download through wpcentral link... Open the story in ie, and press the link there.
It worked fine, the first day, voice and all, then I got the issue of only on speaker audio, and then silence.
At least we know now that viber is trying.... Good luck...

I still see it in the Nokia collection. NL900 US.

Still available in Canada

Silence followed by disconnection. Not available. Lumia 800. México.

+1 Silence followed by disconnection.
Thanks for the effort Viber (and Nokia :))

Thanks for informing us about what's happening
Make sure u guys fix those bugs and release it soon

@pankaj981 That's the price you should pay when a company wants to drive the whole ecosystem. From Nokia's perspective it's the only hope, for everybody else, it's a second option. So when Nokia partnerships to build apps, that people on this platform miss, they want Nokia's customers to get it, that's very normal and they want people like you to feel that passion as well. So if you want to benefit, don't hasitate to sale on this ship.

I've got the app two days ago. The voice calls doesn't work (just silence in both sides) and conectivity is always maked as poor or avarege in voice calls, even if i'm closer to the router.
The app is no longer available in brazilian market place too.
At least we have Skype...

Hello Viber Team, I do respect your hard work and effort to keeping your customers satisfied.
But, I have something to be considered concerning the Viber Features.
When I installed the previous one, I wasn't able to turn it Silent. I couldn't find the option in the settings. So, it would be appreciated if you add it. And sure We're Always tuned for the updates :) Thanks in advance.
Best,

Silent as in to remove the push notification's buzz and the incomming messages? You can silent it by setting your phone's to vibrate mode.

Thanks for replying.
I do need the push notifications. Actually, while my phone is set Silent, Viber still rings so loudly!!

Yes, this is the case. But, I tried and seemed to me that the phone's volume and vibrations settings aren't related to the Viber. Anyways, I'll check this out again when u release the new update.
We'll keep in touch :)



Any word yet on Viber being released for WindowsPhone 8 ??
Windows Central Newsletter
Thank you for signing up to Windows Central. You will receive a verification email shortly.
There was a problem. Please refresh the page and try again.