Viber update brings number blocking, in-chat notifications and new emoticons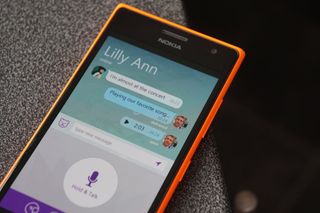 Popular messaging app Viber picked up an update to version 4.4.0.0 that brings number blocking to the service. Also included in the update is message notifications when you're already in a conversation, as well as new emoticons and performance improvements.
Here's the changelog for the update:
Block any number
Added indication of new messages in chats.
New Emoticons
Performance improvements
With over 460 million users globally, Viber is one of the most popular messaging platforms available. Download the update from the link below, and let us know how you like the changes in the comments.
Thanks for the tip Nahid!
Still under par
Posted via Windows Central App for Android...

Agreed..Slow and calls don't get through..!!

Yes. Very slow to open and respond.

Very fast on my family's 620, 520, 535

Works fine for us. A 1020 and two 920s currently in the family.

Which part of "Crashes randomly and isn't stable" don't they understand? Glad they're trying to improve but wouldn't it be smarter to fix the basic functionality first ?

It seems definitely faster since the last update.

I hate all The apps that doesn't Support the display of my 1520 and there is always this black bezel down there.das gib's doch nicht...

Should have bought a low-ender..!! :P:P

Which part? I don't see any black bar in the app..

Do you have 1520?When you are in someone's chat,the black bezel comes.Thats happening because viber for windows phone doesn't support the full HD of 1520.The characters,numbers etc normally should be like whats app.

Ahh.. I see it now and cannot unsee it.. lol

At the bottom of the screen, it's a very small black bar. It's easiest to see if you hold the back button and bring up the open apps list. That being said, this app (windows central) does the same. I never would have noticed it if it hadn't been brought up.

Thats because the app is made for wp8.0 and os an 8.0 project. The apps cant do anything because of this bug the wp8.0 SDK was delivered without the 6" screens and in this time they have not coded it to fit all sizes. Developers set the app height to 100% but the app renders on an lumia 1520 with this small black bar at the bottom. This is fixed with wp8.1 SDK but not all devs want/can support this new SDK that limits their apps... It is frustrating, i know. :( have the same for my app because its an wp8.0 project and i cant upgrade it to 8.1 because it will break functionality.

That was my first thought when I saw the post.

Why they don't add video call?

Yea Skype is good but the app lags, crashes..

Sticker market still bugs. Open one go back, then all buttons are text boxes where I only can mark the texts.. Been that for some updates now. Reinstall didn't work last time. Maybe this time it will.

I also preferskype and fortunately my skype doesn't have any problem.But the point is that the app should be on par with other platforms.

Totally forgot that I had this app installed until now :D

And does any one get push notifications at all?

Yup. If not, go check your notifications settings and disable some other app notifications. I believe there's a limit of how many apps can notify.
Also, if you don't use an app for two weeks, notifications get turned off.

integrated Skype all i need and goodbye viber

Its a shame. I like the product but I have a lot of moral issues using any product produced by a former Chief Information Officer for the Israeli Army. I know it was sold but he is still there.

I can understand your feeling bro :( WORLD needs to understand this !

Bring up the Video calling!

Not fit no my Lumia 535 screen

Viber is making fun of us.. I'm waiting for months to get the video calls feature and they don't even work in it!!! Viber sucks!! Go to line, it's the best.

It won't even start now on my lumia 730 :\

Viber is beginning to be dated and sub-par in the way it works...when it works! Line just did a major update and now supports free Video calls. Service is better, performance is better, results are better!! Bye bye Viber!

Viber seems to rival whatsaap with features and users I've been using whatsaap like forever all my friends and family do too.

video calling option please, as skype hangs a lot on windows phone 8.1

Really? After the update in my lumia 630 it is not opening. I tried uninstal and instal but it didn't work. What an performance update from VIBER! >_< Need to fix it ASAP.

It's not even starting anymore on my 1020
And no video calls its a shame all other platforms have it months ago
Please update again

Slow?What are you talking about?3 sec on my 920.

Omg, another update and still no ability to use solid color as background instead of noisy default.
Also Viber is missing from Sahre options. Does anyone have same problem?

Not update video call like wimdows 8 .

I think the most annoying thing is, sadly, no support for backup :( That way you use ALL messages! :(
Windows Central Newsletter
Get the best of Windows Central in in your inbox, every day!
Thank you for signing up to Windows Central. You will receive a verification email shortly.
There was a problem. Please refresh the page and try again.