Viber for Windows 8.1 updated with spell checker support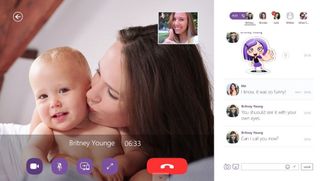 It's been a few months since the Viber team has updated its messaging and chat client for Windows 8.1, but today those users can download the new 4.1 version from the Windows Store. It adds support for a spell checker for text messages among its new features and improvements.
Here's a look at what's new in version 4.1 for Viber on Windows 8.1:
Spell checker
Change the chat width
Forward messages directly from the chat screen
Improved badge notifications
If you are a new Viber user, keep in mind that the Windows 8.1 version requires that you first install and use the Windows Phone or other smartphone app version of Viber.
Download Viber from the Windows Store (opens in new tab) (Free)
Download Viber from the Windows Phone Store (Free)
Windows Central Newsletter
Get the best of Windows Central in in your inbox, every day!
Still no video calling support :\

Wait for Windows 10 version of Viber. I can confirm about this. Here's picture from Viber's press release.

Can't wait for Windows 10 release and all those cool universal apps.

I wish Whatsapp and Kik release their official clients for W10.

It's not an app, but you can use Whatsapp with your browser for few weeks now. I know it's not the best solution, but it's something

I know that. I'm just wishing for a desktop client like Viber does. Not the web version.

That would be completely opposite to the mobile type system that WhatsApp has been following. Don't hold your breather over this. I don't think it will happen.

No. They could release a universal(stand-alone) app that does the exact same thing the web version does. Except maybe not making users scan QR codes upon every launch. That's not very hard.

I don't think you understand WhatsApp's cryptography implementation.
Unless they restructure like Skype did, no standalone apps, will need phone to tether....

Started using Viber on my laptop, it is actually good. It is always good to have all your communication available on every device. Though wish people used Skype as it is overall better, the only thing that makes viber better is the ease of setup and adding contacts.

Viber is not that great on WP compared to other OSes.

It'll be great soon! Wait until Windows 10 come, I promise this.

From where do you know that its gonna be better in Windows 10. I just want viber to launch faster

From Viber's press release in Thai language. PR of Viber sent it to me last week.

I'm just a ordinary guy. This information came from PR of Viber Thailand ;-).

I was asking for your post or position in a tech company if any.

I'm blogger, not a person in Viber. This information came from Viber.

My only problem is that I can't sign in in the Windows phone version

Take that ever loading damn splash screen with your logo off. Unlike android this just stands for minutes displaying your logo. Secondly, No video call support yet. Thirdly, way too slower than WhatsApp.

If Viber was as quick and as fluid and as stable as WhatsApp is on WP, I would switch to it as soon as possible because most of my contacts use it along with WhatsApp. Can't stand the fact it belongs to Facebook now.

A little of topic, my surface 3 is failing to install programs that use msi. Anyone know what to do?

A little of topic, my surface 3 is failing to install programs that use msi. Anyone know what to do?

Wish whatsapp could learn same, and not a web app
Windows Central Newsletter
Thank you for signing up to Windows Central. You will receive a verification email shortly.
There was a problem. Please refresh the page and try again.