Viber for Windows 8.1 now supports video calls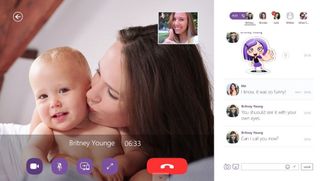 The Viber VoIP app for Windows 8.1 can now be used for video calls for the first time, thanks to its latest update that brings its version number up to 4.0. Viber also updated its Windows Phone app earlier today.
The first version of Viber for Windows 8.1 made its debut in December 2013. The change log for the new 4.0 version also reveals some more additions. Here's the break down:
Make video calls (supported on PC)
Viber Out: call non-Viber mobile and landline numbers at low rates
Easily see all photos in a chat by swiping
New Emoticons
Support right-to-left languages
If you want to use the Windows 8.1 Viber app, you must first install and use the Windows Phone or other smartphone version of Viber.
Thanks to Mahdi for the tip!
Windows Central Newsletter
Get the best of Windows Central in in your inbox, every day!
I would say Tango if you have asked this to me 3 years ago.

Viber, skype is a mess and no practical for everyday use

both! I am using skype and viber and all my friends are using them too

I want video calling for windows phone !!!! :/

Oh right . UNIVERSAL APPS !!! :)

Even the official facebook app?

This is what I really want to know!

Yup everything i think :)

Really? Via what service?

Can I use a video call on my viber?

you can have it today: wechat, skype, lync (aka 'skype for business') - not universal but they work

And windows phone hasn't yet got that feature...2015 might be the year....

Plz give us free voice call in Skype

Supported in US. May not be there elsewhere.

I can't call free in the U.S. Georgia or Michigan

Hopefully Viber and What's App will get integrated into the Messaging Hub app as well as other messaging apps. I love that they are making it a hub again and hopefully it will be a Universal App.

I literally wish for it to happen !

They did say, it is designed to work with VoIP services like Skype. So I think the API is more a hub that apps hook into

The info so far is that only operator services can hook in. No word on other IM clients.

I think, no IM providers are interested for integration.

In my place video call = Skype

Especially when it is supported right on the regular phone call screen.

Please write something about wp 8.1 viber's bug. From today's update it's not starting after tried everything.

Err... It's working fine.

Try reinstalling. Bcoz Mine is working perfectly fine. It is lot faster now. No loading screen.

Nope it's not. See comments on that post. :(

i dont see update 4.0, i even deleted it on my tablet, an still wint show.
it find on my cell....

We want video calls on WP as well. Viber team, please!!! Wtf is wrong with you I'm bored waiting..this is getting ridiculous...i mean have you seen Viber on WP? The UI is the worst I have ever seen and the needed features aren't there as well... I'm going to line 10 times better. With video calls, better voice calls and sexy ui.. You should do the same people!!!

Oh gawd I though the impossible happened, wondering when video calling with viber will be available for windows phone!

Skype needs to become more mobile friendly in order to win converts. i.e. it needs to use phone numbers for registration. I read that feature is coming without a definite eta. Majority of my family is invested in Viber because of its ease in finding and calling users by phone numbers instead of needing to know email or Skype ID.

Very very good. Sure it comes to Phone as well. Keep patience

Good, Hope Soon these Features will be Available on The windows phone version

About friggen time! Next time Skype freezes up my desktop I'll give Viber a go.
Windows Central Newsletter
Thank you for signing up to Windows Central. You will receive a verification email shortly.
There was a problem. Please refresh the page and try again.