View is a beautiful and free Behance app for Windows Phone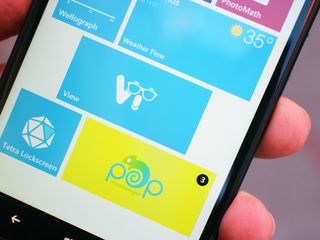 View is a new Behance app in the Windows Phone Store that you're going to want to check out. Behance is one of the most popular platform for artists to promote their work. But they don't have an official app for Windows Phone yet. We've covered a few unofficial apps in the past, like be (opens in new tab). View is another app that's aesthetically pleasing and useful to anyone who values Behance.
Here's a list of features you can look forward to in the first release of View on Windows Phone:
Explore projects, works in progress, creatives and collections from Behance.
Simple gestures for sharing the projects and works in progress of creatives.
Shuffle: searches for the projects based on the projects you explore
Quiky: lets you add the projects, works in progress, users and collections you like on Behance at a single place.
Provides you complete access to filter projects, works in progress, collections, etc.
Browse through a creative's profile, projects, collections, statistics, etc.
Search by projects, works in progress, users, etc. with many more filters.
Shows you the Popular Creative Fields
View is a free app and works on 512 MB devices. If you're an artist, graphic designer, illustrtor or any other type of creative you need to check this app out!
Windows Central Newsletter
Get the best of Windows Central in in your inbox, every day!
Nice app! But I can't log in
I'm the only one?

Seems like you have read the in-app notices (about no login) really well!

Behance is in the process of transitioning their login process to Adobe ID, that's why the login feature is not available to developers like me.
Thanks for trying my app. :)

Beautiful work! Thanks for what must have been a lot of hardwork to do this. Behance is my favorite showcase for design work.

Love Behance. Glad to get an app for it.

I will download and try this out, but I'm still holding my breath for this stunner to be released, maybe even as an official app: https://www.behance.net/gallery/18027789/Behance-(vIII)

Looks solid.A few suggestions: The pivot view is very smoothly animated but a little disorienting because the title is on the right side and seems disconnected from its subject. Also, since the dots move to position one each time there's no sense of progression through the screens. I recommend making the dots move with the position of the screens or using text labels like is more traditional with Windows Phone. The title is pretty large and the 'for Behance' competes with the titles below it. I would compact the title/for Behance to take up the current space of the title. Color scheme looks a little odd currently, maybe something in Behance blue?

Hi, Thanks for the suggestions.
1. I always like to experiment with pivot and extend Metro UI. Most of the people have liked my design, but some of them say that I have gone too far from Metro. From next time, I will take care of what you've pointed out here.
2. Title is large because that's what Metro design says.
3. I wanted my app to stand out, that's why I chose a different color. Initial design mockups had Behance blue color, but I didn't really like it. Thanks once again.

I don't really use behance but props to the dev. Looks nice

You should give it a try. :)

Been waiting for this all my life!!!
Windows Central Newsletter
Thank you for signing up to Windows Central. You will receive a verification email shortly.
There was a problem. Please refresh the page and try again.