Vito Technology Software Roundup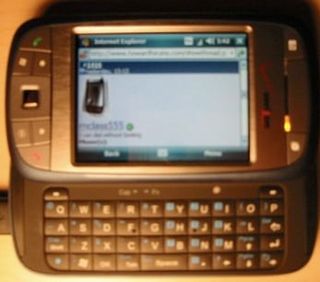 Note from Dieter: Welcome to Tim Hillebrand, who gives us his first article for WMExperts today, a round up of software that's available from Vito Techonology
Founded in 1999, Vito Technology employs 30 people and occupies four floors of a large building in Novosibirsh, Russia. While Vito offers an amazing array of software programs for handheld devices, it specializes in navigation and digital cartography. Vito also has considerable experience in custom software design, hardware development, and business solutions for mobile devices. Vito is a Microsoft Empower Program Partner.
Let's take a look at some of the programs available for Windows Mobile devices. Note that I tested these programs on a Treo 700wx, so I left off applications that did not work on my device.
Vito Update, 15 March '07
Some time has elapsed between the time I reviewed the Vito products and the publication of the roundup. Let me take this opportunity to offer some updates.
Audio Player has a special "Play as an Audio Book" mode that conveniently picks up where you left off, but it does not record phone calls. The latest version of QuickContact (3.0) can now be invoked by simply pressing the green button. Just as a heads up, ButtonMapper does not work on Smartphones; MobileDownloader and ThemeEditor still only work on Pocket PCs, not Smartphones. The new version of Navigator II still does not work on square screen Pocket PCs.
Multimedia Applications
AudioNotes $19.95
AudioNotes is a powerful recording solution that allows you to record everything from a phone conversation to lectures. You can use it to make quick hands free memos while you are driving. It's simple to use. You can even program a hardware button dedicated to its operation. When you have completed a recording, you can email it instead of laboriously tapping out a text message. The sound quality is superb. To conserve space, you can adjust the quality of the recording. To further save space, you can elect to install it on a storage card and store files there too.
AudioPlayer $9.95
Yes, your Windows Mobile 5 device comes with the Microsoft Media Player pre-installed. So, why would you want to spend extra money on yet another player? For me the answer is simple. Using Windows Mobile Media player is cumbersome to say the least. You have to navigate through endless menus and playlists to find files. AudioPlayer makes it ever-so-much-more-simple.
For convenience, AudioPlayer is set-up so that you can control it with the joystick and soft keys. Of course, you can also use your stylus. If you just want to cycle through all your music, just go to your storage card, and push play. Alternatively, you can play a single file once or repeat it, You can play just the songs in a particular folder, shuffle, boost the bass. To save battery power, you can turn off the screen. You can also set it to pause for an incoming call.
It plays MP3, OGG, and WAV formats, but unfortunately not WMA and some of the other formats now in vogue, so that is a limitation. As the name implies, it is solely an audio player and will not play video files nor some audiobooks.
RingtoneEditor $9.95
Why spend a fortune downloading ringtones and making someone else rich. Create your own out of any sound clip you like, even your own yodeling with Vito Ringtone Editor. This ringtone editor is far and away the best one I've ever tested. It allows you to find your files quickly no matter how deeply embedded they are. It allows you to start and stop your recording anywhere in the file you wish. This is an important feature because some other ringtone editors will only allow you to start at the beginning and the record for a predetermined time. If you are thinking of creating your own ringtones, this is the one to buy. Hey, you can even make ringtones to sell or give away as an incentive on your Website.
SketchArtist $15.95
If you ever wanted to create drawings like the forensic artists do for wanted posters, here's your chance. With this fun application, you can have a lot of fun making sketches of your friends and enemies. With the choice of thousands of facial features, you build a caricature feature by feature. You will be astounded by the variations in noses, eyebrows, chins, ears, etc. There are a different set of hairdos and features for males and females.
A word of caution: once you start playing with this program, it becomes addictive. The SketchArtist palette does not fit a Palm Treo's 240x240 screen; part of the bottom of the face disappears until you shrink it so that it will come into view. I hope Vito will soon offer a release configured for small square screens. You may wish to wait on this one.
SoundExplorer $24.95
SoundExplorer is really three programs in one. It is an MP3 player, a sophisticated sound recorder, and a file explorer just for sound files.
The player will handle MP3 and WMA files including GSM and ADPCM and operates with one button recording. You can even use voice commands, and you can schedule preset recording times. You can record everything from a lecture to a phone call and expect excellent playback quality. For some reason, I have a difficult time finding sound files in MediaPlayer, but SoundExplorer makes it a breeze.
The Today screen plug-in allows you to control the program directly, which can be very handy. SoundExplorer also gives you a set of tools for sound editing right on your Pocket PC. It's too bad that it's not a multimedia player.
Communications
QuickContact $15.95
Granted, Windows Mobile comes with several different methods of retrieving contact information However, QuickContact could save your life by allowing you to gain access to contact information with one hand. All the controls and large buttons are set-up for use with one hand and a finger. You don't ever have to touch the screen with a stylus.
There are three different search panel views. In the Box view, you start inserting letters until your desired contact appears. In the Diamond Panel mode, you can use a modified phone keypad to key in numbers or letters to seek your contact. In the touch panel you can use the standard phone keypad.
You can add new contact, sort by first and last name, and adjust the fonts to your specifications.
Have you ever had the dilemma of talking on the phone and having to search for a phone number at the same time? QuickContact allows you to expedite this cumbersome process with one hand while still talking.
Now all this is well and good, but there is no quick way to access the program itself. To make it readily available, it's a good idea to program a hardware button to invoke it. For that reason, you may wish to invest in Vito's ButtonMapper.
Voice2Go $29.95
Perhaps it's because Microsoft wants to sell you their voice manager program, but it has always surprised me that there is no voice command program pre-installed with Pocket PCs. If the one-handed operation of QuickContact isn't your thing, Voice2Go is instead a handsfree application.
Voice2Go allows you to manage your contacts, send, and end calls with a voice command in any language because you record the command in your own voice in your own language. It works well even in heightened ambient sound conditions.
You turn on the application by the use of a "magic word" that you create yourself so that you don't have to tap the screen or use any buttons. But, you can't turn off the machine until you shut down Voice2Go first. You may wish to connect to an external power supply when in this mode. Alternatively, you can program a hardware button to activate Voice2Go.
In addition to bringing up any contact you wish to call, you can also start any application with a voice command. This is really like magic and ought impress any spectators.
If that's not enough, Voice2Go has a built-in macro engine that will allow you to duplicate any set of commands or keystrokes and activate them with a voice command. Just imagine the possibilities. Playing favorite tunes comes to mind. However, you can get a lot more complicated than that with a whole catalog of repeated phrases and operations.
Now, having described how Voice2Go would work in an ideal world, I am disappointed to report that in actual practice it is not reliable 100% of the time. Voice2Go apparently tolerates very little voice modulation or variation, and if you do not give the command exactly as recorded, you are talking to yourself, dude, and nothing happens.
Vito offers another program called VoiceDialer that only serves to dial phone numbers; it will not launch applications, and it will not run macros. However, I could not get it to work any better than Voice2Go. I could not get either program to work with a Bluetooth headset. You are probably better off waiting for the developer to fix whatever ails these two programs that are brilliantly conceived but disappointing in actual operation.
GPS Navigation
Vito offers a plethora of navigation software along with maps around the world. I will not spend a lot of time on the GPS Navigation products because I think there are other applications with richer features for this purpose. For instance, the maps of North America do not have all the states available. You should look elsewhere if you want turn-by-turn guidance and points of interest along the way.
Navigator II $19.95
If you are a geocacher, however, you will certainly want to look at Vito Navigator II. You can load .loc and .csv waypoints into it, and it will do an excellent job of plotting your course and helping you to find the treasures you seek.
ActiveTrace $29.95
For the more sports-minded trekkers, you will want to check out ActiveTrace that will allow you to record your progress with pushpins and share your data with others.
SmartMap $29.95
You can make your own multi-layer raster and vector maps with Vito SmartMap and then use it for GPS navigation. It's a one of a kind product and a must have if you wish to create your own maps for navigational purposes.
AstroNavigator $25.00
AstroNavigator is just plain cool. This GPS application will let you view the night sky in any direction you look from your current time and location. It allows you to specify what objects you wish to view and you can even control the amount of clutter displayed. You can tap on any viewed object and information about it will appear on the screen. Search for satellites, stars, planets, and constellations by name or HR number, and the program will locate them for you if viewable. I would have given anything for this amazing program when I was working on my Boy Scout astronomy merit badge. You may not be an astronomy freak, but this program could quickly turn you into one.
Utilities
Vito also produces some utilities that will enhance your smartphone by giving you more control, quicker access to information, and making it prettier.
PopUpClock $4.95
How about a clock that will popup anytime with the push of a button to give you the exact time and date? Vito PopUp Clock is skinnable too with lots of free faces to download. Perhaps the best way to use it is to program a hardware button to invoke it using Vito's ButtonMapper utility that we'll discuss in a moment.
I've read that wristwatch sales are slumping because people rely more on their PDAs and cell phones as time keepers. In that case, PopupClock is no friend of Timex.
ButtonMapper $9.95
The advantages of ButtonMapper are manifold because you can double the hardware button functions by assigning two tasks to every button. This is accomplished by using a quick tap and a tap and hold technique with a different task assigned to each action.
But it gets better than that because you can assign buttons to perform certain functions within each application. For instance, in an eBook reader, you can set a button to turn pages up with a short tap and to scroll backwards with a long tap of the same button. You can really get creative with this handy tool so that your only problem is remembering what you've programmed.
With ButtonMapper you can operate your smartphone with one hand to perform just about any task, and you don't have to worry about pulling out the stylus and using both hands. You can even use the program to perform macro operations with the touch of a button. Of course you can program buttons to run your favorite programs too. For example, I programmed the Start button to start the PopupClock with a tap and hold action. It works like a charm.
MobileDownloader $19.95
This useful application allows you to download using multiple applications at the same time. Even better, it can utilize any network connection available on your smartphone: LAN, WI-FI, GPRS, CDMA, EVDO, Dialup Modem, and ActiveSync. It will pick up where you left off if the connection is interrupted. It will also handle HTTP and FTP downloads and even calculate your cost per megabyte for downloads when cost is a consideration. To facilitate downloading, MobileDownloader integrates into Pocket Internet Explorer as a menu item.
ScreenCapture $5.95
Here is a welcome application in my stable, for I am constantly having to capture screen shots for publications and multi-media presentations. If that is part of your life too, you will want this ever-so-handy and highly affordable utility. Rather than the usual routine of creating a screen shot stored on your device, you can now grab one right in your desktop and save it or paste it into another application.
I have two regrets, however. One is that it will only save files in .bmp format; you have no choice. I would appreciate a choice because I usually have to convert files to .jpg, which is bothersome. The other suggestion is that a future version have the ability to create skins representing different devices. Another function that would make it more useful is if it were interactive so that you could control your remote device from the screen capture desktop. With these amplifications, the developer could certainly double the price, and no one would complain.
Editor's Note: Sounds like SOTI Pocket Controller Pro fits that wish list. ;)
TaskSwitcher $4.95
As you are probably aware, one of the glories of Windows Mobile is its ability to multi-task. However, when you close an application, it remains running in the background using up system hunk. You can shut down running applications through a long series of taps in the system menus, but it's a bother. Having TaskSwitcher on board makes this a much easier process. With TaskSwitcher, you can instantly see what programs are running and close any or all of them. Of course, you can also run any application you chose from the menu.
The most efficient way to use TaskSwitcher is to program a hardware button to invoke it using ButtonMapper and then use the joystick buttons to navigate and to perform TaskSwitcher functions. Vito also offers a choice of five TaskSwitcher skins for free.
SystemTools $19.95
SystemTools is a suite of applications not yet optimized for Windows Mobile 5 or the Treo's small square screen. The package includes a button mapper, a task manager, program launcher, and a Today screen plug-in that displays memory and battery information. I suggest that you wait until the developer releases an updated version. When that happens, it will definitely be worth your serious consideration.
ThemeEditor $14.95
I hinted that Vito even had something to make your Pocket PC prettier, and I've saved it until last; it's ThemeEditor. ThemeEditor is perhaps misnamed because it's more than an editor; it a theme creator. From your PC desktop, you can quickly create themes to port over to your portable device or share with friends. It's intuitive and easy to use.
You can easily select a background picture and change the colors of the various theme elements. Unfortunately, there are a greater array of choices available for earlier versions of Windows 2002 and 2003se than there are for Windows Mobile 5, which has locked down many of the variables. Nevertheless, it's still a fun way to fancy up your smartphone's appearance.
Conclusion
I do not believe any other developer has made such a contribution to Pocket PC and Smartphone productivity as Vito Technologies in such a wide array of applications. It has been an arduous but enjoyable task checking out the plethora of programs on so many different fronts from multimedia to communications to navigation to all the useful utilities.
I was disappointed that some do not yet work for Windows Mobile 5 and that some are not optimized for a square screen. Along the way, I have suggested some items for a wish list for future versions. I have also made a checklist of those applications that I would have to say are my favorites and therefore recommend most highly.
In the multimedia category, I would pick AudioNotes as a must have. Let me tell you quickly a task I just performed with it for a friend whose mother just passed away. My friend had her cell phone and wanted to preserve her recorded voice answer message. I simply called the number and recorded the answer with AudioNotes, and emailed the file to my friend who was most grateful.
In the communications category, I had great expectations for Voice2Go and was disappointed with the performance, but I hope it will be soon because of all its promised functionality. That pretty much leaves QuickContact WM 5.0 as the winner here with its great one-handed large format and ease of use, particularly if you combine it with ButtonMapper.
In the realm of GPS navigation, Vito covers the world, but not the entire United States, and I think there are more robust guidance programs available. However, if you are a geocacher, you would do well to incorporate Navigator II into your bag of tricks. If you have any fascination with the heavens at all, you will certainly want to install AstroNavigator at your earliest convenience. Now that I have it, like Vincent van Gough, I eagerly anticipate starry nights and detest cloudy skies.
I found every single one of the Vito utilities useful and worthwhile. If I could only choose one, it would be SystemTools because it subsumes so many other utilities like a Swiss Army Knife.
In closing, I would just like to say, "Thanks Vito Technology for all your contributions to making Pocket PCs and Smartphones more productive and worthwhile."
Get the Windows Central Newsletter
All the latest news, reviews, and guides for Windows and Xbox diehards.