VLC for Windows 8.1 updated with tweaked navigation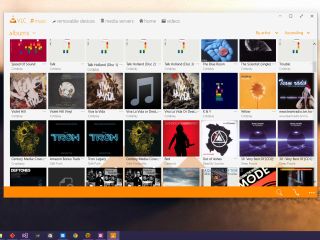 Developer VideoLAN has released a small update for its popular VLC media player app for Windows 8.1 and Windows 10. The new version includes some navigation changes and improvements.
Here's what's new and improved in the 1.4.1 version:
Use TagLib for getting Album Covers
External SRT subtitles (from file picker) should work
"Application flyouts" are on the left and not centered anymore
Update several controls styles
Update Artists page design in Music Library
On Sunday, Thomas Nigro, the main developer of the Windows VLC app for VideoLAN, noted that the Windows Phone version has seen over 1 million downloads since it launched a few months ago.
Download VLC from the Windows Store (opens in new tab) (Free)
Download VLC from the Windows Phone Store (Free)
Windows Central Newsletter
Get the best of Windows Central in your inbox, every day!
It's getting better and better

Not for me it isn't! Most of my music library has now gone 'missing' as it can't find it, even though it's still there. The option to set your music library folder doesn't work, it's the same with the video one too

No it looks like it's indexing although there is not notification of this....and it's VERY slow at doing it!

Thank you for frequent updates.
Please add independent volume control for music also.

Lacking background audio really makes it unusable, quite strange this was removed after it was initially released with it working.

It's an Universal App or not..??

Universal apps for win10. This update is for win8.1

It's not a truely UAP yet, but this update works with Windows 10 and 8.1.

so what happened to the win RT version, trying to download from store on my surface RT and I get is "sorry this app can't be installed" bull.

According to videolan, there will be an update next week for windows rt: http://planet.videolan.org/

Nice, "Add New Folder" still doesn't works for Windows 10. Reported. =(

My second time downloading this app and deleted it in anger. Don't know why I need a lastfm account to control the media on my own tablet, can someone please explain this to me cause I think this app is useless...correct me if I'm wrong.

Available for RT too? Posted via the Windows Central App for Android

Nope. A "modern" app that doesn't work with Windows RT. I love VLC on my phone but this is frustrating to deal with. There's almost no point to having a "Windows 8.1 only modern app" when they already have a desktop client that better serves those users. Waste of time for them, in my opinion.

It does not support Windows RT anymore!! :-(

It will, next week: http://planet.videolan.org/

The site says "This week, we released version 1.4.1 of VLC on WinRT to the store.". But VLC for WinRT is not yet available at the Win Store! ????

If you visit the videolan website, you'll see that the windows rt version will be available soon. Don't worry if will be available soon.

It does not support Windows RT anymore!! :-(

Did a refresh of my surface RT last week so i lost it, still shows up in store so hopefully just a bug. And as some posted early by "glussier" it still shows up as update coming http://planet.videolan.org/

I am still waiting VLC to get hardware accelerated rendering. On my SP3 video 1080p/50mbps holds steady 60% CPU utilization vs. 2% on the native video player. Total waste of battery life.

I am not getting this update! Is it not for all users?

There isn't any update available!

I also didn't get any updates!

Lol, no it doesn't suck! It is still better than a lot of other players! MX player, for instance! But, I do agree, the old desktop version was better..and also the universal app really needs to be stuffed with more functions..

It should support Quicktime MOV files better.