VMWare lays off U.S. team for Fusion and Workstation virtualization products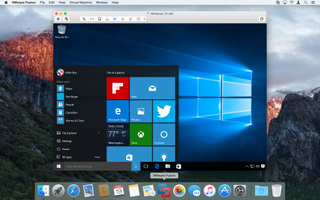 It seems that VMWare, the company behind the Fusion virtualization software (opens in new tab), has laid off the entire U.S.-based development staff for both Fusion and Workstation. The future of those products is currently uncertain, but seems that VMWare is focusing more on network and storage virtualization products at this time.
News of the layoffs popped up around the web, including team member Jason Kasper on Twitter:
Christian Hammond, who left VMWare several years ago, also posted a about the layoffs, paying tribute to the Fusion and Workstation teams.
Both Fusion and Workstation allow users to run other operating systems inside virtual machines running on their computer's existing OS. The latest release of Fusion, version 8, features support for Windows 10, DirectX 10, and Cortana.
Source: Jason Kasper (Twitter), Christian Hammond; Via: The Register
Windows Central Newsletter
Get the best of Windows Central in in your inbox, every day!
"What does your change look like?" Political comment? Where is the hq located?

Probably reference to the bottom line (profits).

Seems more of Obama reference to me.

Could be. He did recently got blame for Palin's son domestic violence and arrest.

According to Wikipedia, the HQ is in Palo Alto, CA. VMWare's parent company, EMC, and its grandparent company, Dell, are also headquartered in the US.

Yup, welcome to Dell. Where good products go to die.

Bloody Microsoft.. Hire these lay offed member and work on windows 10 mobile release and apps... Bloody f*****g Microsoft does not have any strategy.......

Microsoft???? Where in the article was Microsoft mentioned lol. Some of you guys have too much time on your hands.

Well, it has Hyper-V that killed VMWare Workstation.

Explains the OSX Screenshot :)

Hyper-V is great, sure. But I find it lacking when it comes to virtualisation solutions for home users. I'm using VMWare workstation for development environments as well as for virtualization of an old OS versions to run older games. However, for server virtualization Hyper-V is superior.

Yeah, the native workstation on hyperv with windows 7 isn't very strong, but if you change the client to windows 8.1 or higher, things get interesting. Currently use citrix to fill that gap.

VMWare Workstation was not designed with typical home users in mind. It's a Type-2 hypervisor based virtualization product for software development and virtualized OS/network environments designed for professionals & advance users.

Hyperv here also, good stuff, hyper-v 2016 looking great especially with Nano Server.

Oracle also has VirtualBox that is open source and free.

and sh*t :) For hobbyest use, Xen is probably better, given the very simple download and install, and really simple GUI. Hyper-V is a great hypervisor, and on a single machine its fine. In an Enterprise domain environemtn its fine. The "gap" for Hyper-V is managing a remote box, non domain. The tools just aren't there, and so 3rd parties like 5nine Manager fill the void. But there should be native mgmnt. If you've got say an Intel NUC indoors, running Xen is going to give you the least headaches.

Your reading comprehension is horrible!

Are you retarded or something?

What the heck. This has nothing to do with Microsoft. Do you get angered about everything you read and find some way to push that anger onto Microsoft? Some of you people are wayyyy too angry and dramatic..

:) yeah .... I know dude... Delays and low quality works from Microsoft getting into our nerve.. ..... Hmm...

Here's the secret to staying happy: Quit worrying about it so much. It's software, if it gets delayed, your life moves on. Nothing changes, there's no reason to get angry. If you can't, then just quit following leaks and tech news so much. I'm a huge tech guy, but software delays do not bother me.

What you might as well have said: "I bought a sandwich from the local deli and the chap put mayo on when I clearly and quite plainly stated mustard only. If only Microsoft had hired these laid off workers and put them to work in the deli I wouldn't be dealing with this crap! Bloody f*****g Microsoft!"

That would be a kind gesture but don't think it's prudent.

They probably have new staff somewhere else. Those are both good products. Probably the best but the most expensive.

Didn't dell just buy this company?

Dell owns EMC, which owns VMWare.

As far as I know Dell did not want VMware, so VMware had to be sold before the deal gets through. Maybe this is part of making VMware less worth so it can be sold faster.

Dell absolutely wanted VMWare, its just remaining a separate company.

Bingo, you sir have won the Internet today. It is known that Oracle just announced the decomission of the Java browser plugin, which many Fortune 500 companies still use for desktop virtualization with remote access solutions, which are not as popular as VPN today. Looks like the industry is trying to get rid of desktop virtualization, but the big question is why?

Maybe Microsoft could hire these talented folks to improve client Hyper-V?

Might want to recheck how you spell VMware.

It's at least an easy way to find out who really knows about VMware.

In other news, VMWare expands its India-based workforce....

VMware is providing the operating system (IOS, Unix, or windows) in main server virtually connected by client's company workers or clients. There's nothing to do with windows OS. The problem is they are losing money over billion every year...

Are you sure? http://ir.vmware.com/releasedetail.cfm?ReleaseID=951828

Yikes. The company I work for relies on vmware for usb passthrough to a virtual guest. Hyper-V will not do that, even over rdp.

They have only fired the expensive USA workforce not the products, i am quite sure they have more staff in other countries.

That's a fair point. I've felt that the product line for desktops has had a lot of bugs over the years. I imagine this won't help it get better

VirtualBox is crap compared to VMware Workstation

Oracle java browser plugin decomission and now this... Looks like remote access industry is going to have a important change from remote virtualization products, to VPN, this is going to be a big change in Fortune 500 companies, since employees will now have to carry their device when they work from home.

BenThePCGuy used to work for Parallels, right?
Windows Central Newsletter
Thank you for signing up to Windows Central. You will receive a verification email shortly.
There was a problem. Please refresh the page and try again.