Vodafone now offers free Pay Monthly upgrades for SIM-only plan holders
Vodafone has announced new flexible upgrades for those rocking RIM-only plans. Those who sign-up to Vodafone's 12-month SIM-only plans can upgrade to pay monthly contracts after three months.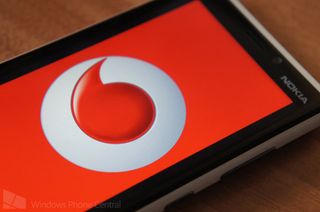 Waiting for the next flagship smartphone to launch can prove to be a pain for many consumers, especially if they're looking to save a penny by taking out SIM-only plans. Vodafone is looking at ways to offer upgrade paths for those on SIM-only contracts who may wish to upgrade to pay monthly for a brand new smartphone.
All that's required is for you to be signed up to one of the UK network's 12-month SIM-only plans and you'll unlock the option to upgrade to pay monthly after three months for free. To celebrate the launch, Vodafone is offering an additional 25 percent off Red Bundles, offering 3GB of 4G, unlimited minutes and SMS, as well as access to entertainment packages for £19.80 per month.
See the press release below, as well as the Vodafone website (opens in new tab) for more details.
VODAFONE UK LAUNCHES FLEXIBLE UPGRADES ON SIM ONLY
Customers who sign up for one of our flexible 12 month SIM only contracts can now upgrade to a new Pay monthly phone bundle after only 3 months
12 month SIM only bundles start from only £9.50 a month
Our Data Test Drive remains to give customers the confidence to experiment with their new phone or plan
Vodafone UK has launched the latest in mobile flexibility with our new SIM only bundles. As of today, customers who sign up for one of our 12 month SIM only bundles* will have the freedom to upgrade to a new Pay monthly phone bundle after only three months.
For customers that are waiting for the next big phone launch to upgrade or those that are happy holding onto their current phone, our flexible upgrade on SIM only really is the way to go. By taking advantage of one of these great value bundles, customers really will have the freedom to make the choices that work for them without being tied in to a full-term contract.
There's no hassle, no early termination fees, and customers won't have the remaining time from a previous agreement added on to the new one. Plus, they'll get all the minutes, texts and data they need from just £9.50 a month. To celebrate this launch, Vodafone is offering an additional 25% off Red Bundles, so for £19.80 per month, customer can enjoy 3GB data, access to our 4G network**, unlimited minutes and UK texts as well as access to a choice of Spotify Premium, Sky Sports Mobile TV or a NOW TV Entertainment Pass as part of Vodafone's Ultimate 4G Entertainment Package***.
Cindy Rose, Consumer Director at Vodafone UK says: "Our SIM Only bundles are already massively popular with customers, but we knew there was more that we could offer, so we have! It means that our customers now really do have the flexibility to upgrade to a phone or bundle that they want, when they want to. And with access to our ultrafast 4G network, our great entertainment packages and unlimited data for the first three months of a contract with Data Test Drive, customers really can enjoy more of what they love."
Vodafone has now expanded its ultrafast 4G coverage to 564 cities, towns and districts as well as thousands of smaller communities across the UK.
Windows Central Newsletter
Get the best of Windows Central in in your inbox, every day!
Rich Edmonds was formerly a Senior Editor of PC hardware at Windows Central, covering everything related to PC components and NAS. He's been involved in technology for more than a decade and knows a thing or two about the magic inside a PC chassis. You can follow him on Twitter at @RichEdmonds.
There a typo on second line :) (RIM) :D

That's a little expensive I think.... Here in Jordan I get 2GB of 4G data at 10Mbps speed and unlimited calls and text for 10 $ monthly without a contract.

The UK is a very different market to Jordan.

I agree that its totally a different situation but if this is a good deal/offer then what the normal price range would be ? As the plan I have is the normal price without any discount!

Codad I hear what you're saying but definitely a fairly good deal. You should be glad that you're in Jordan. Go to bell.ca and check out the rates we have to deal with in Canada.

It is not a good deal and someone has to make clear to ISP that they should stop treating the customers with this low level volume packages. it is even worse in Germany where they try to sell you 200 300 and 500mb packages. what a joke! In the world we live in where data and services are cloud based this is simply not an option anymore.

Even in India,Vodafone usually bundles not any more than 500mb of data with their RED plans.. Besides we have no such plans as unlimited calling and texting. Those are ad on packs available for much high denominations and they do not even offer pure unlimited voice & sms. Its always capped at some "fair usage volume"

That's a great option to have. Vodafone heading in a decent direction lately.

Great idea, ive been on Vodafone SIM only since my contract ended on my Lumia 925. Been holding out for a new flagship WP and looks like it wont be till Jan now so this works nicely for me as have September renewal!

Always look at HotUKDeals website for mobile contract deals.

Three UK - unlimited 4G, unlimited texts and 200 minutes - SIM only, I pay £13. Nothing beats that. Not yet.

I'm on a step higher. Everything but minutes are the same (I get 600) for £15.90 a month. Gotta love Three.

Astonishing price. I wish EE were as competitive. Hoping that when BT buy them, they may bundle some BT Sport in there somehow. My kids would love the Football. I just cannot personally stand the thought of paying Murdock for it.

Windows Central, can you please say which Vodafone it is, since Vodafone is outside the UK. If I knew this was about Vodafone Uk, I wouldn't click on the article

I'll stick to Giffgaff thanks

SIM only and separate purchase of handset is almost always much cheaper than a "subsidised phone". If you do the calculation of the cost of SIM only plus purchase versus the full pay monthly equivalent (ie for the same service package) you are typically paying an APR of 45% for the phone element.
Windows Central Newsletter
Thank you for signing up to Windows Central. You will receive a verification email shortly.
There was a problem. Please refresh the page and try again.