Vodafone's latest price hike could see UK bills increased by 10 percent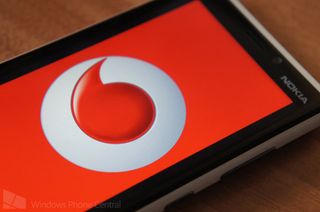 Vodafone has announced price rises for the UK market, which could see monthly bills go up by as much as 10 percent. While contracts themselves will not be altered, the mobile operator will be increasing the amount charged on use above customer allowances. The company will calculate how much bills will be increased using a three month profile of each customer's bill. Should consumers be disappointed with the increase, they can leave the operator without charge.
Should Vodafone detect that a bill will rise beyond 10 percent, the operator will provide that customer with the right to cancel his (or her) contract without any fees. It's noted that should subscribers wish to leave Vodafone, they must write to the company before prices are raised on June 28. A standard UK call placed outside a contract allowance will be increased by 5p to 45p per minute.
Contacting certain 118 directory services will be bumped to £5 from £2.25 - £3.75 (affected numbers: 118 500, 118 404, 118 247, and 118 212). Vodafone does state that the "vast majority" of its customer base on unlimited call and SMS plans will stay within their agreed bundles and won't experience any increases.
This move comes after the company unveiled a partnership with Netflix. Vodafone has also announced reductions in European roaming chargers, however. A call connecting to a EU country will drop by 6p to 18.7p per minute.
Should customers happen to regularly go over their allowances, there are a number of extra bundles available to add to a plan to prevent surcharges. Research carried out by price comparison website Uswitch has shown that "almost a quarter of Brits regularly exceed their data allowances, paying an extra £91.20 per year on extra mobile data alone."
Thankfully, if you do happen to go beyond your limits and are with Vodafone, the company will be providing you a way to cancel the contract without charge, should you wish to do so.
Source: BBC
Rich Edmonds is Senior Editor of PC hardware at Windows Central, covering everything related to PC components and NAS. He's been involved in technology for more than a decade and knows a thing or two about the magic inside a PC chassis. You can follow him over on Twitter at @RichEdmonds.
Sooo, they're paying for the Netflix partnership, even if they don't use it. Awesome. That would be like AT&T volunteering me for Beats music. I'd leave in a heartbeat.

Where does it say that? Companies change prices all the time. At least the line rental is unchanged and only people who exceed their allowances get a price rise, unlike almost every other operator where everyone pays more irrespectively.

I'm sick of these companies making deals and then changing prices around to have the customers pay for it. If a company makes a deal with another company it needs to come out of the bottom line. Not forced down to customers. This is why I don't have cable.

Please let me be one of the customers who get price rise, I'm dying to get out of my contract. Been with Vodafone for years now and they have just gradually got worse as a company.

By far the worse company I've had a price plan with here in the UK

Vodafone's 3g network is getting worse here in India.

Same as you, I was looking for someone else to go to anyway as their service has at best stood still (virtually no data availibility and so so call coverage) over the 10 or so years I've been with them. After a high roaming bill from a trip to the US I was planning anyway to leave them, the recent txts informing me of price rises, their limited selection of WP handsets and consistently poor value for money tarrifs are confirming its good to go to someone new. It took a while to get the PAC code off the sales guy who was basically lying to me to try and keep me as a customer (apparently the 64Gb version of the 1020 is a discontinued model that O2 sell so I cannot expect any more support - he clearly had no idea of what windows phone was, I could smell the desperation to get that sales commission through the phone though :) ).

Come to Three, apart from having truly unlimited data, they have also just reduced all their call prices, 0800 and 0808 are now free, 0845 has gone from around 37p to 5p, and 0870 has gone from around 50p to around 15p. 01,02 and 03 are cheaper too but I don't remember by how much. The only downside is that tethering is now capped at 2gb per month, however mobile data is still truly unlimited (my mobile usage is about 8 or 9gb). Oh and 4G at no extra cost.

Glad my contract is up in Aug. I know as an existing customer I wouldn't be effected but as a whole I just can't see how they can justify this and other moves lately when others are reducing their price plans!

Vodafone has posted losses so the smart thing to do would be to squeeze an already diminishing customer base for more money... That mba just paid for itself. Giffgaff.

Holy hell....4.5p per minute! Are they bloody insane? Here in South Africa the price per minute with Vodacom is most likely R1 ...or less than 10p

Well, at least in Germany Vodafone sucks. When it comes to the "mobile revolution" data plans over here are still nowhere near the current trend ...

Hmmm. Wonder how to get out of your contract, I got a 1020 last October but its almost full. Don't fancy keeping if until 2015. The prices have went way down and they nor O2 have made any effort to bring 4Gto where I am.

Not only in UK, it happened to all European countries.

The o2 rise only 2.7 per month.

Just got the SMS about the drop on roaming but luckily Vodafone Portugal won't be rising prices (then again, no Netflix here). If they do, I'll just change carriers. That's the beauty of buying phones at full price and not being tied to contracts.

Not available in the united states... :(

get info in the united states: http://bit.ly/1t2vqRW
Windows Central Newsletter
Get the best of Windows Central in in your inbox, every day!
Thank you for signing up to Windows Central. You will receive a verification email shortly.
There was a problem. Please refresh the page and try again.