Take control of your PC with VoiceWake, today's myAppFree Deal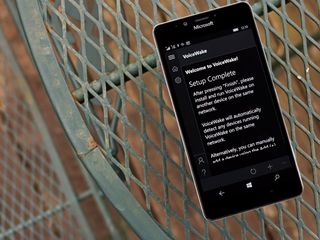 VoiceWake is a Windows 10 app that allows you to shut down, restart, hibernate and wake up your PC using Cortana. Available for Windows 10 PC and Mobile, the app also provides a remote view of hardware statistics and running processes in real-time.
The Windows 10 app is normally priced at $1.99, but thanks to the latest myAppFree promotion you can pick up VoiceWake free! The deal only lasts 24 hours and if you are looking for a nifty remote to keep tabs on your PC, now is your chance to save a little along the way.
When VoiceWake first launches, the app searches for any compatible devices. While available for Windows 10 PC and Mobile, the app only controls the PC end of the spectrum. You need to install the VoiceWake Server app on the PC you wish to remotely control for any of this to work and you can find the download link in the app's Help Section.
Key features of VoiceWake include:
Cortana integration to allow you to wake, shutdown, restart, hibernate, sleep and review hardware status information
View RAM usage, CPU/GPU usage and temperatures and HDD space
View running processes
Supports SLI configurations
Additionally, VoiceWake does not require your PC and the remote device to be on the same network. VoiceWake can work anywhere. You can use the PC's public IP address or DDNS hostname and forward the proper ports on your router and VoiceWake will work over the Internet. Detailed steps are outlined in the app's tutorial.
VoiceWake may not appeal to everyone, but if you are looking for a PC remote for your Windows 10 Mobile phone or Windows 10 tablet, it is a strong option to consider. The Windows 10 app is regularly priced at $1.99 and through the myAppFree promotion, you can pick up VoiceWake free. The deal only lasts twenty-four hours and this is a great opportunity to check out VoiceWake.
Download VoiceWake from the Windows Store (opens in new tab)
myAppFree
Windows Central is proud to be partnering up with myAppFree to bring you savings on Windows 10 apps and games. myAppFree is a free Windows 10 app and service that highlights special deals for software in the Windows Store. Make sure you download their app to keep track of all the specials they run weekly, as you'll never know what you may find.
Windows Central will continue to highlight select Windows 10 titles from myAppFree on a regular basis as a benefit to the Windows Central community. Many of these deals will be available for both Windows 10 Mobile and PC, so you'll double your savings.
Download myAppFree for Windows 10 PC and Mobile (opens in new tab)
Windows Central Newsletter
Get the best of Windows Central in in your inbox, every day!
George is the Reviews Editor at Windows Central, concentrating on Windows 10 PC and Mobile apps. He's been a supporter of the platform since the days of Windows CE and uses his current Windows 10 Mobile phone daily to keep up with life and enjoy a game during down time.
Wow, this is a nice one. Thanks.

Well, 2 issues here:
(1) Can't use voice command on my L640;
(2) when pressing sleep button, my Surface 3 goes to Hibernate.
Any suggestion?

Sleep isn't hibernate on Surface devices?

2. Yea, that's the expected action.
Don't confuse with screen off or sign out

Hmm, to me they're different. Sleep is a low power state standby while hibernate is a kind of saving everything and resume after shutdown. At least that's what it is when I select the option from start menu.
Am I missing something important here?

It's not that you're incorrect. It's just; Microsoft's innovations with w8.x basically replaced the use of hibernation for sleep. With quick start-up and the tablet form factor, ms made hibernation outdated on surfaces although I believe it is still and option due to Windows' legacy nature.

Thanks. You confused me more now. If so, how can my Surface do both sleep and hibernate. For example, I press the power button, it goes to sleep (not hibernate). Oh dear me.

Okay go to control panel>hardware and sound>power options> system settings/(on the left, look for "choose what the power button does" Please keep in mind that sleep uses very very little power and can use even less with connected stand-by off, you won't being noticing the battery drain unless you keep your device off for like a year (exxageration. I don't know the exact length of time but it won't be noticeable). Basically, I'm saying, maybe I could assist you more by learning your intended use pattern. Is your surface new to you?

Thanks. I'm very experienced Windows user and I pretty much know every options in the control panel. My problem is with the app, not my Surface. When I press the sleep in the app in this article, my machine hibernate. When I press hibernate, it also hibernate. So, that's why I am wondering what's happening here since I can send my machine to sleep and hibernate differently outside this app.

Oh gotcha! I misunderstood the issue. I shall carry on with my tail between my legs in the midst of my defeat. I have no experience with the app. I just downloaded it due to this article.

No worry, maybe it's my English that was causing the problem. Appreciated your kindness a lot. :)
Please share with me your app experience when you tried it :)

Sounds great! Lets give it a try!

Thanks for the tip, seems like a very cool app. I have installed (pair of laptops and my 950XL as mobile) but continually get "Could not connect to device" when trying to issue commands from the 950XL to the laptops. I am on the same internal network (lan). Anyone else run into this?

I'm getting the same thing, and I have no idea what I'm doing wrong

If you find any explanation, please post it.

On PC you have to install an .EXE app to work, you find the link for that app on Help on VoiceWake PC store app.
So, first install on PC the app from store to get the link for the EXE app. That EXE app works as a server.

I guess they are trying to get as many users as possible before the new wintel project and win on arm bear fruit, making this app completely irrelevant unless you're remoting in. (joking)

I like it, and have used it for about a year now. But I used it more to control my PC using touch screen commands. The voice commands are very buggy, and i don't think it has been updated in a while. Use it on my L950 as a glorified WOL as it allows me more commands like sleep and shut down, plus stats. Wish it would have shortcuts for commands. Developer told me a long time ago he would look into it, but nothing.

Doesn't work for me. On my laptop it's telling me that my Windows Phone (640) is not a Windows 10 desktop device.Oh well.

Highly recommended even if you don't use the voice function (which I can't use since I got Cortana in Spanish).
Windows Central Newsletter
Thank you for signing up to Windows Central. You will receive a verification email shortly.
There was a problem. Please refresh the page and try again.