Poll: Vote for the best podcast app on Windows Phone!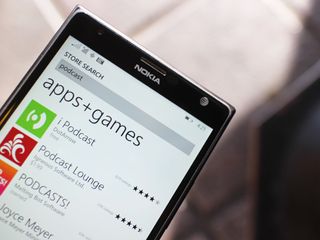 Last week we asked you to nominate your choice for best podcast app on Windows Phone. That post received nearly three hundred comments with many suggestions. We went through the comments to pull out some of the popular suggestions into a poll that you're going to take today. Go ahead and cast your vote for best podcast app on Windows Phone!
We were familiar with most of the suggestions, but a few were new to us. Before voting try out some podcast apps, you might not be familiar with and then cast that vote. Later this week we'll crown winner!
Built-in "Podcasts" app on Windows Phone 8.1
Podcast Lounge [Download] [$1.99/Trial]
PODCASTS! [Download] [Free]
BringCast [Download] [$0.99/Trial]
WPodder [Download] [$0.99/Trial]
Podcast Picker [Download] [$1.99/Trial]
i Podcast [Download] [Free]
Podcast Critter [Download] [$0.99/Trial]
The above apps are a solid selection and some of the best podcast apps on Windows Phone. Try them out and vote for the best!
*Not seeing the poll above? You're probably reading this in our app. Head to Internet Explorer (or your favorite browser) to view the poll and cast your vote! *
Windows Central Newsletter
Get the best of Windows Central in in your inbox, every day!
Built in podcast app is crap, I've been asking for an update for the longest but with no help whatsoever

Built in works fine for me. No issues at all.

Wow if it works fine for you it must work for everyone. Douche

Never used it since the music/video hub is gone

In what way I he/she a douche? He didn't say it works fine for everyone else, all he said is that irs fine for him, and it works fine the way he uses it. Stop assuming things and read the actual comment properly, instead of inferring and deducing things which are based on your opinions about him. You totally assumed that he meant that it would work fine for everyone, that's not the case if you read his post again. I hate people who name call with no basis, utterly immature. Go back to high school PS. I have to say, it works fine for me too, no issues, and uts probably the fastest podcast app on WP because its integrated into the OS. Now am I a douche too??

True that WPUser2, You got my vote up :) I think one being a douche here is the one who calls other a douche. :) Built-in podcast is working for me perfectly fine (Samsung ATIV S i8750)

Wow. You need to chill out Ben Gilbert. You just look a like fool when you call someone a Douche for sharing thier experience with an app.

Wow. If it doesn't work for you, then it doesn't work for anyone. Name caller.

What are the issues you are facing? My experience with the app is quite good just a few irks; some deleted podcasts keeps haunting me back and random shutdowns by the app for no apparent reason. I do wish that MS would have the same app on Windows 8/10 and allow the app to sync the currently played podcast so I could continue on the desktop what I was hearing on the phone while driving.

One of the biggest issues many face is the fact that there are a lot of shows that do not show up in their database when searching. Sure you can enter in the RSS feed manually, but this is 2014 and most feel if 3rd party podcast apps can do it, so should the built-in app.

The built in doesn't find some feeds even if you manually add them but even if it did it doesn't do password protected podcasts which is a must for subscribers so its worthless to me. I've been on WP for the duration and WinMo before that and its a shame how hamstrung MS has made certain aspects of their ecosystem as they supposedly update to keep up with Android and IOS. One of the main functions of a modern phone is media and it is sorely lacking even in comparison to the previous generation of WP.

I think most people, the ones who are complaining about not finding a particular podcast in the database, are forgetting a very important detail. The Windows Phone podcast directory is its own directory, such as iTunes. Most of the 3rd party apps/directories pulls their database from the iTunes store. A podcaster has to submit his/her podcast to the Windows Phone podcast directory, as well as to iTunes store directory. If the podcaster does not submit to Windows Phone directory, it will not show up in there. With the slow adoption of Windows Phone, the podcast directory is significantly much smaller versus the iTunes directory. There is where the angst of lack of podcasts in directory is coming from. With that being said, the built-in podcast app works great for me. If the podcast I want is not in directory, I plug in the RSS feed into the app and it finds it. That is the trick...you need to know RSS feed address. I have not come across a podcast I can't subscribe to, if I know the RSS feed.

Well I've submitted the feed for The Tech Informist multiple times and they've yet to get it to show in the directory. Not really sure why we're having trouble getting it to show there since our other 2 shows went fine.

Podcast discovery is GONE. No categories, suggestions, nothing. Bing search doesn't even pull up specific podcasts reliably, even when searched by exact name. And they don't even bother to let you input a URL to make up for that fact. Retention settings are gone. Total, basic worthless app--and it's gotten how many updates? Approximately zero.

The built-in app crashes without data connectivity. Put your phone in airplane mode and try opening it (from scratch, not resuming it). It'll open, then just crash back to the start screen. It's slow, it should open much faster than it does. I'm sure it being slow is related to it crashing. I think it tries to refresh subscriptions, and the app is slow until it's done. Also only remembers position for the currently playing podcast, you can't jump between podcasts and have it save your place in multiple podcasts. The tiles for the podcast need to have the number of new podcasts. https://windowsphone.uservoice.com/forums/101801-feature-suggestions/sug... Vote for that to get issues fixed. It hasn't been updated at all since WP8.1DP was released.

Built in app has been the best for me Lumia 635. Not sure what the complaints from other are unless im missing something. I have tried every other app and they all have issues like playback stopping or not resuming correctly etc. With built in app its flawless.

it's shit, so hard to add via RSS feeds unless the podcast happens to be in the store. basically useless for non-English speakers.

You can't tell which podcast have been updated, the app takes long to load. I've asked that they add counters to the tile inside the app or make the live to let you see the last podcast, these are simple things.

Yes it is rubbish, it kept losing my playback position. Especially if you switch from one podcast to another. Like xbox music, it needs fortnightly updates.

I've used Podcast Lounge for a long time, works great. Frequent updates with new features and fixes. Nice clean design.

Podcast Lounge gets my vote. New features and updates. Great design.

I must be missing something. The built in works fine. Get my latest podcasts. Plays fine. What else is there?

Same for me... No issues.

None of the podcasts I searched for were compatible with the built in app so I had to download one. But I do like that I can pin them to my start screen now :)

Compatible? What do you mean by compatible? If its not coming up on the search you simply have to copy the RSS link on to the search box and your done.

I mean I search for it and it comes up but its dark and when I try to click on it a message pops up saying "this podcost cannot be loaded on this device". I downloaded Podcast Lounge and it came up without a problem and I pinned it to my start page.

It's about playback. I want to hear certain podcasts as a group, sorted by date, like I'm listening to talk radio. I don't want to be jumping from this podcast to that one when I'm driving. And I want to be up to date when I leave the house. My 2nd gen ipod touch was so good. A decent podcast app was the only thing I really missed when I moved to WP 4 years ago.

I have a question - can I copy a podcast from my computer to my L1520 and have it identified as a podcast, without using the horrible, horrible horrible HORRIBLE desktop sync app? I just want to put the podcast file (MP3) in a folder - and I don't even care if I'd have to change its ID3 tag to "podcast" - and finally persuade my device that's indeed a podcast?

Before you copy it over : Set a interpret and a album in the mp3s settings . Then copy the file into your music folder or wherever on your 1520.
Then go and open music app and you will have the album u set for the mp3 file and in the album you got your podcast :) easiest way to do it

That's good info so I'm not knocking you but that's still some work. The easiest way was how Zune auto downloaded the podcast on the desktop and then wirelessly synced it to your phone and then you could just picked up where you left off without doing a damn thing. Same if you went back to the desktop, right where you quit listening to it on your phone. Now that was easy ;) Whoever at MS involved in killing Zune needs to be fired and go work for IOS and help kill all that they stole from Zune with iTunes.

Thanks for the tip! Will it treat it like a podcast, e.g. I could see it in the list in the default podcast app, and could play it from where I stopped last time?

It doesn't download new episodes in the background, you have to open the app to update the feeds. There is also no live tile functionality: the better apps show the number of new or unlistened episodes.

Can guys you do a post with the best music players or alternatives to xbox music? Ones that play your local music not music subscription like ModernMusic.

I use modern music, love it... Does exactly what I want. I even paid the dollar to remove the ads... Not because they were in the way but just to show the dev support.

Been using this one for a while and I like how it's not just an Xbox music skin and it works great, plus it has last.fm integration , but there's a few missing things like gapless audio. Still can't believe that not a single app on WP has this.

Looks good, but this is just an xbox music skin.

I love the interface of the free app 'Listen'. Simply beautiful and plays local jams great. The paid app is more functional but not as Metro terrific.

Bringcast is a good choice I have it and podcast lounge but generally use the built in one. It's a bit basic but it works. I've had playback issues with all other ones hence using it. Ps. I use it in the car exclusively so Bluetooth issues are more than likely the problem.

Casts is a solid app too!

I got frustrated with the various Podcast apps not proprerly syncing content on my phone, same on my Surface pro. It seems the only one that works properly for me on the phone is the built in one and, as long as I'm getting episodes when they are avaialble I don't see any need for anything else. One the Surface Pro, I installed Zune just so I could have someting that would actually sync! So, outside of getting content what makes any Podcast app better than another?

shouldve put "i dont use podcast apps" as an option on the poll

How would that help find the "best podcast app on windows phone" ?

Podcast Lounge, the best.

I use Podcast Lounge myself but find that sometimes Podcasts either don't start or just stop all of a sudden. The only way to resume is to scrub (sometimes workls) or start another Podcast all-together before re-starting the one I was listening to in the first place. Going to dabble in some of these other ones, but likely won't find answers to stability issues by vote time. Look forward to seeing the results and then trying out the top two or three (outside of the two I've tried already). This is a long way of saying Podcast Lounge gets my vote, but I find small issues with it.

What are podcasts? New to this... Please help

Theo, i have been following you in the last month, guess you are new to everything WP or tech related. No worries buddy, what we don't know we can learn, right? :) Anyway, about your question, Google or Wikipedia are your best friends. :) http://en.wikipedia.org/wiki/Podcast Enjoy reading :)

PODCASTS is just so awesome. I have been listening to astronomy Cast podcast for over a year and it works really really great.

I just tried out everyone on the list. There was only three that could even find the podcast I wanted and the best looking interface of the three was Podcast Lounge so it gets my vote.

An I the only one who never used podcasts??

Do any of these apps have companion apps for tablets and desktops running 8.1? Something that syncs via the cloud so I can switch back and forth listening to my podcasts on each of my devices?

iPodcast.. Only one that reliably downloads in the background (for me). Hate other apps that have too much discovery options. Dev very responsive too, keeps chipping away at improvements.

I had also been giving Podcast Critter a spin. Lots of features, lots of control, but UI is just a bit too busy.

Built in app gets my vote...

Podcast lounge gets my vote. I can never seem to cancel the built in podcast app - even after listening to something, everytime I change the volume it's they're. What an I doing wrong?

I like the fact that the built in one can play at 1.5 or 2x the speed. I can't understand why more don't offer this feature. Are there others that do this that I am missing?

The short-ish answer is that the variable speed API is only available to the new 8.x universal apps. If your app is built on Silverlight, then you are out of luck and have to completely rewrite... It's a big job. :o(

Cool thanks for the explication that is very helpful! Coming from an iphone I always wondered why more windows phone apps didn't have this feature. I got completely addicted to it on my old phone.

Built-in version is an abomination and the team should be ashamed. Download podcasts to your SD card- yay! Except it stores them inside the music folder. Wipe/new device and now podcasts do not show up at all within the podcast app and instead they are sprinkled all over your music. Played episodes do not get marked played. No discovery, incomplete database. My subscriptions aren't synced to the cloud? Is this 1990? Come on people. Now playing screen needs work. Tiny tiny scrubber (and this is on a 1520). UI only uses 1/3 the screen, FFS. How am I supposed to skip past the first 15 minutes of Marc Maron's boring monologue of every WTF episde?

Podcast+ Pro would get my vote http://www.windowsphone.com/en-us/store/app/podcast-pro/8c77ae4c-803c-44...

Podcast+ Pro is my favorite podcast app.

I used to use Podcatcher but support was poor. Updates were slow, and it kept losing last play position. It was my favourite UI though.

Really? People use podcast? I tough that's was an useless app

This is what I use:
Check out "Casts" for Windows Phone http://www.windowsphone.com/s?appid=c4f42f33-b0be-4dca-9990-b63f1b056ba1

Seeing a lot of Podcast Lounge love here. You guys seriously need to check out Podcast Critter.

Built in podcast app but I gave Podcast Lounge a try simply put oh wow. +1520 +Podcast Lounge

Podcaster is the best in my opinion

I prefer the built in podcast app. Works perfectly for me since I got my 920 so I haven't really tried any of the others. My only complaint is a feature issue. I wish I could move episodes around in the now playing queue. Sometimes I add different podcast episodes in a certain order and then realize I want to listen to something else first.

I miss the music/video hub! I used it more then. I often forget to use the podcast app now that its detached from the hub.

Built in podcast app is fine but it needs an update and Microsoft never updated it.. What's the point of separating it if you never update. Microsoft needs to start writing on it, if an app developers work on their app and improve them, then freaking MS sure can fix it with their financial n technical muscle.... Other than in-built app I like podcast lounge...

Podcast Lounge is best for me

I also quite like the look of 'Narrowcast'. It is still somewhat buggy (and expensive compared to competition), but it has a fresh look and enough functionality.

I never use podcast. However I'll go with the Built-in.

And were is Podcast+ Pro? That IS for me the BEST podcast app....

I can't believe Podcast+ Pro didn't make the cut! It is rated more highly than every one of the choices you gave us at 4.5 stars (podcast lounge is 4.3) and has more ratings than some of the options you gave us.
Windows Central Newsletter
Thank you for signing up to Windows Central. You will receive a verification email shortly.
There was a problem. Please refresh the page and try again.