Voxer plans to add PRO Business support for Windows Phone later this year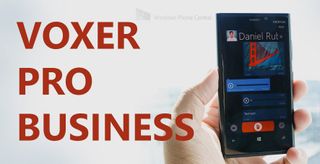 Voxer is one of those apps that many of you have been waiting for a long time on Windows Phone. It went into beta some time ago and recently came to the Store. We liked it when we played with it and so does the community based on comments and the 4 star review in the Windows Phone Store. What could make it better? How about Voxer Pro Business coming to Windows Phone? Because it is.
Right now in the Windows Phone Store you have a Voxer app that is perfectly suited for your needs as an individual. But Voxer does make offer an edition of their service that is aimed at the more professional communication scenarios. What's it include that you don't get with the basic, free service?
Extreme notifications for loud and repetitive alerts when you need them
Live Interrupt Mode for live streaming communication anywhere in and out of the app
Groups of up to 500 people
Headset Integration lets you hear live messages and respond with a button press
Company managed user accounts
Full administrative access and control over communications
Private network of users including all external users
Employee messages dynamically populate a map
The special, big boy edition of Voxer runs $4.95 per user / per month. That dynamic map does sound pretty useful and this service probably works great for companies that manage a workforce out in a fleet of cars/trucks.
Speaking with TruTower, Voxer COO Itamar Kandel revealed plans to launch the Pro Business for Windows Phone later this year. Should be a welcomed addition for anybody in a company that utilizes Voxer in that way.
Has anybody used Voxer Pro Business before? Give us your feedback below!
Don't forget to grab Voxer for Windows Phone if you arleady haven't. It's a fun way to communicate. Go to the Store to get it, use the QR code below, or swipe to the right in our app.
Source: TruTower, Voxer Plans and Pricing
Thanks for the tip C!
Windows Central Newsletter
Get the best of Windows Central in your inbox, every day!
They really need to add the option to log in with Facebook to the Voxer app...

That would be nice... I think they said something about Facebook not allowing them too anymore, but that sounds weird. What would really be nice is if they made notifications actually work, but the fact that so many apps on my phone fail to send notifications or display them on the live tile makes me think its a WP problem more than anything.

They really need to update the current voxer app 1st. Its awful on my 920!

What's wrong with it? I only played with it the first few days it hit the Store, but didn't notice anythin awful.

After leaving the app and then re-entering, all the screens are blank. You have to uninstall and install again everytime. Its quite common. I have been onto support and they said they are looking into it. They would want to fix the current one before bringing out this business pro version.

Honestly, WP will never see significant take-up in the enterprise or, as per the title 'Pro Business', unless Microsoft adds VPN support, independent volume controls, and custom alarm and notification tones. Then, maybe, just maybe, executives will let go of their Blackberry or iPhone.