What's the cheapest way into virtual reality: PlayStation VR, Oculus, Vive, or Gear VR?
Is virtual reality going to break your wallet?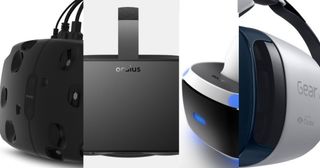 Last week we showed you guys a quick specs-comparison for all the major VR headsets that are hitting shelves this year. Today, it's time to break down the price of each device just so you'll know exactly how much you'll need to save up!
Breaking down the price for each headset is no easy task, especially with the Oculus Rift and HTC Vive running off of a separate PC — you can buy one, build one, or upgrade your current computer's hardware, so costs there can vary widely.
So to make this a little easier, we're addressing this price comparison from someone who wants to take the easiest/cheapest route into virtual reality. So for the Rift and Vive, we are going to consider their 'console' to be the cheapest compatible PC that the headset makers mention on their sites.
Swipe to scroll horizontally
Headset
Samsung Gear VR
HTC Vive
Oculus Rift
Sony PlayStation VR
Price
$99
$799
$599
Standalone: $399,
Bundle: $499
Console or Minimum PC
Samsung Galaxy S6 series, S7 series, Note 5
HP ENVY Desktop 750-220
ASUS G11CD desktop
Sony PlayStation 4
Console/PC price
$599, $799
$949
$949
$349
Add-ons w/ price
none
none
Oculus Touch: TBA
PS4 Camera: $59,
PS Move Controller: $49
Total Price
$698 (Galaxy S6) to $898 (Galaxy S7 edge)
$1,748
$1,548
$848
As expected, Oculus and HTC's headsets will cost you well over a thousand dollars if you don't already have a powerful enough PC. That being said, if you have a decent PC you may be able to swap out a few of the components to meet the minimum system requirements.
It's worth noting that the HTC Vive is more expensive than the competition because it comes bundled with a pair of infrared laser lighthouses for 3D positioning and dual motion sensitive hand controllers. As for the Oculus Rift, you'll have to play strictly with a gamepad until they announce how much and when the Oculus Touch controllers will be released.
What's most surprsing about this table, though, is that the PlayStation VR with a PlayStation 4 is actually cheaper than a Galaxy S7 Edge with Gear VR in both its standalone and bundle packages. One thing is clear, though: no matter the platform, getting into virtual reality isn't going to be cheap.
Does this table sway you towards one headset over the other? If so let us know in the comments!
Get the Windows Central Newsletter
All the latest news, reviews, and guides for Windows and Xbox diehards.