WC on the Road: What's in Derek's gear bag in 2016?
We're off to Berlin — here's what I'm bringing to the IFA show floor!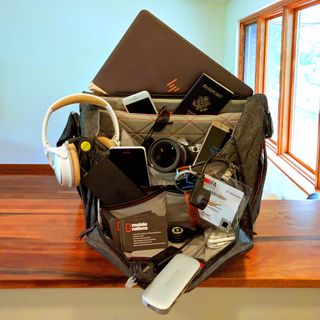 The IFA trade show in Berlin is one of the biggest tech extravaganzas of the year, bringing the world's largest tech companies (and many many many of the smaller ones) into one place to show off their latest wears and for the rest of us (thousands of journalists and thousands more of the public — CES and MWC don't do that) to learn about them. It's a lot of work and, I won't like, a lot of fun.
But it takes the right gear to cover this kind of show the right way. It's more than just taking pictures and writing some words. No, I need to be able to do all of that efficiently and effectively and rapidly. And to do that, this is what'll be in my gear bag in Berlin.
The bag: Peak Design Everyday Messenger
This might be the longest I've ever used a single bag. There's seemingly always a better bag around the corner (and the upcoming Peak Design Everyday Backpack might be that bag), but at the very least the Everyday Messenger is my bag of 2016. It's spacious in all the ways I need it to be and the repositionable folding dividers are a bit of genius work that makes it easy to customize the interior layout to however I need it to work. And the combination of the brilliant magnetic latch for the flap and the quick-access zipper on the top make it both convenient and secure.
The laptop: HP Spectre 13
I've long been a Mac user, but Apple's continued failure to updated the MacBook Pro and the failing battery of my overworked mid-2012 15-inch MacBook Pro (the first-gen retina display model) has forced me to look elsewhere for my portable computing needs. Previously that hole was filled by the HP Spectre x360, but then HP went and unveiled the ridiculously sexy HP Spectre. This 13.3-inch laptop is simply and stupendously thin and light, but still packs a 6th-gen Intel Core i5 processor, 8GB of RAM, and a 256GB SSD — more than enough power for what I need on the road.
The Phones: Life as a pluralist
I'll be primarily playing on Team Windows Central while in Berlin, but I've for several years been a dual-wielder when it comes to phones, and at IFA I'll have three phones. As much as my underdog-loving self wants it to, the Lumia 950 won't be my primary or even secondary phone — I need full support for Slack (including calls), Google Hangouts, and Gmail and that's something it simply cannot offer. The iPhone 6s is a stalwart in my mobile arsenal and will be roaming on Verizon's relatively reasonable "use all of your data for $10/day in Europe" plan, which is highly useful since reliable Wi-Fi is something of a lie in Berlin. I'll also be procuring a local SIM to throw into my Samsung Galaxy S7; it's the most tolerable non-Nexus implementation of Android to me combined with first-rate Samsung hardware (the Nexus 6 is nice, but just too damn big).
The Camera: Olympus OM-D E-M5 II
I'm still in love with this camera. I've been rocking the Olympus OM-D E-M5 II for several months now and it's still one of my favorite pieces of tech. It's one of the best cameras in the Micro Four Thirds mirrorless ecosystem, and combined with the beautiful Olympus 12-40mm ƒ/2.8 PRO lens it takes just gorgeous photos. When it comes to liveblog action, I also like to tote the Panasonic Lumix G 100-300mm telephoto lens because I can get uncomfortably close to my subject without leaving my seat.
The Power: Aukey 15000mAh Quick Charge 2.0 USB battery
There are two things that keep me going at a show like IFA: junk food and USB power packs. The 15,000mAh Aukey battery that I use charges off Micro-USB and has a pair of full-size USB outputs — one of which is a Quick Charge 2.0 charger. But Aukey doesn't make this specific battery anymore, no, they make one that's the same size but packs 7% more power: the Aukey 16000mAh Quick Charge 2.0 USB battery. It's not small, but it's more than enough juice to get my phones through the jam-packed days of IFA.
Frustratingly, the HP Spectre that I love so much has an Achilles heel: its lauded universal USB-C port isn't universal when it comes to charging — it only takes HP's power adapters, which is a damned shame. Well, it'll charge from any USB-C charger when turned off, but none of the batteries I've tested put out enough wattage to actually charge it when off. Someday.
The Connections: the hellish side of USB-C
USB-C is great. One little port can output everything form USB power to charge a phone, video to a display, data to a hard drive, and even take power in to charge the laptop. The HP Spectre is equipped with three USB-C ports. The problem is that USB-C is still relatively new in a world that's had nearly two decades of getting used to the bigger rectangular USB-A port. So for now, the future requires adapters. I've taken a liking to the HooToo Shuttle USB-C hub — it has three full-size USB-A ports, HDMI-out, an SD card reader, and most importantly a USB-C input that passes along electrons to my laptop. Primarily this will be serving as the SD card reader and a home for my USB-A Ethernet adapter (welcome to the future where we have adapters for adapters).
The Headphones: Bose QuietComfort 25
When it comes to airplanes and noisy show floors, nothing beats noise cancelling headphones. And when it comes to noise cancelling headphones, nothing beats Bose. I'll admit that the Bose sound is not my favorite sound (I much prefer my Bang & Olufsen H6 headphones, but the noise cancelling is top rate for quieting the din of an airplane for hours on end. The newer Bose QuietComfort 35 headphones offer Bluetooth wireless and improved noise cancellation, but I'm fine with my wires-only previous-generation QuietComfort 25 headphones for now.
The Smartwatch: Moto 360 2nd gen
I'm not sure that a smartwatch is a thing I need in my life. But I still strap on the Moto 360 almost every day. It puts my notifications on my wrist and that's almost exclusively what I use it for. It's marginally more convenient than having to fish my just-buzzed phone out of my pocket, but it's also one more thing to charge every day. Rumor has it there's a new Moto 360 coming at IFA (last year's show is where they introduced this incarnation of the watch) along with several competing Android Wear watches, we'll see if any of them strike my fancy.
Get the Windows Central Newsletter
All the latest news, reviews, and guides for Windows and Xbox diehards.
Derek Kessler is Special Projects Manager for Mobile Nations. He's been writing about tech since 2009, has far more phones than is considered humane, still carries a torch for Palm, and got a Tesla because it was the biggest gadget he could find. You can follow him on Twitter at @derekakessler.