Weather+ now available for download, a powerful and beautiful forecast app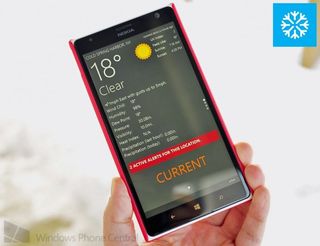 Nearly two weeks ago we showed you all an upcoming beautiful and powerful forecast app for Windows Phone called Weather+. The app launched briefly into the Windows Phone Store, but was quickly pulled to fix a few things before its debut. Well here we are, Weather+ is now available for you to download and it is a thing to behold. Let's check it out.
We're big fans of Weather+ for a few reasons. It has a beautiful, clean design and does a few things we haven't seen in other weather apps yet. Namely, we really like the panels and gestures. You'll be using gestures to navigate between the current conditions, days, hours and radar screens. Don't worry, there's a tutorial that explains how it all works. Speaking of tutorials, check our video below to see the app in action:
Weather+ is powered by Weather Underground and packs a few extra surprises inside the app. You'll get your regular weather app features like current conditions, 10 day forecast and 10 day hourly forecast. The app itself also features some very cool "Google Now" like voice features. For example, say something like "Weather+, do I need an umbrella today?" and you'll get a response from the app.
The app is free, but you can get some pro features for $1.99 including:
Live tile (all three sizes, w/ radar on medium and large)
Customize weather icons (choose between three themes or choose your own)
Alert Toast Notifications (custom EAS sound for Update 3+ users, can be disabled in settings) hide details
The app is definitely worth checking out in the Windows Phone Store. It's free like we said, but you'll unlock some pretty stellar features for just $1.99. Use the QR below to grab it and let us know what you think!
Get the Windows Central Newsletter
All the latest news, reviews, and guides for Windows and Xbox diehards.
Doesn't find any of the stations near me

Please send me an email and a nearby location: support@baileystein.com

I have the same issue. I live in Europe, Amsterdam; it does not even recognize the city if I type it in manually. :/
App description does not state that might only work in certain parts of the world though, so it should work almost everywhere, right?

Yes, I'm working on this. Thanks for sharing your location, will be fixed in an update.

Also that green notification with a zero...I think it's a notification thing...well it's ugly :( should be an option to remove it or change the color...just saying...

Doesn't find stations in Bucharest, Romania. And the manually input doesn't recognize any city I type.

Won't work for my location in San Antonio, TX. It says it can't locate the latitude and longitude. I'll keep it installed and wait for an update.

Hello fellow san Antonio WP user

Not willing to spend another buck on weather apps.

It won't use my WiFi connection keeps saying I don't have one yet amazing weather refresh's

Do you see this message right away or after a second or two?

Right after It finds my location it does a frowny face then says no connection found but I have one is their an email I can send a screen cap to?

Yes, support@baileystein.com. Did you try restarting the app?

Yes i reinstalled and it was working but after a few minuts it did it again

Looks great. I'm always up for a new weather app to keep things fresh.

The only thing I'd like to see is a different way to get to the week view. The pinch gesture is hard to do single-handed (for me, anyway).

Thanks for the suggestion. For now, if you pinch in the top portion of the panel, it works a little bit better.

This is great news because there's a severe drought of weather apps in the Windows store. This should create a high pressure system that will be felt by developers. Expect things to heat up soon.

This app doesn't work. Let me know when you get it fixed and I will try again.

Hi Dave, Can you send me an email with a short description of the problem: support@baileystein.com Thanks!

It's not released at my region.

Rio de Janeiro, Brazil here... Does not find any of the stations near me...

Works good for me so far. Very responsive dev. I'm thinking we've got a winner here.

Errors on location Seattle, WA. Since it can't find the lat/long, here it is: Lat= 47.61, Long= -122.33. Looks like a cool app once it all works.

I love this app! Works exactly as described.

Works great for me, but is there lock screen support? I really like having Amazing Weather HD with its lock screen support. Without lock screen support I probably won't buy and I also like having Bing background with weather info transparently laid overtop.

Images need to be rendered with Azure, something I'm looking into.

I'm looking forward to possible lock screen support and any other updates to an already nice app.

+1. Working good. I especially like the voice commands. But amazing weather has set a high bar.

Pay for a live tile? On a weather app? Hahahaha No.

Tried a lot weather apps, but simply Weather still the most metroish app. http://www.windowsphone.com/en-us/store/app/weather/ace44e54-1dd8-df11-a844-00237de2db9e?signin=true

I like it. Seems it would be cooler, since it has so many screens that they would flip up or fold up and back. But overall, I like it.

Beautifully designed app. I can tell a lot of work went into form and function. Would love to have a trial period of the live-tile before purchasing

Got me a Pro version. Loading slow and wasn't as responsive as Bing weather.

Oh wp8 store full of weather apps..

Calendars and 4 something 1 words! ;)

Downloaded! What's the hype? Not seeing IT.

I'm sticking with Bing Weather. Sorry!

Clever designed, I really like the way it works. But the gaga weather data from Weather Underground always seems pretty odd. It's 2-3°C out here and the app shows 25°C as current! I mean, where the heck is that particular station located, in someone's kitchen? Forecast shows more or less normal data, but how reliable could that be with all that crappy data in between?

There's a bug on thre current panel that sometimes does not show the temperature in celcius. It will be fixed in the next update.

Shows promise. I wish I wasn't a retard or I would make the perfect Weather app and put everyone out of business. I got ideas, but I'm not saying. Maybe I will get off my ass eventually.

Or you could drop me an email? ;) support@baileystein.com

so whats wrong with bing weather ?

It doesn't seem to update itself to current location.

Although from what I've seen in the images, the app looks quite nice and i was curious about it, I just uninstalled it as it didn't "find any stations" and didn't recognized the city i wrote.

New York is not an valid station
Nor is my geo :P

Oh my God weather apps everywhere!

Ha ha ha....yes everywhere...weather... :D:D:D

Two things. Location search is just broken. Tried 10 cities and found none...even ones like Oxford that have about a dozen instances around the world (never mind the original most famous one).
The product is listed as a beta, but you have to pay for functionality (which is strange in itself for a beta). So when the final version is released, will the purchase transfer across?

It's a bug - I'm working on a fix. And yes, the pro license will transfer. I wouldn't make people pay for something that only lasts a certain amount of time.

can't install on my 520. low on memory - i already have bing weather, amazing weather hd, accuweather, weatherflow, weatherbug, weatherhound, weather this, weather that.. in fact the only apps on my phone are weather apps. jk

Sticking to Weather To-Go. Is fast, finds the tiniest villages; is accurate; does not charge for live tiles and had lock screen support a year ago.

I like it, but gestures implementation are a bit awkward / unconformable.

Does it have Lockscreen support?

No unfortunately the program wants improvements...

Would love to try it, but I think that all Live Tile options and multiple tile size should be free with any app. I agree charging for extra's but not those.

Don't care for the green notification box on the right... But it's a good start. Please change it.