Weather Radar Tile, radar imagery and more for Windows Phone 8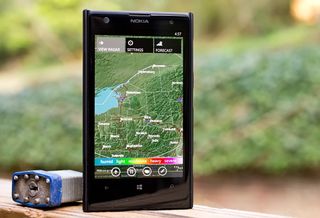 Weather Radar Tile is an interesting Windows Phone 8 weather app that not only allows you to access weather forecasts and radar, but also pin a radar tile to your Windows Phone Start Screen. The radar Live Tiles are not animated but do update periodically to give you a snap shot of what's headed your way. Weather forecasts and radar are provided through the National Weather Service and locations are U.S. only.
Weather Radar Tile isn't a bad Windows Phone 8 app but navigation isn't the smoothest. The app is worth a try but may not appeal to everyone.
When you first launch Weather Radar Tile you'll need to create radar tiles by tapping the "+" sign at the bottom of the screen. You can create a tile based on a set location or automatically based on your current location. Locations are based on radar sites within a particular State. Once set, a Live Tile will be created and listed on the main page of the app. Weather Radar Tile supports multiple Live Tiles so you can monitor the weather from across the Country from your Start Screen.
Navigational tiles line the top of the screen and include tiles to view the radar, access the app's settings, edit tiles and view a five day forecast (tile appears on the radar view).
Weather Radar Tile has options to view seven radar types. Each of which can be pinned to the Start Screen for the same location. You have:
Short Range
Long Range
Hourly Accumulation
Total Accumulation
Base Reflectivity
Base Velocity
Storm Relative Velocity.
As you set the tile, you can choose which radar type you want displayed on the Live Tile or you can set a default view for all Live Tiles within the app's settings. Speaking of which, Weather Radar Tile settings cover your default radar type and turning on/off radar rotation, instant radar, and radar filtering.
Instant radar will instantly load the most recent basic radar image from the Live Tile and then download the full radar. Radar filtering removes clutter from the radar image such as light rain or humidity that isn't reaching the ground.
The radar screen has control buttons to view more (basically a label for your radar location), pause animation, view a national radar map, and navigate to the edit tiles page. Up under the three-dot menu of the radar view you'll find options to view extra features (links to National Weather Service sites), rate/review the app, access the app's Facebook page, view the About screen, view more app's developer and email support.
The forecast view has your current weather conditions displayed up top, a current weather forecast mid-screen, and a five day forecast running along the bottom of the screen. You have two button controls at the bottom of the screen. One to access the forecast options (basically entering a location) and the other to view the lunar chart.
All totaled, Weather Radar Tile isn't a bad Windows Phone 8 app but is held back by cumbersome, at times frustrating, navigation. The app would have been much better laid out in Metro/Modern UI design with a panoramic set of pages detailing your Live Tiles, radar view, settings and forecast page.
Three additional nits about the app is that Live Tiles do not support the wide sized tile and when you un-pin a tile, it is deleted from your My Tile list. While you can save locations to a favorites list, you have to rebuild the tile from scratch if you ever want to re-pin them. Which kinda sucks.
Lastly, while the Live Tiles do update periodically (not sure how often) it would be nice to have an update setting to shorten the frequency of these updates. This feature could come in handy during more active weather patterns to give you a feel for any bad weather in the area.
Weather Radar Tile has potential and has a certain amount of appeal. With a little fine tuning, the app could really shine.
There is a free trial version available for Weather Radar Tile with the full version running $.99. It is available for both Windows Phone 8 and 7.x devices and you can pick Weather Radar Tile up here in the (opens in new tab) Windows Phone Store.
Windows Central Newsletter
Get the best of Windows Central in your inbox, every day!
George is the Reviews Editor at Windows Central, concentrating on Windows 10 PC and Mobile apps. He's been a supporter of the platform since the days of Windows CE and uses his current Windows 10 Mobile phone daily to keep up with life and enjoy a game during down time.
Is this North America only?

It uses NWS for radar feeds

Yes...article states its US-only.

Yeah, too bad, looks nice. Would be nice to see a european version.

This is the best weather app wver

"Weather forecast for tonight: dark. Continued dark overnight, with widely scattered light by morning."

Ahahahahah! Nice one! Oh and, save the world from the dark with Lumia 925.

I say this every time we have a weather related article but Windows Phone is severly lacking behind iOS and android when it comes to interactive, animated radar apps.
Why can't the developer community step up in this one area? Is there something lacking in the platform?
I'd pay $20 for a decent app.

Honestly, with no sarcasm, what exactly is missing from these apps with radar that is on the other platforms? Is there like a video or something you can link to?

thanks

On a very high level a combination of high resolution abilities, full screen, pan zoom, performance, time slices, ability to control speed and loop pauses, manual control, etc. I've also seen many apps that include tracking data as well so that you can see where individual storm cells are moving.
Windows Phone does have some very basic radar apps. I don't really care too much myself to have a live tile (which may or more likely not be up to date). But I do want something a bit more cutting edge when I try to run it.

Yep. I've tried lots of weather apps on WP8 and there just isn't one that has really great performance and controls.

The radar functionality on WP is typically in for form of a video and it really is odd if you used the apps on the other platforms. I agree, I have not found a weather app on WP that compares with what I had on Android. I currently use Amazing Weather HD and Bing Weather. Both good apps though.

Best radar app on Windows Phone is from the developer of GRLevel3. His software is used by storm chasers and meteorologists at The Weather Channel. http://www.windowsphone.com/en-us/store/app/mrlevel3/3a226a1c-d59f-43c0-...

Too expensive ($29!!!) and too technical for the avg user. Also no live tile and no trial.

Oh, I may get this even though it is expensive.

Thanks!

Looks like it's US only, so if you're living in or visiting The Netherlands, you should definitively check out my app Weerplaza.nl. On the radar tile it shows you 2 hours of precipitation forecast for your exact position. In the next version which will hopefully be ready shortly it will sport an even more advanced radar tile so stay tuned ;-)

Isn't the frequency of update kind of a W8 thing? I am pretty sure they can only update once every half hour. It's not the developers fault, and there isn't much he can do to eliminate an OS limitation. I have yet to find a live tile that updates any faster. So there seems no way around it.

That's why I think live tiles aren't appropriate for this kind of app. Developers are trying to use live tiles but then have problems because of the system limitations.

I'll have to disagree with michail71 about its appropriateness. If I can quickly glance at the live radar tile and see that there is no precipitation within 200 miles then I can head out and know that I'll be dry for the next few hours. If that tile is consistently refreshed and the data is reliable then it works EXACTLY the way a live tile is designed to work- it gives you information at a glance (and even more quickly than actually reading the forecast on a regular weather tile).

I sort of agree with the use of live tiles in this case, but often the kvetch is that Android can update it''s widgets as often as you like, where this is limited in WP8. In a weather app it would be nice to have a configurable update, but it's disallowed in WP8 which is a bit of a disadvantage of this OS for this particular application.
One thing to consider is that to update the tile, you need to go out and fetch data. That costs mAhrs, and has an impact on battery (which on an Android system can vary from little to a lot, depending on how often you configure the widget to update), perhaps a reason Microsoft placed that limitation on live tile update frequency.
In any case, WP8 is what it is. I don't know how live tile updates are triggered since I'm not a WP8 developer, but I can see it missing update events if WP8 says "OK, you can update" and the live tile wasn't looking for that message when it was made available. Whether that is the mechanism or if I am full of it (again) is a different discussion :)

For me in Florida things just happen too quickly. If it's raining 50 miles from current location it doesn't matter one bit. Even 10 miles is a bit far. I suppose with other weather patterns it would be more useful.

As things are now then, WP8 isn't your platform if this is critical. Android can give you what you want though.

Michail71, excellent clarification!

Yes, I think our needs could be very different depending on location. Florida weather is often spotty, sudden and intense. A 30 minute refresh could miss everything :).

Try Rain Alarm, which uses push notifications to alert you of nearby precipitation. This is a better solution for your situation because 1) there is no time restriction and 2) you don't need to actively seek the information as you do with a live tile.
http://bit.ly/WP8_RainAlarm

I'm pretty sure George was aware of the 30 minute refresh limit when he wrote this review. I think his complaint is that the tile doesn't seem to update at a consistent rate, and certainly not every 30 minutes. What he is suggesting is that the developer simply include a setting that would let the user choose to have the tile updated regularly at a specified interval (e.g. every 30 minutes, every 60 minutes, every six hours, etc.). A time stamp on the tile would also make it more useful. Just tell me the time that this snapshot was taken (not when the tile was updated) so I know how fresh the data is.

Although it's US only, American radar picks up data from well across the border into Canada. I live in Toronto, and set Buffalo as my location, and the app (and live tile) both run adequately.

"Rad Now!" is STILL the BEST.

For radar the Weather Channel is still the best. It goes beyond the US and offers a wide live tile.

The graphic quality is poor, RadNow! is much nicer for basic radar.

My Radar is also a good one. But this app is the one I use because it has nws data and its live tile updates so often

Vaya se a la reconcha de su madre estafadores de mierda

Bing Weather is good enough for me. I tried this, but it seemed to hang forever just getting my location. I can see a map in Bing in 2 taps if it is that important. I can also create a live tile for Weather Channel which will alternate between curren conditions and a map.

Thanks for writing this article about our app. We're listening to your feedback and are working right now on updates to improve the appearance and navigation. We'll also be adding some great new features like zooming in on your live tiles, so stay tuned!
For anyone wondering about update frequency, tiles are updated every 20-30 minutes. This frequency is set by the Windows Phone OS, so there's no way for us to change it.

-Mason Bogert from Tregware

Thanks for reading the feedback. I'm only critical because I care :)