WeatherBug 3.0 blows in with a complete makeover on Windows Phone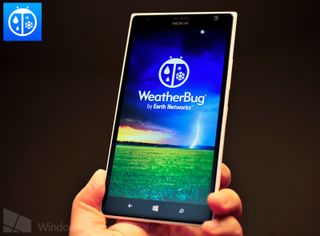 Following on the heels of AccuWeather's update for Windows Phone is WeatherBug, who lands at the 3.0 marker today. If you know updates, a whole number change means "big" and that's the case here. How significant is this? Well, our records last show an update for this app back in May. Wait sorry, that's May 2012.
WeatherBug 3.0 has been completely overhauled and it's more in line with their iOS and Android designs. That's not to say they haven't flatten some of the graphics and adapted it for Windows Phone, but rather the menu system is a bit odd for Windows Phone users. Having said, we would be lying if we didn't say it was feature packed. Let's take a look.
WeatherBug 3.0
Real-Time Enhanced Pin-Point Forecasts for 2.6 Million Locations Worldwide – The industry's most accurate current, extended and hourly weather forecasts for your neighborhood and beyond. With 25% more accurate forecasts for the next 24 hours (when compared to other weather apps), Know Before™ you head out!
Extended 10-Day Forecast – Weather happens. Get the most accurate extended forecast and Know Before™ 10 days ahead.
Exclusive DTAs & Severe Weather Alerts – Minutes Matter. Our Dangerous Thunderstorm Alerts (DTAs) provide you 50% faster warnings to severe weather than the competition. Plus, you get National Weather Service (NWS) warnings and watches to stay informed of severe weather conditions at all your current and saved locations.
Spark Alerts – Spark, an exclusive feature of WeatherBug, turns your smartphone into a personal lightning detector. Get minute-by-minute, mile-by-mile Spark lightning monitoring, in real-time, from the WeatherBug total lightning detection network!
Enhanced Interactive Maps – Enjoy our enhanced maps with multiple layers such as Doppler radar, humidity, pressure, wind speed, high/low forecast, satellite imaging and more!
Live Weather Cams – View live images from over 2,000 weather cameras across the U.S. to get a better picture (pun intended) of the weather at destinations near and far.
That sure is a lot of marketing mumbo jumbo. Let's take a look at what Windows Phone users really care about:
Double Wide Tile support – Tile flips to show a nice graphic of current conditions with the current temperature, conditions and location on the other side. No update time
Lockscreen support – While the HD image of the current conditions look really elegant, as far as we can tell, it doesn't actually tell you anything. No current temperature, location, etc.
Settings – Besides Fahrenheit and Celsius, there is zero customization or options; evidently the app updates whenever it feels like
Multiple locations supported including current (GPS based)
Ad supported – Ads are near the bottom; they're a little distracting and there is no in-app purchase to remove
WeatherBug 3.0 overall is an interesting app. It's not bad looking at all, although with the menus (upper right and left corners for locations and various forecasts, respectively), it doesn't really fit in with the Modern UI design aesthetic. Still, it is a zippy app that is clear and easy to read.
The Live Tile is 'ok', bringing in the bare minimum, and the Lockscreen support is halfway decent. Regardless, WeatherBug 3.0 is a free, first-party title that we're glad to see on Windows Phone, especially after their 18 month hiatus.
Pick up WeatherBug 3.0 for Windows Phone 7.x and 8 here in the Store or scan the QR below.
Via: Windows Phone Central Forums/ bguy_1986
Windows Central Newsletter
Get the best of Windows Central in in your inbox, every day!
Daniel Rubino is the Editor-in-chief of Windows Central, head reviewer, podcast co-host, and analyst. He has been covering Microsoft since 2007 when this site was called WMExperts (and later Windows Phone Central). His interests include Windows, laptops, next-gen computing, and for some reason, watches. Before all this tech stuff, he worked on a Ph.D. in linguistics, watched people sleep (for medical purposes!), and ran the projectors at movie theaters because it was fun.
That phone is just awesome for those headline photos. Apps look really good on it ... must resist temptation to consider 1520 ...

Just get one, you know you will enjoy it

I'm resisting the temptation, as well...and I'm on Verizon with a little over a year left on my contract with my 928!

Resist. The 1520 is big and beautiful, but I'm waiting for Goldfinger with WP8.1. We might be waiting until June or July, but it'll have all the latest goodies.

You can spend your whole life waiting for the next gadget. That is the thing about gadgets, there is always a better newer one coming.

Way to state the obvious. My point was that outside of a bigger phone/screen, the 1520's not much different than what we already have. Goldfinger will be in the first round of new 8.1 devices, so it'll be a perfect time to move from an existing WP8 phone.

I totally get your point, my problem is that I'm on Verizon so there is no guarantee that I will even be able to get the Goldfinger. I bought an HTC 8X at launch, then resisted the Lumia 928 and was rewarded (hopefully) with the 929/Icon. If I roll the dice again with the upcoming 929 in order to wait for the Goldfinger, and it doesn't come out, I will be stuck buying a 6 month old 929. By the way this is by far a first world problem, somewhere in India someone just bought an original Blackberry Curve for 100,000 Rupees and is tickled pink with their investment.

Really 100,000 rupes for curve Wow thats like one million dollars dude reallyyyyyy... ya blackberry curve is like 14000 buck's or 225 dollars for you guys.........

But the 1520 will have 8.1, so the differences will be negligible between the 1520 and goldfinger. I doubt it will be much faster. The only differences I can think of are the design and the hovertouch stuff. If those are important to you, wait. If 8.1 is what's stopping you, get the 1520. It will update to 8.1 at the same time, probably Before goldfinger comes out. The question is really "do you want a six inch screen or not?"

This version of Weatherbug is just awful. Why does it give me totally different weather information to the same app running on my Android? Also, the UI is plain terrible. And that banner ad at the bottom is too distracting. All in all this app has nothing going for it so I will continue with Bing weather thanks very much.

not aviable for Lumia 920??? ups.. region restricted... must switch to US... stupid region restrictions... but still Wether from The Weather Channel is better

The weather channel app is bad the tile doesn't update and no lock screen support. Accuweather is great but the new update broke the background tasks so the only way to see the weather is to open the app.

I have had 0 issues with the Weather channel app. It's always current and updated even if I have multiple locales pinned. I don't use the Nokia published one though. I use the one published by the weather channel. The current radar on the back of the live tile is the real reason that I have never and will never change my preferred weather app. There are tons of great weather apps but the radar is the winning feature for me.

same here, working great for me....

My number one issue with the weather channel app is that you cannot view radar in motion with just the radar layer on. I've submitted it as a bug and have reinstalled both the weather chnnel and nokia version with no luck. I always prefferred weather bug buecause the radar loaded faster and the alerts were the best i had seen, which in the midwest is important come tornado/ hail seasonl

You've been lucky that's the one I've used. Didn't work for me.

Doesn't load on my loaned Nokia UK Lumia 1520

I'm guessing the wallpaper shows the current conditions but it would be nice to say the temperature.

I don't see a live tile. I also don't see weather info on lock screen

Is this just a port of the web site, cause it looks like it.

Nothing replace weather flow yet

Except they don't have a live interactive radar. Sadly Weatherbug is the only app on this platform that has a good radar implementation.

I don't understand why people like weather flow so much. I bought it and am regretting the purchase. Saying weather flow is ugly is and understatement. It rotates the same 4 or 5 images and 3 of them are ugly. I will give it one thing, when its depressing and rainy outside. The images in the app reflect it.

I think what makes Weather Flow still popular is that has decent looking live tiles with a bunch of different options. Inside the app itself though is poor.

Very disappointing.
The app is just a web wrapper it seems. Whereas the old app, as old as it was, actually took advantage of WP with the ability to pin different things and customize your live tile. The weather webcam on the live tile was was really nice, this new "live" tile blows - as the title suggests.

Definitely not a wrapper. If it was a wrapper, you'd see highlights on everything clicked...

Although, it appears that alot of the subsections are wrappers though.

Seems like somewhat of a downgrade to me, after losing live tile features.

It looks great! Too bad its not for my device/country

I love Bing Weather but since the stupid tile no longer updates I'm going to give Weather Bug a try again.

Clear your browser cache and restart the phone, see if that helps. Otherwise you may have too many background tasks running and it's causing some to fail or run intermittantly. Check the settings inside all of your aps even if they are not on the 'background tasks' list and turn off any that have live tile and/or background task options that you don't want running. I was having some live tile issues until I discovered there is somewhat of a limit and that apps may still be taking up a spot that don't show up in the list of blockable apps. Once I did that, I have been golden, they sprung back to life in an hour or less and have never stopped working reliably.

I did those things and I think it helped. Thanks!

Can't download on my Lumia 1020 (Philippines)

Wow, quite possibly the dullest weather app out there. The animation of the adds at the bottom of the screen looks better.

The my att app is more like android and ios app too .
WTH is going on??

A shocker of an update all round with the live tile the worst part, for my location it says "50% chance of a rain shower" when it's blue skies outside at the moment and the flip side of the tile has a picture of green leaves. Just terrible.

Wait, did they just release an iOS app on here?

I dont have live tile on this app. My phone is lumia 920. Stay just WeatherBug icon,not my location and temperature.

Im still happy with Amazing Weather HD. :) but more options, always good!

This update instantly reminded me of the Facebook app update, so it wasn't too hard to figure out. Overal not bad and easy to use. Hopefully Microsoft will be able to adjust that 30 minute update limit so weather apps will be able to put a weather map on the live tile flip again.

Windows Central Newsletter
Thank you for signing up to Windows Central. You will receive a verification email shortly.
There was a problem. Please refresh the page and try again.