It's a beautiful day for a big AccuWeather update on Windows Phone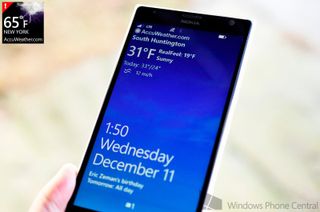 If you're a fan of AccuWeather's app for Windows Phone, you'll want to grab the latest version, which has just gone live in the Store.
What's new? We have the full details of the latest update to grace Windows Phone this month.
First launching way back in July 2011, AccuWeather has been a go-to forecast app for many Windows Phone users. The big selling point of the app, which is actually free, is the unique UI and the patented ReelFeel temperature. That last feature takes into account other factors besides straight temps, like humidity and wind speed, to give a more accurate report of how it actually feels outside.
The last time the app was updated was back in June but the big push was for Windows Phone 8 in January. Today's version bump keeps the look of the app the same, but there's a lot of under-the-hood improvements. Here's what new, right from the developers.
AccuWeather version 2.4
Complete rebuild of the app on top of new AccuWeather API's
Inclusion of official Chinese Weather Data for 3000 Chinese Locations with attribution to Huafeng Weather Channel
Integration of new Radar data sets for Canada, Japan and Europe
Addition of the AccuWeather Local Forecast Summary text (5 day outlook) to the daily forecast list view
New Location Search functionality with Auto-Complete (location names appear in list format as you begin typing and are refined until you see the location you desire)
App now allows addition of unlimited locations (previous limit was 7)
Added Languages:
Simplified Chinese
Traditional Chinese
Czech
Danish
Dutch
Finnish
Greek
Hungarian
Japanese
Korean
Norwegian
Polish
Portuguese
Portuguese (Brazil)
Romanian
Russian
Slovak
Slovenian
Swedish
Turkish
Ukrainian
That's a lot of language localization done for the popular weather service and it should extend its reach into consumer's hands. AccuWeather previously only supported English, Italian, French, German and Spanish.
In terms of performance, AccuWeather has always been a top performer, but we have to take note on how it flies on our Lumia 1520 now. Whether it's loading of the forecast or jumping to the detailed radar, the app hums along nicely.
What else do you get with AccuWeather? Lockscreen support was previously added with background images, location, temps and wind. You also have severe weather alerts, radar with maps, multiple location support, multiple Live Tiles and more.
The app is free with ads and it's certainly worth checking out if you are getting bored with your current weather app. On its own, it's stand out as a top weather app for Windows Phone 7.x and 8 users.
Pick up AccuWeather version 2.4 here in the Store or scan the QR code below.
Windows Central Newsletter
Get the best of Windows Central in in your inbox, every day!
Daniel Rubino is the Editor-in-chief of Windows Central, head reviewer, podcast co-host, and analyst. He has been covering Microsoft since 2007 when this site was called WMExperts (and later Windows Phone Central). His interests include Windows, laptops, next-gen computing, and for some reason, watches. Before all this tech stuff, he worked on a Ph.D. in linguistics, watched people sleep (for medical purposes!), and ran the projectors at movie theaters because it was fun.
I really like Accuweather but recently I been enjoying Bing Weather layout as of late.

yeah clean with almost no ads

I would consider replacing Bing Weather if there was no ads implemented.

Or you could just pay the $1 and support the developers. How do you expect to get great apps if you are not willing to support the developers? it takes lot of hard work to do great apps.

When the app comes from a huge website like accuweahter, I don't think those 3000$ would make any difference. There is a deference between an indi dev. and a huge company.

Bing is nice for everything but maps. It drives me nuts you have to switch orientation.

Agreed, the maps look like screen grabs from a CRT.

I like both but lately I've been weather flow I just wish it gave me the real feel.

I also have switched to Bing. Its clean, fast and has great wide tiles.

Can someone tell me what happened to Weather Flow. Since I have bought it, there has not been a single update. Also no reply from developer as well.

I got an email from the developer a little while back and he said that another company had taken it over now.

So it means app is dead ?

Not dead, but as yet they haven't updated it at all.

seems as same thing to me.

I've got accustomed to Bing weather and since it's working perfectly I guess I'm sticking with it. It's nice to have quality options though.

Big AccuWeather update on the big L1520

I wish they had an ad free version for sale like on other platforms

Me too. The ads are so ugly and garish against the black background, keeps me from using it.

Can't beat weather channels live tile radar flip.

Too bad the radar in the app is only a static image.

AccuWeather.com on my lock screen? No thanks. I use Amazing Weather. I would switch to Bing Weather but they are missing two important features: 1. No use of bing image for lockscreen image (please someone explain this one, sometimes Microsoft makes no sense). 2. The lock screen does not display the time of the last update like Amazing Weather does. (Looks like AccuWeather doesn't either).

I'm a fan of Bing Weather for general use and Amazing Weather HD for the lockscreen as well. I like Bing's results and data in the app, but AWHD's lockscreen support is much better so I use both in that way. =)

When I had problems with battery life getting rid of my Weather and Battery sensor apps seemed to improve my battery life considerably!

So how do I change language?

I guess you would have to uninstall, then reinstall.

So, yeah.. It seems that you can't have accuweather displaying text in another language that the phone's.

The version is still 2.3 on UK marketplace

Awesome. My fav and goto weather app. Has every functionality I need already, nice to see them making it better. Alerts seem to be unavailable, perhaps due to my location?

Hah... Great, i upadated, now app craches after accuweather screen apears .

I like the summary text on the update. The data also seems to load slightly faster on my 520. The only thing keeping me from using this exclusively is Bing's extended forecast on the live tile. I use both side-by-side. Accuweather for current temp and windchill. Bing for extended forecast. Aesthetically, I like Bing better as it aligns well with the metro design. However, it doesn't have the "real feel". That's a deal breaker since I'm in WI and have to know the wind chill.

Any update to the live tile? Started using Bing Weather because in the medium tile you get a 3 day forecast. I only use medium tiles, but if we ever get the extra row like the 1520, then i would use the wide tile.

Nope. Sadly, no extended forecast with update. If it did, it'd be my only weather app.

I'm a fan of the Medium Bing Weather tile as well for that same reason. Use AWHD for the lockscreen though with a quick glance 5 day forecast.

A nice looking and working app just ruined by ads. Please AccuWeather, if you see this, give us an option to pay and remove them.

This is my go to weather app at the moment and it is great. My only wish is for,it to have the same GUI as the windows version.

The version on Nokia Store US didn't changed. Why?

If Bing would put Sunrise/Sunset times on the main page I would switch. I use that a lot and it is a deal breaker for me. I know I know, petty, but ...

Patented RealFeel (aka WindChill)? That's like patenting Newtons Laws...i don't by it for a second!

In hot, humid areas it factors in humidity.

Yawn, this app bores me. Needs a re-design.

I don't like the Bing Weather for one reason only...the radar is not as good as other apps, otherwise it would be my one and only. Biggest issue I've seen with this Accuweather update is that the "Alert notification" option under Settings is grayed out now for some reason?? On purpose, or an install issue?

I contacted Accuweather a few months ago to provide feedback to improving their live tile with at least a 3 day forecast and a graphic for the current weather conditions and they replied saying thanks and that they will take it board for the next update, I won't be contacting them ever again. And while Bing Weather sometimes has accuracy issues here in Australia it's streets ahead in terms of what a live weather tile should be.

I this app had the metro design and if it used the BOM the authoritative source of weather data for Australia I'd gladly pay for it. As Bing at least has a nice design that honours the Metro design and keeps my user experience consistent I will stick with Bing. A weather app is only as good as its data source

Yeah, using BOM data would make it the perfect app!

Of the mainstream weather companies, accuweather is the best. The others like weather.com and weather bug are good on other platforms but a joke on WP8

This app used to be one of my favourites but it has become really buggy for me (7.8). Live tile only shows a picture of rain, even if it hasn't rained for a week or more, whenever I open the app it shows the weather for the day I installed the app and I have to wait ages until it updates with current weather details. It never used to do these things but somewhere along the line something went wrong. Shame as it is otherwise quite accurate for my location and the UI is nice. Maybe this update will fix it but it isn't showing in my store yet.

I always loved the forecast of Accuweather. They predict the weather for Belo Horizonte (Brazil) better than national weather services! But this version of Windows Phone has the most horrible weather interface of Windows Phone! Poluted like no other app in the store.

Has anybody heard of VIEATHER, it is a verys good and minimalistic Weather app with no ads and totally free of cost.

After playing around with it a bit more today this update is a total shambles. Firstly whereas before the live tile would say for example "Partly Sunny" it now says "Partly sunny" with the lower case s which looks quite sloppy. Also the lockscreen image for "Partly Sunny" and "Mostly Cloudy" are now exactly the same for some reason. Plus the app is now even more buggy and slow than before, after a 7 months gap between updates you'd think it would be plenty of time to get things done better.

What's the difference between partly sunny and mostly cloudy anyway? :-)

Lol! I think partly sunny has supposed to have less clouds.

After update backround task blocking .When I set to allowed after some minutes going to blocked.Lumia 920 GDR2

Do any of the weather apps live tiles update automatically? I always have to open the app to get current info.
Windows Central Newsletter
Thank you for signing up to Windows Central. You will receive a verification email shortly.
There was a problem. Please refresh the page and try again.