Weave for Windows Phone 8 syncs with Windows 8 and more in latest update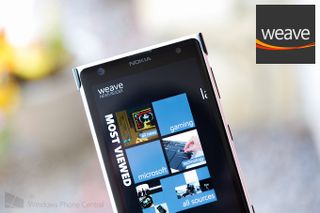 Two months ago we gave you boys and girls a look at the next version of Weave for Windows Phone. Weave is one of the oldest and most popular news reader apps available for the platform. That beta you all have been testing for two months is now ready for the general public. Let's check out what's new in the latest and greatest version of Weave for Windows Phone.
Weave has been on Windows Phone since time immortal, but recently joined Windows 8 thanks to a collaboration between Seles Games and Lazyworm apps. That Windows 8 version of Weave was notable for using tapping into a new cloud provider for news – Weave Cloud Services. This allowed for your Weave content to sync across devices using your account from the likes of Twitter, Facebook, Microsoft, or Google. This update for the Windows Phone version of Weave is notable for bringing support for the Weave Could services. Here's all that is new with this latest release of Weave:
New Cloud API
Updated to use the new Weave cloud services powered by Windows Azure - a news service similar to Google Reader or Feedly!
Your feeds and articles are saved in the cloud, accessibly from any Windows 8 or Windows Phone 8 device
Login via Microsoft, Facebook, Twitter, or Google accounts - your choice!
Freedom from being forced to use Google (e.g. Feedly)
Article state is synced - articles marked as "read" on one device will be marked as such on your other devices
Favorite your articles, then view them from any Weave client
View all your previously read articles
Visual Changes
New streamlined Panoramic home screen layout.
New article list layout: "Cards". Brings a beautiful new way to browse the news
All the old layouts are still available as well, bringing the total 4 different article list layout
All sources list. Now you can see how many new articles are available for each category/feed you subscribe to
Bug fixes
Fixed speech so it doesn't speak HTML codes anymore
Now automatically switches to webview whenever an article is unable to be mobilized
That's quite the change. Weave for Windows Phone received its last major update nearly a year ago, but this latest makes up for that lull. We're digging the syncing not only of our content, but our read states across our phones, tablets, and PCs. Though this update isn't just for stuff in the backend. You'll also notice some new visual design changes to the UX of the app. There are two new layout options and you can view all your sources in one list.
One of the features of Weave is the ability to read articles to you. There's a bug fix in this update that makes it so it doesn't speak HTML code, instead only focusing on the article itself. Try out the speech function and let us know what you think. It's pretty cool and you can change the voice in the settings.
Some housekeeping before you jump for joy and download Weave. First off, when you update the app you'll want to make sure you have a good internet connection. Old users of Weave will have their feeds and favorite articles migrated to the Weave Cloud Service. Second, Weave will no longer be supported for Windows Phone 7.x users. This update is only for Windows Phone 8 devices.
Going forward the team at Seles Games will be working on the Weave Cloud Services to make it faster. There will be a web client so folks can access their Weave content in any browser. The team is also working on bringing OPML importing so folks can bring in their old Google Reader content.
Ready to get your Weave on? There are two versions, free and paid. The free version is ad-supported, while the paid version has no ads but runs you $9.99. It's worth it though, but of course try the free version to see if Weave is right for you. You can also wait a few hours till the sun comes up, we'll get a video of Weave in action up for you folks. Download links below or use the QR codes down there as well (free is first, followed by paid).
Weave (free/ads) – Windows Phone Store
Weave ($9.99/no-ads) – Windows Phone Store
Weave (Windows 8/free) –Windows Store (opens in new tab)
Note: The update for Weave free is live now. However, the paid version of Weave is a little behind and should be out in a few days.
Windows Central Newsletter
Get the best of Windows Central in in your inbox, every day!
Great, but I still want Flipboard :(((

This is an app that has been around since before Flipboard... and a lot of people think is better than Flipboard. It has more features than Flipboard. Plus it's free, so you got nothing to lose :)

Why you only publish paid version in Indonesia? Are you forcing us to buy your app? Please release the free version as well :)

We had to pull both the free and paid version in Indonesia and about 40 other countries because of the "Food and Wine" category, plus a few feeds show content deemed "objectionable" in those countries.

Thanks SelesGames!!! Been loving your app for a long time now!!!! Can't wait to check out synced news feeds!

Can I follow Twitter, Instagram and Sina Weibo accounts on Weave?

Flipboard and then pininterest god windows phone is going to get real addicting soon!

OMG we got chat sticker on fb app in windows 8.1! Yay!

EEEEEEEE :D Lol I am just excited !

I rarely use flipboard on my PC weave is just something else.

No thank you I've been using beta version on my Lumia when it began and the syncing is really good.

I want flipboard so much that i will flip the board haha so funny

I still don't get why WP7 is being discontinued. It still has 10-11 months of support !

MS has hundreds of employees to still support WP7... we have but the one. If it was easy to still support WP7 we would but it is just too much effort to port over the new stuff to the old platform.

Argghhh...when are the new windows phone devices coming? I'm waiting to upgrade from my Lumia 900. Could you upgrade me to WP8? ;) just kidding. I love weave. It actually gets my news feeds properly, both blogs and video blogs. Flipboard doesn't. Thanks SelesGames!

WP 7.x is like a step child now. Weave happens to be my favourite app, and they stopped support for WP 7.x :'(
Can't wait till I get a bee phone in 5 months.

To all the beta testers, do you know how to get the full version for free?

The full version has been posted to the Trello board :) https://trello.com/b/XXJOWyrj/weave-wp8-v8-5-w-cloud-sync-beta

Your app has been my go to news reader for windows phone.Always loved the UI and functionality. Thanks for a great app on both my WIn8 laptop and my phone.Wasn`t part of the beta because i haven`t dev unlocked my phone,hope you fixed the issues with instapaper mobilizer,mobilizing sites like wpcentral.downloading the update now :)

Thank you Binoya! We got a workaround for the mobilizer issue in this update. Long-term might have to create a new mobilizer that works with more sites.

Still switching to webview for wpcentral

Paid version not updated. Guess it's coming...

+1 will the paid version get the new hotness soon?

Read the article first. At least the beginning and end ;)

It is getting crashed everytime i open it :/

Are you getting any error message?

No error what so ever! It will be unresponsive for a while then crashes :(

I've got the beta and it started doing that after a while. I'm not sure what caused it, but I done a re install and it's been fine since.

Nice update, from what I can see. Having paid for the full version it's a bit frustrating when the free version is updated first, especially since the app is quite pricey. I'd love to see some kind of counter of unread articles on that 'most viewed' screen.

They ran into a submission error, wasn't intentional.

We wanted to have them both release at the same time, but we messed up the submission for the paid version which has caused a delay. Hopefully it gets through cert fast

Thanks for the reply. Great to see the developer on here responding to comments.

Gonna give it a go, but it's gonna have to be the best reader EVER to make me fork out around €9 and ditch Nextgen. I like the login with Microsoft part.

Tap on any ad to go "premium" for the remainder of your session. We'd prefer if you use the version with ads, since a constant, steady stream of income allows us to stay in business :)

YEa that's why it is so expensive, you just don't want us to buy it! :P

What about those of us who aren't American and are not interested in US news and US news sources? Very US biased.

We do have the Telegraph and The Guardian under the World News category, both great sources of news based in the U.K. Additionally, you are free to add as many news sources of your choosing as you like! Also, please let us know of any great sites you would like to see included by default, and we can add them. We are definitely looking for more great sources!

Yes, sorry. Forget that, just found I can tailor sources myself.. As you were :-) BBC always a great source of course..

Is there a way to import my feeds from Feedly? I love that you support MS account sync (and I hate feedly for having google only) and I would like to make a switch. But importing more that a hundred feeds manually would be a pain in the ass.

Any way I can make this feed work on Weave? http://feeds.wetpaint.com/once-upon-a-time/latest/excerpt

Wow, no more limit of 99 feeds?! This was my only complaint about Weave. I've been using the paid version since WP7 days and am happy to see more improvements and features still being added. Thanks!

I see what you mean Chris. Also, the World News is from the Telegraph and Guardian newspapers. Nevertheless, the app is designed nice -- it looks like Lazyworm have done it. However, I can't see the reason why the paid version is so expensive. Surely there can't be many people willing to spend £8 for a version without ads? Also, drop the price and I might buy it -- I'm all for supporting developers but that price is taking the p#ss! And the ads on the other version look awful -- just stuck there. I think I'll still use bing news as my main source of news for the time being. To the developer, please don't take offence by my comments. They're only opinions, and you know what they say about those ;)

No offense taken, the ads are ugly as heck. Click on an ad and they go away for the remainder of your session.

Cheers mate -- I like when developers chat with potential customers. Also, could you put the Independent Newspaper, the BBC and the Daily Mirror as standard. Why I say this is because the two papers you have chosen are Conservative and Liberal. If you put the others, it would give a pretty well rounded point of view to articles. Meaning between the sources I mentioned, and the sources already there, it is possible for readers to workout the truth of what is really going on. We all know newspapers have hidden agendas ;)

Thanks Dazzi for the recommendations. Will look into those sites tomorrow, 4am here gonna call it a night. Thanks all for interest in the update and huge thanks to Sam for the writeup! Good night :)

No worries mate, I'm glad I could help...... 4am -- now that's dedication ;)

+1 on the additional sites

Art & Photography interest category is missing from these releases. It was present in the beta app. Now it is useless for me :(

Weave always seemed like a nice app but I just hate ads so I always pay to remove them... which I refuse to do for 10 dollars. 10 dollars to remove ads, WTF?! And I'm pretty sure it used to be 10 times less expensive when it launched on WP7.
Like others, I'm just going to wait for Flipboard instead.

You've posted about the price at least 4 or 5 times over the years :) We know you probably won't try it, but, you can disable ads just by tapping on them. Then you get the premium version for free basically! Also, Flipboard has ads. That's how they make money.

I did try the free app. I get it, you do that so people stick to the free app and click on ads but that's just not my thing. If Flipboard's ads get on my nerves then I'll stick with NextGen Reader, pretty simple. Was only 99 cents.

Do beta testers still get it for free? Been testing a bit, had some problems but it's worth it.

Wait a min...I remember two months ago they posted the new beta version of the app, and they said for those that sign up and test the beta version they'll get the final paid version for free whenever it is released. Is this still the case?

Go to the Trello board to get it.

it's a shame the Barclays app doesn't work in the US. Barclays has a very good savings account business here in the US, so I don't understand why they can't make the UK app work here too

This doesn't sync with anything. I want to be able to read an article on the phone, and have it marked as read on my tablet. Works really well with feedly integration in Nextgen reader or others. No syncing is crap. And for $9? What a rip off.

I love Weave from the beginning, and also enjoy it on my surface. Finally with syncing to WP8 it's even better than Flipboard.

Fixed the html speak, fixed the unmobilized articles, AND has sync?! Thank you Weave! If you guys could find a way to mobilize all feeds so that they can all be read, and automatically read from one article to the next, you'd make it perfect for hands free, eyes on the road news feeds while driving my long commutes. Keep up the amazing work. :)

That would be awesome! I was very happy when I read that the html speak was fixed. It made listening to articles incredibly hard.

I stopped using the beta when it started eating my data like crazy in RC 1. I posted the issue to the trello board but never saw a response. Has that issue been identified and worked out with the final release?

Yes! Been waiting for this release. Anyway, is there an option to clear the cache? The app gets pretty heavy after a while :(

If it doesn't lag and force-closes, I will totally use this.

saved up for the paid version a year ago. totally worth it :)

Using this with Lenovo Yoga and Lumia 920. Works and synchronizes fine! TY!

Where's the option to have read/unread articles removed after a certain period of time? It only imported 2 of my favorites, had about 20 of them.... Also, logged into with my MS account for syncing (even though I won't use it), how to log out?

The update sucks. All of my favorites were deleted and the windows phone heading was done away with. Seems like a step backwards in some ways.

It would have been nice if the "beta" testers actually tested properly instead of signing up just to grab the promoted ad free version... Wish I could go back to the old version which i was extremely happy with :-/

And now the WP version has the same broken live tile that the Windows version has... I don't want to know how many unread articles I have after I have already opened the app, I want to know before! And the Windows live tile keeps showing articles that were new when I last opened the app, not latest articles now...

To me the BEST part of Weave was that it would remove read-articles after a range of time (mine was set to 30 minutes) - is it just me, or is this option gone after the update? I HATE going into my feeds and seeing 42 pages of old already-read articles. Why take that out? Am I missing some option somewhere? I've done an exhaustive search for it within the app. Please let me know, SelesGames!

Ugg, bring back the 16x9 sized preview pictures on WP8 for the stories, those 4x3 "Big images" pictures are too big on the 4.5" screens. Good job on the Win8/RT app, love the 3 columns of stories for 10" screens.
Windows Central Newsletter
Thank you for signing up to Windows Central. You will receive a verification email shortly.
There was a problem. Please refresh the page and try again.