Web version of Outlook for Office 365 business users gets a new UI and more features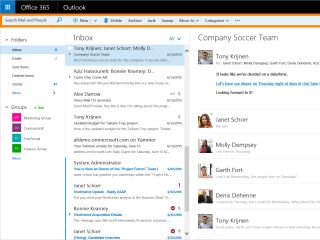 Office 365 business users will be able to check out a refreshed user interface for the web version of Outlook. Microsoft is rolling out the new look for the email site (formerly known as Outlook Web App), along with new features and additions.
Microsoft says:
Microsoft has added some new features to Outlook on the web, including Sweep, which was first included in the Outlook.com site for consumers. It states:
There are a ton of other new features in Outlook on the web that are described in Microsoft's blog post. The new version will be available starting today for Office 365 business users that have Exchange Online and are signed up for the First Release program. The changes and additions will roll out for all other Office 365 users in the first week of September.
Source: Microsoft (opens in new tab)
On one hand nice that it now blends in with the new OneDrive look, but deep inside I was hoping for something more attractive... Maybe for non-business users :)

I like the online version better than the Outlook client. Seems to be less buggy and faster.

How to convert email from Outlook (2013) to PDF without Adobe software?

Simple, justy send it to a PDF printer. there are many freepdf printer on the market to download for that kind of thing.

Why don't they just call it Outlook 365? "Outlook on the web" sounds so 1997.

OMG thank you! This was the main reason I wished I was still on Outlook.com!

That is so much cleaner than the Win10 app

I want the old mail app back the new one in 10 is shit!!! I just use regular online mail now. I can't believe they removed everything that made the mail app usefull and thought it was an upgrade WTF!!!
Windows Central Newsletter
Thank you for signing up to Windows Central. You will receive a verification email shortly.
There was a problem. Please refresh the page and try again.