Welcome to Windows Central, Zac Bowden!
We're making Windows Central even better as Zac Bowden, formerly of WinBeta, joins our team!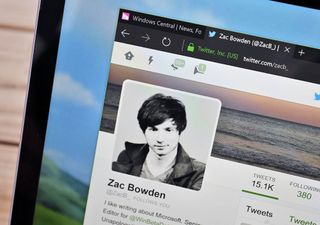 In October 2014 Windows Central was re-born out of the desire to capture the new 'One Windows' strategy by Microsoft. Ever since then, we have been slowly ramping up our Windows on PC coverage and today that is getting a substantial boost from Zac Bowden.
Starting this week, Zac Bowden will be joining the Windows Central staff to bring you all the latest on Windows 10. Also, for the first time starting in July Zac will become a full-time writer for us focusing on Microsoft, Surface, and Windows developments.
I've got an important 'personal' announcement to make very soon. Not today, but soon. Super excited to share the news with you guys :PI've got an important 'personal' announcement to make very soon. Not today, but soon. Super excited to share the news with you guys :P— Zac Bowden (@ZacB_) June 4, 2016June 4, 2016
If Zac's name sounds familiar, it is because he previously worked at WinBeta. For over five years Zac has made a name for himself through many video tutorials and walkthroughs of Windows 8.1 and Windows 10. He often breaks stories on new releases coming from Microsoft weeks and months in advance making him a great balance to our inside reporting on Mobile.
Together we hope to be able to bring you the best of Windows 10 whether it is on PC, mobile, publicly known, or sourced insider information.
So with that, please give Zac a warm welcome to the Windows Central family! We're very proud of his addition, and we hope to provide you the best Microsoft coverage on the planet.
Don't forget to follow Zac on Twitter @ZacBowden if you are not already!
Windows Central Newsletter
Get the best of Windows Central in your inbox, every day!
Daniel Rubino is the Editor-in-chief of Windows Central, head reviewer, podcast co-host, and analyst. He has been covering Microsoft since 2007 when this site was called WMExperts (and later Windows Phone Central). His interests include Windows, laptops, next-gen computing, and for some reason, watches. Before all this tech stuff, he worked on a Ph.D. in linguistics, watched people sleep (for medical purposes!), and ran the projectors at movie theaters because it was fun.
Just read this news on the onMSFT website (formerly WinBeta). I will not miss him one bit since Windows Central is my primary source for tech news Posted via Surface Pro 4 or Microsoft Halo Phone

Hi, I'm Zac, I'm so happy to be part of the team! I hope all of you can see the humor here with my name. Posted from PornHub

! Posting from deez nuts!

OMG! welcome Zac! Did I ever mentioned your voice is superb?

Omg I actually was going to ask if he was the one with the sexy voice

You're not the only one who has noticed it haha :3 Posted from Bikini Bottom via my Pineapple PineBook XPS 13"

I will enjoy hearing Zac's accent on our videos. Pretty much why I hired him lol

This I definitely believe. And nobody would blame you. :p

Well, all you Americans speak English, sort of...LOL

It's got to be half the team now that's British?

"Hey there guys, it's Zac here from Windows Central and welcome back to another video". :D

Lol. Was about to post the same thing (except for WinBeta in place of Windows Central) but thought I'd better check the comments first.

Hey dere guys, zac here from windoz central and wel come back to anudder video.
:P

I was expecting this, LOL Sent from Bikini Bottom via my ShellPhone 950 XL

And by "accent" you mean the non-peasant, proper way of speaking English? ;P

How do you speak properly through mangled British teeth?

I enjoy his eye on details, design, and usability. Good hire in IMO. Welcome!

hey! hire me then! i have le funni german accent, if i'm there we only need one more guy from deep south US and we're complete!

Don't let him take over "Ask Dan"... Posted from Windows Central for Windows 10

You just keep poaching talent from all over the net.

I do remember you from WinBeta. Congrats!

He is working in WinBeta now on WC? Did he leave WB?

WinBeta is also changing their name to onMSFT Posted via Surface Pro 4 or Microsoft Halo Phone

By the way, I wonder if Zac Bowden is going to take your place for the weekly "ask Dan" videos?

Why not both/each do some? ;)

Welcome Zac. But Dan... Or Zac. What are the consequences for the win beta podcast?

That's why no more Windows 10 builds were not available anymore, anyways, nice to be again with you Zac!

Welcome Zac. I like your voice.

Welcome Zac, I love your voice, and you have a great insight into the best articles

Welcome to Windows Central Zac.

Oh, just when I was listening to the most recent WinBeta podcast. :( Glad to see windowscentral consolidating its team with another A-editor, but a bit sad for winbeta and its awesome podcast in the same time.

Hey there Zac, welcome to Windows Central!

I hope WC puts Zac on their podcast :)

Zac will be a frequent guest and even fill in if one of us cannot make it ;)

That's great to hear, thanks Daniel :)

Who listens to WC or WB podcasts? Windows Weekly should be enough.

I can't listen to WW, I find the WB and WC podcasts are better

WW is deteriorating every day.

Hey there guys, zac here from Windowscentral....love that voice and accent. Welcome to windowscentral zac :)

Wow, that's huge! Will Zac still being doing his videos?

Welcome Zac from one of the few sane people on here ;)

That's awesome! Welcome, Zac!

Hey Zac, look forward to hearing from you.

Who thinks WinBeta will fade away without Zac?

No wonder the winbeta podcast didn't happen last week.

It happened. I've just listened to it. :)

I didn't see it listed on their YouTube channel even on Sunday. When was it uploaded?

Not really sure, but it was waiting for me in my podcasts app.

Yesterday evening London time

Winbeta still a great website and the Winbeta podcasts is my favorite podcast - Sean and Zac had great banter. Congrats to Zac! I hope Windows Central make more podcasts and appeal to a bigger and wider audence.

Does that mean windows central will get a windows central podcast??????

We already posted it today. Zac will be occasionally joining us on that too.

Hey Daniel, is AskDan dead?

I thought that name looked familiar. Welcome!

"Hey there guys, Zac here from Windows Central and welcome back to another video" is what I expect to hear now. :D

i was searching for this in the comments section.

So was I, lol. Couldn't find it, have to do it myself

Welcome. Looking forward to your work.

Welcome Zac. Hope you enjoy your stay here at Win Central and don't mind the occasional drama.

Hey congratulations!!! I looked at your name and immediately recognized you from winbeta.

Welcome to the WC family Zac. Congratulations on the new position.

Congratulations Posted via the Windows Central App for Windows

Welcome to the family, bro Θ_Θ

Welcome to Windows Central Zac.

What a great asset to pick up. Now I have no reason to visit winbeta anymore

This is fantastic news! The more talented authors and contributors at Windows Central the better I say! But how could you forsake Sean like that Zac?! lol

Congrats Zac! Love your videos, just make sure to keep your negative personal editorials off the site :)

Great! Hope to see his videos and hear his accent more often from now... Welcome, Zac! Posted via the Windows Central App for Andr... err... what?

Welcome to the melting pot of everything Windows :)

Welcome ... and see you on the next contribution =] Good to have you here.

Welcome to WC ! I really like your hands-on videos :)

Welcome lad. All the best in ur new job

Well that was a surprise. I will, however, miss 'hey there guys, Zac here from winbeta and welcome back to another video. Now today were taking a look at...' And '...I shall see you in the next one. Bye bye.' Zac's trademark intros and outros were awesome. It flowed with the winbeta name too. I just hope it flows with the windows central name too That said, welcome Zac!

WinBeta is now " On MAFT " Windows FAN... >>LUMIA 640 XL

Hey dere zac this prannav. And welcome to widows central

Why don't you try for the job at WC as a Editor in chief :p

welcome to the house zac, we look forward to reading ur articles

I hope you'll continue uploading videos of new builds.

How about an #AskZac series (Sorry, Dan!)

A very warm welcome Zac. Have a pleasant stay at WC.
Also guys, please excuse me for off topic: Gmaps+ is removed from the store. Wtf? :/ Please reply if somebody has any news on this.
Again, sorry for being totally off-topic. But it's urgent and forum is useless for this urgency. Hope you understand! :)

Gmaps/Gmaps Pro are still there or is Gmaps+ a totally different app?

No Gmaps+ is a different app by another developer.

What a nice surprise !
Welcome zac

Welcome, Zac! I look forward to reading your work here.

Uhmm bad or good? Dunno
Winbeta is the typical bashing ms magazine more or like iVerge

This is a great match! Congrats to Zac and to Windows Central.

WinBeta appeared to go off course recently, perhaps a consequence of him leaving. Welcome to WC!

Is this the end of Fridays podcasts?

Welcome Zac and we're happy to have you

Welcome Zac, love you videos, etc.

Welcome Zac! A great addition to Windows central with his vids and scoops, so grateful to have em all here in one place. One less web site to follow. Although I hope his previous employers continue to do great.

Welcome Zac! Been following your vids/articles for a while and theyre a great addition to WC. Congrats!

Welcome and congrats! Looking forward to see Zac's iconic videos here!

Welcome aboard always good to have fresh blood look forward to some great articles

so goodbye to 'zac here from winbeta' to 'zac here from windows central'.

Fantastic news (for Windows Central, not WinBeta, now on MSFT). Zac - you can get your chance to try a Hololens now, bet that's the only reason you joined :)

Is Zac the super sarcastic one from Winbeta? Or is that Oliver?
I know one is really super sarcastic and the other just sounds extremely upbeat all the time lol. I like them both. Welcome to WC.

Wow, huge loss for WinBeta, which I guess is changing its name and shaking up a lot of things over there.

Welcome to the family Zac ;-) You job at WinBeta is super impressive!

Welcome! Though I don't know who Zac Bowden is, from the looks of it, I should be quite excited, so I am :D!

Awww welcome Zac. Great to have you here. Feel bad for Winbeta though, you were special to them.

Welcome! Former 1320 user. Posted from the Philippines.

Hey Dan, hope you are not planning to migrate to the "sauce" like Sami Sabri did?

Zac mal, wat haste mit Dani vor?

hey there guys! zac here from windows central. welcome back to another video.. :D

Welcome! Posted via the Windows Central App for Android

Hi & Welcome Zac, sorry it has taken a lot longer than I wanted to follow you, but as you are aware "Life Happens" I have trusted you for years for my MS news and it is not stopping now. Happy for you and WC I think you both will make a good team, and I look forward to you same witty, and honest reporting that I have become use too.