Wellograph fitness watches to include Windows Phone 8.1 support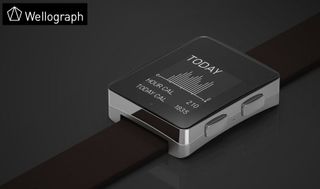 Wellograph watches are a new line of premium fitness watches that features a heart rate monitor, activity tracker, pedometer as well as the date and time. The wearable device is due to ship sometime in June with an official app being available for Windows Phone 8.1.
The Windows Phone app will have Live Tile support to allow users to see data such as total steps and exercise scores on the Start Screen. The app itself will reflect your activity synchronized over Bluetooth from the Wellograph watch and offer expanded analysis.
The watch itself has a Pebble look about it but incorporates a Tri-LED Heart Rate Sensor into the soft spherical surface of the watch. The sensor replicates the action of a doctor using their fingertip to register your pulse. The Wellograph is waterproof up to 50 meters with the battery rated at two weeks of use per charge.
The Wellograph watch is currently available for pre-orders and will cost you $349 for the silver satin or black chrome models with shipping expected sometime in July. You can find out all the details on the Wellograph watch here at the Wellograph Website along with pre-ordering information.
It is nice to see wearable technology coming online with support for the Windows Phone platform. Hopefully, others will follow suit.
Oh, just in case you missed it, Mobile Nations has launched a new site dedicated to connected technology. If you're looking for a smartwatch, activity tracker or other wearable/connected gadgets check out Connectedly for all your wearable news and reviews.
Windows Central Newsletter
Get the best of Windows Central in in your inbox, every day!
George is the Reviews Editor at Windows Central, concentrating on Windows 10 PC and Mobile apps. He's been a supporter of the platform since the days of Windows CE and uses his current Windows 10 Mobile phone daily to keep up with life and enjoy a game during down time.
Very cool, but what's not?
WP8.1 developers preview. The most unstable WP OS officially released to the public by MS.... Especially after the update to the DP..... I can't wait for the official, official, update..

I was going to say the price $349...
I would pay that for MS product but not for a third party. Too rich for my blood

Almost no problems on my 1020.
My spare 820 has pretty rapid battery drain - but is otherwise stable
My mum's debranded 1020 is v.v.fluid - but does require a hard reset every 48 hours.
IMO, WP8.1 is surprisingly stable!

Cool....wish it was in more colors like lumias

There will be the day that I see the usefulness of a smartwatch, but today is not that day. It looks nice though.

The day will likely never come....
Smartwatch screens are too small to allow a useful amount of data to be shown.

This is for people who put down their bongs, get off their asses, and exercise every day. A reliable heart rate monitor that isn't a chest strap is a huge bonus.

Implying bongs are an indicator of laziness. I have more smoking utensils than you can shake a doobie at and I enjoy exercising quite a bit. Let's not forget even Michael Phelps indulges in the devil's lettuce occasionally.

Damn. Now I want a toke...

Colors to match my phone.

It's cool but too pricy wish I can afford it

The watch looks rather ugly in my opinion

My opinion is the same, boxy and rather ugly :(

Especially for that price

Just not getting the whole concept of smartphone watches, just not grasping it......... Now.... Full voice integration with smartphones and built in car audio systems enabling ALL features, that'll be cool connecting audio via aux connector showing displays to show your smartphone screen.... It's a bit of a pain scrolling through music library to select albums/artists, sure, ok if selecting playlists as most last for an entire journey..

Need to see how it looks on a variety if wrists. Looks...interesting. Functionality is there, as well as WP8 compatibility so there's that.

Will this work with the HTC 8X, or only Lumia phones? I ask because it says it syncs via Bluetooth.

I'm not sure because I don't know that HTC Windows Phone 8X will support Bluetooth 4.0 or not.

This product made by Thai people. I'm very proud of that.

Great now I want Pad See Ew

ugly and pricey, just make a smart band to keep track of vitals, no need for it to mirror the same inf you will see on the phone anyway

Another gadget I would love to have but can't afford. As a cyclist, I see alot of usefulness to this coupling it with my phone.

This is a fitness watch, not a smart watch. It does not appear to have any kind of notifications like incoming phone calls, SMS text, emails, Twitter, Facebook, Whatsapp, etc. It does not appear to control the music on your phone remotely. Does not appear to have installable watch faces or apps. For $349 this is a very pricey fitness band masquerading as a watch.

Wow... Seems pretty expensive for a sportswatch that doesn't include a GPS to track runs... Over 300$ for a step counter... I'll keep my Nike+ run watch, even though it doesn't sync with my phone, at least it's useful, and it's less expensive.

Great, now I can step away from fitbit.

Here, let me help you: "The Windows Phone app will have Live Tile support to allow users to see data such as total steps and exercise scores on the Start Screen. The app itself will reflect your activity synchronized over Bluetooth from the Wellograph watch and offer expanded analysis."

But realistically, you won't.
It's a glorified step counter!

Hopefully these smart watches will be cheaper in near future.

You should also check the Dash WP8.1 will also be supported

Time to start saving! Hopefully this sparks up other companies to offer support! If pebble does jump in soon I will be buying this!

I'm waiting for one by Microsoft however long that takes at least by then I know it will almost usable to have a smartwatch

Nice to see other companies are embracing the same type of tech that android users have such as the Galaxy Gear. Now hopefully this thing will push Microsoft to include similar health features for windows phone

It's at least $100 too high.

Will it let me call K.I.T.T?

Can't this watch be little more slimmer? And what about strap patterns?
Windows Central Newsletter
Thank you for signing up to Windows Central. You will receive a verification email shortly.
There was a problem. Please refresh the page and try again.