We're here at Microsoft's flagship store on New York City's Fifth Avenue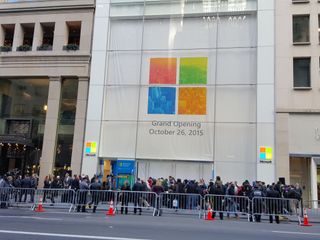 Today, Microsoft is opening their flagship store right in the middle of New York City at Fifth Ave. and 53rd Street. The store is five floors, 22,369 square-feet and by far the largest of the hundred or so that have already opened across the U.S. Not only is the store the largest, but it also just a few blocks from the iconic Apple Store, which no doubt was planned.
We're here in New York City to cover the event all day, including a tour of the store. The ribbon cutting kicks off at 11:30 ET, although we are not expecting it to be streamed. The store itself is opening at noon. We'll be in the media section recording as much as we can, so expect a follow-up article later today with that and a quick look at the new place.
Anyone planning on a trip to New York City soon? Will you be visiting this massive retail outlet for Microsoft?
Daniel Rubino is the Editor-in-chief of Windows Central, head reviewer, podcast co-host, and analyst. He has been here covering Microsoft since 2007 when this site was called WMExperts (and later Windows Phone Central). His interests include Windows, Microsoft Surface, laptops, next-gen computing, and for some reason, watches. Before all this tech stuff, he worked on a Ph.D. in linguistics and ran the projectors at movie theaters, which has done absolutely nothing for his career.
That's interesting a windows store with out windows... :P

er...the whole storefront is a window.

The just haven't opened the shutter yet.

They haven't swipe to unlock yet.

The entire storefront is a window

Technically is not a windows is a glass cover for the buildings

It is not a Windows Store, it is a Microsoft's.

That option didn't make it into the release; perhaps it will be included in the threshold.

The Microsoft logo is a curtain that is about to be dropped. You will see the three main floors from the outside.

Android behind the curtain?

No, your mother in the shower...

Even more interesting is a flagship store opening without a flagship phone available!

Awesome! Wish we could be there!!

I so wanted to go. But work. :/

Please please pretty please take a video, Daniel!

Hot chicks only please...

That crowd looks pretty small for a grand opening.

Invite only from what I understood.

We'll see if Conan was correct:

he might be referring to this from February, 2014: http://www.geekwire.com/2014/microsoft-ceo-conan-obrien-heres-action-pla...

Daniel outchea cookin stealin

Oh my YES!!!!!! We are chartering a plane and taking the entire family to experience this earth shattering development for ourselves and to blog it for the sake of our future offspring. That is just the type of dull people we are.

That is just the type of dull people we are.

Pedantic correction: Either (1) Those are just the types of dull people we are. Or (2) That is just the type of dull person we are.

If I am ever in NYC, I will visit!

Wow.!! This is an awesome birthday present. Maybe they'll have the 950 and 950 XL on display.

Be there in about two hours. I'll introduce myself and ask when the next mobile build is coming if you're still around.

While you're at it why not ask wen in India too?

Hopefully you will see the 550 and maybe make a hands-on video?! Posted via the Windows Central App for Android

Will stop by if I can this week if nit definitely this weekend

Now been serious will Microsoft store sell another windows mobile phone? I not hear just 2 company with new model will company like BLU build new windows mobile?

What's this "Microsoft Band Bus" ? Do they have "Microsoft Lumia Bus" or something?

When's the bus coming today ? Soon™

Hold up 5 floors?! I'm going to NY now bye

no i think its 3 floors. look at the tommy store beside it. i dont each glass section is the height of a floor. that would be far too small.

I'm wondering what products they'll display for the whole 5 floors.

(Pure speculation) Ground/1st floor - Show case floor, plus help desk and other customer service stuff. Similar to the stores we already have.
2nd Floor: Office and productivity floor. Show off Surface Hub, Skype for Business, OneDrive for Business, Office 365, etc. Red part of the Microsoft logo.
3rd Floor: Xbox everything. From consoles to games to Kinect to everything: This floor will have all things Xbox. Green part of the logo.
4th Floor: Windows dept!!! Laptops, desktops, 2-in-1s, Surface, Lumia, etc. Anything and everything Windows will be on this floor, blue part of the logo.
5th Floor: Web and web services. Bing, Office Online, consumer OneDrive, consumer Skype, plus demos for how to get Microsoft services on iOS and Android. All about connectivity and the cloud. Featuring Cortana, of course. Yellow part of the logo. That'd make sense to me, anyways, but I'm interested to see what Microsoft actually does with it.

Only the first 3 floors are open to the public. Microsoft branded products on the first two floors, then a "Dell Store" on the third floor. The upper floors are staff offices, etc.

Just another store to spend more money in.

Little do we know, stores are just money-making operations in disguise.

Hey Daniel, I am up on the third floor in the Dell / Alienware experience. Come on up when you get a chance!

I'll be there at about 12:45. Will you be there by then, Daniel?

Geee all the products there are flagships, means more $$$ to spend.. Good for them :)

Interested to know if the 950s are on display...

I hope someone with Periscope can broadcast the event. This is where those certain missing apps would come in handy for Windows Phone.

I've never had any use for periscope. There are so many established and well known stream-services out there already which I can watch.

Well which ones are available for Windows Phone that are cross platform and interactive so I can download it? I find myself really loving the aspect of live streaming and the interactive aspect makes it that much more interesting. John Legere and MKBHD are two of my favorite Periscopers. Posted via the Windows Central App for Android

why are you asking for a cross platform app, you're not using one yourself... LOL!!

Periscope is available on Android and iOS. And I still own a Lumia 920 (although non SIM) with the technical preview build 10549 installed so don't go around making assumptions when you didn't even answer the question. Is there an app that provides live streaming with the ability to comment and get live feedback from the broadcaster? Posted via the Windows Central App for Android

Soon as I get outta werk...I'm on my way for the Halo 5 release! Ooh-Rah! =p

This looks like a really "rich" part of NYC. Anyone know how much they are paying for it per square metre? (Not sure what metric you guys use in the US) Really hope they open one in Sandton or Rosebank someday. Windows Phone does quite well in South Africa!

I think that was shared a while back. It's thousands of dollars per sq. Ft, (including all floors).

I would be there right now but stuck at jury duty!

Sounds great. I was at the Austin store this weekend and got to play with all the new releases. I was hugely impressed with what they have done. Some tremendous products.

Definitely visiting next week!

Yes actually I'll be in New York this coming weekend and I'm planning on stopping by the store while I'm there. Go Mets!

I think I saw you Dan and I was going to say hi but you looked annoyed :/

Never been to NY but if I ever get over there I will definately make it a destination.

If I was in New York I would go but unfortunately I'm stuck here in Indiana.
Windows Central Newsletter
Thank you for signing up to Windows Central. You will receive a verification email shortly.
There was a problem. Please refresh the page and try again.