What do you think of Bing's new, curvy logo? (poll)
Do you like the new Bing logo better than the old one?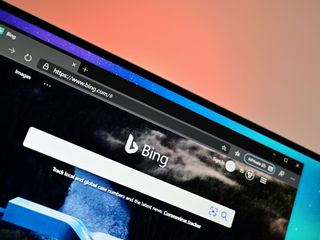 (Image credit: Daniel Rubino/Windows Central)
There's a new logo on the block, and it belongs to Bing. The updated look started rolling out to some Bing users this week on the web, though it hasn't arrived for everyone just yet. Whether it's a test, or it'll eventually make its way to everyone, it definitely fits in with Microsoft's broader Fluent Design vision that's circulating to all of their icons and logos these days.
The most apparent change with the new logo is that it's much curvier than the older one. There's a nice hint of shading and depth to it as well, but it otherwise sticks very close to Bing's signature lowercase "b" branding.
With any updated design, however, there are going to be those who love it, those who prefer the older look, and some of us who just don't care either way. What camp are you in? Let us know in our poll below.
Bing isn't the only place Microsoft is flexing some design muscles, of course. The company has detailed a huge range of updated icons that are headed out to its apps across Windows, Android, and iOS. According to the last poll we did on that icon revamp, a large number of you prefer the direction Microsoft is going.
Dan Thorp-Lancaster is the former Editor-in-Chief of Windows Central. He began working with Windows Central, Android Central, and iMore as a news writer in 2014 and is obsessed with tech of all sorts. You can follow Dan on Twitter @DthorpL and Instagram @heyitsdtl.
The new one reminds me of the breast cancer awareness ribbon.

i think its a really, REALLY slow news day if this is what we're being presented. haha

Hah, it's not the busiest ever. But this also only took me 5 minutes to write and post.

I like the curved logo better than the angular one for sure.
A lot of people meme about Bing, but one thing's currently for certain: searching for Restaurants on Bing Maps is way better than Google Maps.

I don't find that to be the case, but I am sometimes surprised at how good Bing Maps can be. I think it's all the Yelp integration. I don't think the UI is all that hot, tho.

Come to think of it, the new one could be a response TO COVID-19 by looking like toilet paper 😂

They could've added a little bit of color

It's blue on a search page, rather than green. It's just white on the home page.

I wonder if there's a story behind the direction of it. From top to loop, the old one moved "away" from the viewr, while the new one moves "towards" the viewer. I think I like it

I'm not a fan, simply because it doesn't seem to carry any meaning in its design. The previous logo showed a door (straight part of the "b") and pathway (curved part), which was a clever way of signifying a search engine (you use it to "enter" websites). Subtle, clever, and it went along with "windows". The new logo doesn't seem to have any real significance. For example, compare it to the new Edge logo, it's depicts a wave, like surfing - surfing the web - while still fitting a subtle "e" into it. It also has a round shape, something that people typically associate with a web browser (every browser uses a circular icon). It's well thought out - every detail seems intentional. This new Bing logo doesn't seem to have any symbolism or thought behind it - or if it does, it's way too subtle.

This one is fine. I think the monochromatic color palette helps in this case. I still think the new windows 10 icons and new Edge are very weird. The icons are too busy with the color and gradients and distract the iconography itself in terms of glanceability. There is merit in simplicity, but the new ones are too refined. The metro design still makes sense to me. A thought in design that was inspired from metro/underground and airport design. They make sense and appeal at a glance for a reason and when public transport still use them today. The new Egde logo to me still looks like a tide pod icon. I can't unsee that any more.
I think Microsoft did not succeed with a visual appealing or glanceable iconography for this cycle. Wishing the early Windows 10 form, combined with metro design returns again one day.

I just don't understand why bing needed to exist at all when it could've been cortana doing the searches.

It's okay, I guess. But old (not current, but the one before) is better.

It's neat and more in line with the Fluent Design icons. Fluent Design as a whole is better than the design systems from Google and Apple, but when you look back ten years from now you'll see that Metro/Modern UI was more distinctive, unique and better looking. It was copied a lot by many, some better than others. Microsoft is more Google alike with Fluent Design, but I like how Microsoft puts effort in every icon. Design was not a Microsoft thing in the past, but now they are better at it than Apple. BTW some people don't think a new icon is a thing, but I'm glad that Daniel does. Design is everything.

As someone who can't let go of his preference for the Metro-Style design language (here comes the ridicule lol), I don't like this new logo.

I still don't see the New design on my chrome browser

Thanks going to take some getting used to.

It's fine. Needed to be done because of the move to fluent design.
Windows Central Newsletter
Thank you for signing up to Windows Central. You will receive a verification email shortly.
There was a problem. Please refresh the page and try again.