What the heck is Microsoft's 'all-new' Windows 1.0 tease about?
Say hello to Windows 1.0 — again.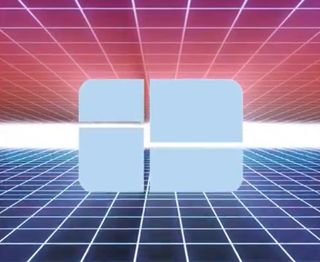 What you need to know
Microsoft's social team put out a sizzler video and "announced" Windows 1.0 on Instagram and Twitter today.
The posts seemed to be someone having fun at first, but there may be more to it.
What Microsoft is teasing is anyone's guess.
The Windows team had a little fun on social media today, releasing a sizzler video alongside the reveal of the "all-new" Windows 1.0. But what looked like a late April Fools day prank may have more to it than it seems at first glance.
The post itself says, "Introducing the all-new Windows 1.0, with MS-Dos Executive, Clock, and more!!" Accompanying the post is a video that rewinds through all of the logos Windows has used over the years, ending with the Windows 1.0 logo — a logo Microsoft has started using on social channels.
https://twitter.com/Windows/status/1145731141695168512
Where it starts to get interesting is in the Instagram post, where Microsoft has been responding to comments since the post went live, and it sure seems like the company is teasing something forthcoming. To commenters who are as perplexed as we are, the Windows account has been coy with responses like "Stay tuned!" and "More information coming soon!"
It's also interesting to note that the Windows Instagram account has removed all of its posts except the Windows 1.0 teaser.
On July 3, Microsoft continued to stoke the flames of speculation with a new teaser, which you can check out below.
https://twitter.com/Windows/status/1146456110917914624
On July 4, Microsoft added yet another teaser. This teaser is the first to confirm that the tweets have to do with Stranger Things. The teaser included a scene that is in Season 3 of Stranger things.
What Microsoft may have up its sleeves is anyone's guess, but it's definitely Windows 1.0 related. It's possible that the company could be planning to open source the operating system, just as it has done already for MS-DOS and Windows Calculator. Or, it could simply be the social accounts having a bit of fun. Either way, today was a nice trip back to November of 1985.
Updated July 1, 2019: As pointed out in the comments, it's possible this bit of social media fun could be some sort of promotional tie-in with the third season of Netflix's Stranger Things. The season debuts on July 4 and is set in 1985, the same year Windows 1.0 launched.
Updated July 3, 2019: Added Microsoft's second teaser from July 3.
Updated July 4, 2019: Added Microsoft's third teaser from July 4 that confirms it is related to Stranger Things.
Portable (and affordable) power accessories we love
Each and every one of these charging gadgets will keep your favorite gear and gadgets going for longer, and none of them costs more than $30.
VisionTek 8,000 mAh micro-USB power bank (opens in new tab) ($13 at Dell)
This compact dual-output powerbank can speedily recharge any and all your devices, thanks to a two-amp "fast charge feature," using its micro-USB out port. Its simple design includes an LED indicator, and it costs about as much as a single ticket to the movies.
Panasonic eneloop AA batteries (opens in new tab) (From $13 at Dell)
Panasonic's rechargeable batteries are among the best available, and just a couple of them will keep your favorite remote, mice or other peripherals powered up when you need them. They're also eco. And the company's affordable charger (opens in new tab) fits and charges both AA and AAA batteries at the same time.
Belkin Qi Wireless Charging Pad (opens in new tab) ($30 at Dell)
This unobtrusive Qi wireless charging pad looks good (and kind of like a UFO …) and easily charges all your Qi-compatible device up to 5W. Its LED indicator lights up when you're charging. And it costs just $30.
Dan Thorp-Lancaster is the former Editor-in-Chief of Windows Central. He began working with Windows Central, Android Central, and iMore as a news writer in 2014 and is obsessed with tech of all sorts. You can follow Dan on Twitter @DthorpL and Instagram @heyitsdtl.
Interesting...I would like that song though.

It's got a retrowave give to it and so does the background lol.

Is this a basic/no nonsense Windows or a tease of a "finished" product that goes back to its roots? Or simply, another "version" of Windows?

you mention finished product. That made me think that maybe they are finally calling one of their products finished? If that's the case then we have 39 years to wait for Windows 10 to be finished.

Windows Lite = Windows reboot = Windows 1.0 = simply Windows.

Probably Windows Core O/S? 🤔

Agreed. This is the perfect Windows "lite" tease... which I hope they will just call "Windows". All they've left to do then is rename Windows 10. Two versions of Windows. One for home and K-5... called "Windows" and one for the enterprise, creatives, gamers, higher education, and power users called "Windows Pro".

interesting
but iirc they didnt want to call it Windows

They won't call it Windows because if you bing Windows you'll find windows. Maybe they call it Windows One (the new OS) and Windows One Pro ( all old editions).
Note: Windows 10 Home won't exist anymore and will be merged with Windows 10 Pro

Look at the logo. The Window panes are all different sizes. This has to be about Cshell or its successor.

That's the logo of Windows 1.0. The original Windows logo.

Hah! You're right. I actually used Windows 1.0 should have remembered that :) Still may be the point though!

Something related to "Stranger Things 3", maybe? It's set in 1985...

Thank You! Finally someone gets it! ;-)

Stranger Things have happened.

What do you bet that whatever this is will be pretty anti-climactic?

As much as I would love an amazing announcer, knowing Microsoft its most probably going to be a letdown

Lol it's probably about a new calculator app.

The twitter post is probably tongue in cheek lol. If I was to guess, I'd say it's Windows Core O/S because that is the branch point (or rather starting point / source if you will ) going forward. Upon which everything else will be tailored around as that is the point building a modular o/s.

All the people speculating about how this is the new WCOS or CShell. No it's not. There is no hidden message. This apparently means they are going to open source Windows 1.0. That's it. No special meaning, no historical meaning.

I was going for releasing Windows 1.0 via the Microsoft Store as now they have Sandbox to run it.

That seems like something they'd do. How do you know this or what your source?

Yeah, that's what MSFT would use it's slickest marketing yet for.

Can you imagine MS using this as a 'Windows-reboot' to introduce Windows Lite instead of breaking away from the 'Windows'-naming? I mean, classical MS shooting themselves in the foot

I'm going with the 'Stranger Things' theory, it's some sort of promotion link with Netflix. We'll know on July 4th

Yes you are reading this correctly. Windows 1.0 will come out revised on a 3.5 floppy disk. Now all you have to do is dig that floppy disk drive out and redevelop a driver for it ??? LOL

I know you meant this as a joke, but thanks to Windows' impressive legacy compatibility, 3½ floppy drives are still supported.
I have a USB one I kept just in case I really need to read an old floppy, and it works without any driver download through the usbstor.sys and sfloppy.sys that still ship in Windows 10 1903.

I think it teases Windoss Core OS which is now named Windows One (the base of the OS is called One Core). The other information refer to legency support.

A single core for all windows versions. this was the Vision of Satya from the start.

windows for pi/arm devices? haha

Logoing on the old shape is too polished and marketing too clever for this to be some minor thing.

Oh yeah... this is assuredly the primer for a BIG Windows "Lite" announcement. ;0)

Maybe next Xbox will be "Xbox 1.0"

Also, Microsoft Stores are running Stranger Things workshops in the stores. Definitely a tie-in.
Windows Central Newsletter
Thank you for signing up to Windows Central. You will receive a verification email shortly.
There was a problem. Please refresh the page and try again.