WPCentral Forums - Feedback & announcements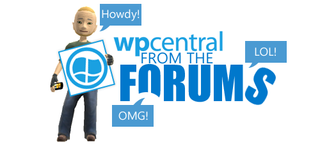 Nestled way down close to the bottom of our forums you will see our WPCentral Meta forums. This is where we talk about our website and it's a good place for you to give us feedback. In this area we will post announcements and try to keep everyone up to date on what we are doing.
In the Meta forums you can post a question about our site or make a suggestion. We love it when you do that! Let us know how we are doing and maybe make a suggestion or two. We take every post in to consideration, but keep in mind we can't always meet every request. We are making a lot of changes to the website, so if you notice something out of the ordinary or something we might have overlooked, please let us know.
Remember you have to register to post, so sign up today.
Windows Central Newsletter
Thank you for signing up to Windows Central. You will receive a verification email shortly.
There was a problem. Please refresh the page and try again.