This is what Spotify looks like running on Xbox One (exclusive)
So, Spotify has been outed by both Major Nelson and by Spotify customer service, but what exactly will the app look like on Xbox One?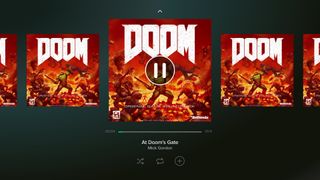 Recently, rumors began to swirl about Spotify hitting Xbox One, thanks to an off-screen photo of Major Nelson using an app dubbed "Spotify Music - for Xbox," from his Xbox status page. While questions were raised about its authenticity, eventually Major Nelson posted a split second tease on his weekly Xbox news show, making the arrival of Spotify a certainty. Now, we've had the opportunity to take a look at the app running on Xbox One for ourselves.
Previously, I speculated that it could be a native Universal Windows Platform (UWP) app, primed to hit all Windows 10 platforms eventually. Alas, it seems that "Spotify Music - for Xbox" is simply an HTML-based app designed for TVs, based on what is already available for Android TV and other services. While it will technically run on other Windows 10 devices, it's only optimized for TVs.
Thankfully, though, this app still supports UWP APIs for background audio, and it looks rather great regardless. Here are some exclusive images of what Spotify looks like on Xbox One.
Spotify for Xbox One is missing a fair amount of features from its desktop and mobile counterparts, and even competing services. You can't download music for playback offline, there are no music videos as found in Groove Music, and there's no full screen visuals either. It's bare bones, but functional. For fans of the service, it will be a welcome addition to the Xbox One's app line-up.
You can search for any music you like, initiate playback from your library, queue up a playlist, and so on. It's ideal for parties, or just making use of the sound system connected to your TV.
The arrival of Spotify is certainly imminent, as the app is all but ready to go. Whether Microsoft just flips the switch and makes it available for all, or adds it to the Xbox Insider Program to test out first remains to be seen, but one thing is for certain ⸻ Spotify for Xbox One is nearly here.
Update August 6, 2017: You can control Spotify on Xbox using the mobile app for Android and iOS too!
Windows Central Newsletter
Get the best of Windows Central in your inbox, every day!
Jez Corden a Managing Editor at Windows Central, focusing primarily on all things Xbox and gaming. Jez is known for breaking exclusive news and analysis as relates to the Microsoft ecosystem while being powered by caffeine. Follow on Twitter @JezCorden and listen to his Xbox Two podcast, all about, you guessed it, Xbox!
looks like spotify for ps4 so this spotify for xbox wont be UWP i think but the UI would be good for touch screen tho... so dunno maybe one day it would be UWP with this design

i'm waiting spotify uwp for mobile and continuum :')

i'm waiting spotify uwp for mobile and continuum :')

Why would spotify waste time developing a mobile UI for a platform which is effectivley dead? Remember PC, Console and mobile all use different UI`s and they still have to be coded up. Windows 10 Desktop UWP for Spotify is still years away. this release is for console only.

yeah, microsoft need to show what is going to be their mobile side of future... spotify might be waiting to see what happens with surface phone before release any apps for mobile

So, I build websites professionally, and at least in my industry, building a site responsively is a minor investment if done simultaneously with the other views. Obviously that may be different for UWP, I'm just saying don't completely dismissit yet (although I do agree with you, it's not likely to happen).

It's a good start FINALLY... I might look into this over the next 6 months while I still enjoy Groove Music.

If it is truly just the web player in a up wrapper that is extremely disappointing as it will only play files in 196kb/s ogg vorbis. It really is a step down in quality from 320kb/s.

True.. But have u read the app description? Premium users can listen in higher quality audio and without ads. I hope for the best!!!

High quality is not available on the web version no matter if you pay for premium.

and if it's really a web app it should be easy to get this to work with Edge at any platform (tablet, mobile)

You're all forgetting that while Spotify is the biggest streaming service on earth it is also the laziest when it comes to app design.

Nope, Spotify is available on so many platforms that they quite rightly chose to make the clients web-wrappers to minimise the development overhead. The PC version is also a web wrapper. A native client would be nicer, but its an easy price to pay for Spotify being available everywhere.

The pc version is not a web wrapper. It is a full win32 app with all features and quality available.

There already is a web version that is available that plays great on Edge. Not sure what you mean.

If it is truly just the web player in a up wrapper that is extremely disappointing as it will only play files in 196kb/s ogg vorbis. It really is a step down in quality from 320kb/s.If it is truly just the web player in a up wrapper that is extremely disappointing as it will only play files in 196kb/s ogg vorbis. It really is a step down in quality from 320kb/s.

The fact a web wrapper is being used has no bearing on the bit rate whatsoever. The PC version is also a web wrapper.

It shouldn't. Tidal streams CD quality over the web app. Spotify only streams in 196 kb/s. In their forums they said that they have no plans to introduce high quality streaming in its web player. It's not technological restriction but a choosen one.

this app is the same like its on the PS4 the UI is the same... so i guess they converted PS4 app into xbox

I expect nothing and I'm still let down.
- Dewey

Who needs Spotify when we have Groove? (Oh yeah - I know - thouse that don't want pay for music.)

So many people want everything in life for free...

I used Groove for over a year. Spotify is significantly better for me.

Those who have a premium subscription via family plan? For me, that's personal preference, Spotify beats Groove.

I've tried basically everything and keep coming back to Groove, the only thing microsoft needs to improve is integration with the store so i don't have to go to the store to purchase music that's not available for streaming, I hate having to go to the store for it and do a second search for something I've already found.

Alas, it seems that "Spotify Music - for Xbox" is simply an HTML-based app designed for TVs, based on what is already available for Android TV and other services.

That shouldnt be a surprise, Spotify standardise their myriad of clients around a common set of web services and create wrappers for each platform. You cant expect them to maintian native clients for every platform, it would be completley unmanageable.

What's with all the DOOM soundtrack screenshots???? Seriously I thoughtthis was an article about DOOM.....

The most recent store "apps" seem to be bridge apps and web wrappers. Seems to be little effort to create native UWP apps. Maybe UWP is just dead as a platform.

I wonder what Microsoft has to say in October