WhatsApp beta grabs canned status messages, better Windows 10 support and more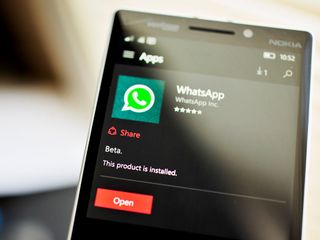 This morning version 2.12.128 of the private WhatsApp beta rolled out to selected users. This is a slight increase from the 2.12.126 version available to the general public. In terms of new features, there are a few noteworthy ones but overall they are mostly just continued polish and rounding off of existing ones.
According to the site Aggiornamenti Lumia, the following changes were introduced with build 128:
Fixed display of emoticons (now will be previewed correctly)
Greatly improved user experience with Windows 10 Mobile
Introduced "select messages" in the app bar for conversations
New sound for messages received while using the application (from different conversations)
In notifications area introduced the ability to enable or disable sound
Added new option to quickly change your status
The changing of your status refers to canned messages that you can 'quickly' choose as opposed to the default 'Hey there! I am using WhatsApp.' found under Settings > Profile. The only quick thing about it is you can just tap one of the statuses like 'At work' or 'Urgent calls only'. While it is handier than having to type out a message, the digging to get to it is still not so convenient.
Other additions include adding "select messages" in a conversations view making management easier and the ability to disable sounds altogether for in-app alerts.
You can see the changes in red in our screenshots from the latest beta release.
There is mention of "greatly improved user experience with Windows 10 Mobile". However, it is not very clear exactly what that refers to in the app. This build of WhatsApp looks like the previous one in many respects, and nothing is obviously different on our end. Nonetheless, this likely refers to some optimizations in the code making a better user experience.
No word on when these new features percolate to the official, public version of WhatsApp. Usually, there are a few weeks of lag time between the two branches. As usual, we'll keep you posted of when that happens.
Reminder
The public version of WhatsApp that is in the Windows Phone Store does not yet have these features! Please do not ask about how to get access to the private beta, as there is no public sign-up method. Thank you.
Via: Aggiornamenti Lumia; Thanks, Maurizio M., for the tip
Daniel Rubino is the Editor-in-chief of Windows Central, head reviewer, podcast co-host, and analyst. He has been here covering Microsoft since 2007 when this site was called WMExperts (and later Windows Phone Central). His interests include Windows, Microsoft Surface, laptops, next-gen computing, and for some reason, watches. Before all this tech stuff, he worked on a Ph.D. in linguistics and ran the projectors at movie theaters, which has done absolutely nothing for his career.
Waiting for the normal WhatsApp to get this update

Not Normal. Public version :D

bro it's not about normal or public version - thing is we understand what he is trying to say

Hehe.. Koi nahi yaar sab chalta hai :P

kahan chal rha hai sab :D

Cha cha blah buh buh mwa ha ha

Haha, this made me laugh. Their comments did start to sound like gibberi.. bah cha blah mwa ha ha!

It is already annoying enough when you type in english but this is also rude. Use the common site language or goodbye.

I totally agree, Ferrazza. It is very annoying when people post things in other languages that you can't understand, and especially in the Latin script. (Shhh... I'm one of them)

Kon keh raha hai parho jo nahi samjh ata :D (no one is asking You to read what You don't Understand)

That's not the point kid ;)

That's racist man. Why it would be rude when other people type in English. It can be annoying I get it but they can type whatever language they want.

Nope it is not racism, it is common sense and being polite. English site you do not come here and spam. If everyone spoke the F*in language they wanted on this wall it would be a utter mess. English article, english answers, for what we know he could have insulted the person he replied to. Use some common sense and do not accuse of racism randomly.

あなたが分からないとは彼のせいじゃない。人は何語で書いていいよ。

Am i the only one wishing this app was a universal app available on PC. It could do the hand off thingy that Apple does

Good idea. They will likely not like the idea of regular Whatsapp running on not-a-phone (it's not allowed on most tablets where this can be restricted). The PC app could instead be a front-end for Whatsapp Web, plus notifications and a few features.

Waiting for it to become a universal app that can run on desktop PCs...

Actionable notifications? And they should redesign the ui. It is kind of seems obsolete now.

Yes the design is somewhat boring. :/
The app needs redesign!

Ye I need that and multiple users chats delete like in our mails. And just one more thing which I used to love on windows phone 8 Fb integration.

actionable notification is in work but imp. redesign needed

I don't think that they designed that UI, they seem to have used the default look of an app on the SDK and didn't change it

I believe they did design the UI (a lot of controls are not standard controls: you can tell by their behavior; but are likely custom controls made to look like standard ones). They, however, want to make sure a user finds Whatsapp easy-to-use, and is not surprised when he or she opens the app. This is why Whatsapp is like a native, system app in terms of UI on all platforms, iOS (like iMessage), Android (Material), and Windows Phone (WP7-8 Messaging).

WC app needs an redesign too.. :/

For sure. Same design that debuted with WP7.5. It's in need of a refresh.

I think they'll launch windows 10 version,it'll be awesome

Plse don't say such things....what do you want ...a boring ui like android which Is so shit greenish colour...windows phone believes in simplicity...and that's what its WhatsApp has

I think every app in windows 10 should be like w10 versions of msn news,weather,sports. I really like that design, but it's just my opinion though

Dude, just Bing for some win 10 WhatsApp concepts. They're mind-blowing and they strictly adhere to win 10 design language. You'll love them and you'll understand what I'm saying. And I, too, don't want androidish design.

too much change in an alpha OS will make it unstable and pro like you will blame WhatsApp! they are playing it safe!

And perhaps add an option for double sim phones. Having 2 numbers but only being able to use one in wpp is dumb

Waiting for these in the Public version also. And also hope that WhatsApp team redesigns the app!

So right, I hate the app UI.. Just frnds not in hike messengers else I would've switched long ago..

Now time for some material design to match up with the beauty of windows 10 os

Windows 10 design is not by far material design. It's called Modern 2.0 and if you don't see a difference from Material, you are blind af

When would we get option to set an image as background in home page?

That will look bad.. And also a pain to see contact names.. Black/white UI is perfect

I prefer telegram.. Pity most of my peers stick with WhatsApp..

Pity that you don't have many peers to talk to on telegram.

"WhatsApp voice is only for the beta version of the app." Huh? Isn't Voice available for the public release since already a few versions? I'm pretty sure I've used it few times.

That's what I'm asking, isn't that the calling feature?? I am pretty sure I used it yesterday on the public version.

Yeah I've been using that feature for weeks already. Not sure what they're referring to here

They forgot to c​​hange the changelog, perhaps?

ha ha,I see what you did there!

I want the beta app.. Any trick to install it? :(

Did they add the answer messages on the notification option on win10 mobile?

It's called actionable notifications, its work in progress

:Note to writer. While it is handier than having to type out a message(,) the digging to get to it is still not so convenient. Needs a comma! You can delete this after edit :)

I really don't get what they mean by "Optimizations for W10 mobile", when the app is a WP8.1 app.
And W10 mobile should handle WP8.1 apps by default, I don't see what they could possibly do to theirs other than rewrite it as a native W10 app. Any other WP dev out there that can explain this? Thanks!

I have the preview installed and app resuming / app opening from toast notifications is behaving differently and some apps are broken as a result. What's app is working pretty smooth though so I don't know if they refer to this. I do not know either if this was something wanted by MS and developers will have to change their code a bit or it is just due to the not-so-stable build, time will tell, I won't touch my apps code since w10 build is more stable...

And the most needed feature is still not available.. Selection option to delete conversations.. :/

Not the chats. I meant contact conversations.. Is it there?

Maybe when you'll learn to express the "most needed feature" so that they can comprehend what you mean they will implement it :p

They need to redesign the app to suit windows 10 and actionable notification is needed

The middle finger emoticon is not available for us... :p

Maybe it's a WP/MS restriction.. You know WPs keyboard dictionary doesn't have any of that stupid words

Actually middle finger emoticon was first introduced on windows

Yes, and Windows 10 Mobile does have some 'inappropriate' words in the suggestions, at least for me. Fuck it.

Didn't daniel say in a tweet of his a month back that they weren't going to cover Whatsapp beta updates. What changed?

...unless there are significant changes to note or obvious things we can show you.

Good plan. Btw any word on the new windows central app? I know you guys are waiting for the final version of the api but can we at least expect it a month or two after official release of win10m.

Would be awesome if the "wrapped text" on WA large tile. Currently it shows just one line and huge space is left empty

yes. that would be really nice.

Same with messenger and messaging ugh!

Answering messages on notification center is the most important for me, Don't mind abt UI changes bt that is also welcome...

Would be great if they finally integrate into the People app, just like Telegram does...

I just wanna say thank you to the developers of WhatsApp for constantly bringing updates to Windows Phone.

Still looking our for the ability to select multiple conversations. It gets pretty annoying to delete each chat individually :(

Daniel,when will you update Windows Central App...
Haha
Or you are 'instagram developers'

My thoughts exactly. The app hasn't been updated for months.

Never see wc app crash....

Does OneDrive chat backup work in this version? I just can't my chat history backup to OneDrive and restore from it after reinstallation since upgraded to Win10 Mobile.....

Please release it parallel to 'Android version'...

What is windows 10 support?

It doesn't support its previous OS like Windows 8.1..

How come this is an update? Agrees for android and IOS.

Hope they have W10 version ready as soon as Wmobile is released.

3 months later, whatsapp will be updated with all features on Whatsapp Beta.

Will WhatsApp be integrated with the W10 Messaging app? Just like Skype is, so that we can directly send a message through Messaging using WhatsApp.

When can we manually select backup files to restore chat history

Would like to see WhatsApp support the notification reply option..

Why no images of Emoji previews?!

Nowadays WhatsApp Team trying their hard work for windowsphone...

Daniel are you a WhatsApp Beta user?

People who are in the beta program should write to them to put back the date when a status was posted. Like it is in Symbian.

Waiting for it to become a universal app that can run on desktop PCs...

WhatsApp is giving surprised!!!! Though late but I am happy that its there now.

Am I the only one who is waiting the search option in the app and the balloon's size as they are in the other OS?
Windows Central Newsletter
Thank you for signing up to Windows Central. You will receive a verification email shortly.
There was a problem. Please refresh the page and try again.