WhatsApp gets a very specific update tonight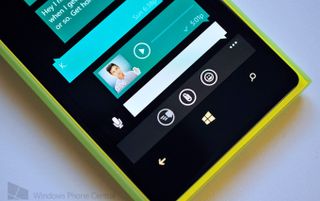 It's Friday, and it looks like the hardworking folks at WhatsApp are busy churning out more updates. I mean, why do in one update what you can do in five? Tonight, the popular messenger app has been bumped to version 2.11.312.0 and yes, it does come with a changelog. That's the second update this week.
Unfortunately, no new features are available but if you speak Arabic or Hebrew, start high-fiving your friends, because you just got a "fix for difficulties entering your verification code". Bam! How awesome is that?
Okay, perhaps it's not supremely awesome, but you folks always want these updates and notifications on 'em, so here you are. Maybe next week's update will have the redesign? Start holding your breath…nah, never mind.
Pick up WhatsApp version 2.11.312.0 here in the Store. Thanks, Faraz, for the tip
Get the Windows Central Newsletter
All the latest news, reviews, and guides for Windows and Xbox diehards.
Daniel Rubino is the Editor-in-chief of Windows Central, head reviewer, podcast co-host, and analyst. He has been covering Microsoft since 2007 when this site was called WMExperts (and later Windows Phone Central). His interests include Windows, laptops, next-gen computing, and for some reason, watches. Before all this tech stuff, he worked on a Ph.D. in linguistics, watched people sleep (for medical purposes!), and ran the projectors at movie theaters because it was fun.
Haven't used this app. What is it good for?

Social connections, chating, etc. A quick Bing search will give you a more comprehensive answer.

It's some messaging service. People in countries where SMS is not commonly instead use this app.

In India it has become a huge necessity.. Because we have a 200 sms per day limit here

Who sends 200 sms's pr. Day ??

People who R in relationship need much more than a mere 200 mate:P :P

not necessairly just that, people that travel or have friends/family abroad use this

Great cross platform messaging service.. They process around 10 billion messages everyday.. Around 350 million active users.. Brilliant app !

Daniel shouldn't say the redesign word at all now lots of us will take it to serious. :) Anyways the article is sparkling of funny things almost like the only point of writing it was to make laugh.

Man didn't i take it seriously.
Really want some overhauls like vedio sending,mp3 sending :'(:'(

Daniel Rubino is my fav reporter

I tried to contact them once and ask them why we couldnt save videos on Windows 8 Phones. I really hate that we cant at least hold down on the video and it open up a menu to ask us to email it to ourselves. My friends send a lot of vids that Id like to keep, but I have no choice but to just let them die. Thanks a lot whatsapp! ugh.

Would love a redesign though :P. . I think this is the only widely popular app left that needs a design overhaul !

well, you know, they're allowed to have small updates too. it's ok to address a specific issue some people are having (and there are plenty of Arab/Hebrew speakers out there). I'm sure they dont expect you to report on every small update

In principal, I agree. But when you see frequent updates...it sounds like not good enough QA going on. I mean, if I have to re-edit an article 10 times, maybe I shouldn't have published so early. Similar case with app development. I guess I'd just rather these bugs get caught before release, after all, what's the point of the private beta?

You can never catch all bugs before releasing software. Anyone who has ever written a piece of code realizes that. Your options are to wait with these updates and release them together on a schedule while some of your users are affected or release more often to get fixes out quickly. While I agree it doesn't look good when you release small updates every week for an app, I have to point out it's nothing like writing an article. The amount of code in an app is closer to a book or a magazine, not an article on a website. The chances of missing something are much bigger and the effects on the end user are real (not just getting annoyed by spelling or grammer mistakes). and it's not like there are never any typos on articles posted here, it's just ignored

Eshy, it is not easy to find bugs while writing code, agreed. But that is why they are beta testers to find them before update is released to public release.
If developer keeps on fixing one bug in every update, when ll they add new features. Beta testers should highlight these small bugs and fix them in one big update. That is what Daniel said.

I've been working in this field for 20 years, I've yet to see a piece of software that was bug free, no matter how much QA and beta testing it went through. Sure, you can catch more bugs with more QA and beta testing, you still won't catch everything and now you've spent a lot more resources and time on it. I guess they decided it's not worth it

Hey Daniel, Foursquare received an update two weeks ago and i just received another update now....any idea what's been updated? Always been great seeing your 'updates' articles. Thanks!

Hmm. Don't know when will the background picture feature will be added. Hope it will be soon. Anyway any update is always welcomed.

Its time to #Switch to hike

where's the 'a bit faster' comment fellas? :D

It's a bit faster now! Lol

was just about to say that it is a bit faster :P at the rate it has got faster from v1, it shud be the fastest ever :D

Foursquare has an update too

The update needs to be in regards to the integration with the contacts & msgg, video attachments, etc.

All the updates are for bug fixes, when ll they come with big fixes:P

Wpcentral its morning over here in Finland, I mean u are universal, worldwide site, plz don't say tonight because its absolutely different time for half of your readers, not that it matters much but couldn't be without saying. I hope whatsapp gets multiple image sending and background image, plzzz

But you also have to remember that you're on a worldwide site and should know articles come from different locations. If it's night while they're are writing the arrival they have to choice to say so

So your saying that no reference to the time of day of the area that the columnist lives in should be referenced at all?...did I make that confusing enough???

Redesigned...it was already fast still feels faster...need some more good looking wallpapers ...make it free too...silent mode is cool...this is regarding wpc app not wapp...

I speak arabic so thats interesting for me as an update

are you asking me ???? if yes then it was just a humble request from a third world person....

I think whatsapp need to do a BIG update quickly. On the heels of iOS and Android getting BBM and using it. Whatsapp needs to secure WP users if BBM does make its way. What's to stop ppl from jumping in Bbm if it happens? I'm always been a whatsapp supporter but WP needs to be on par with the offerings that iOS and Android user are use too.

Not Best but still cool for wp8. Need more features like sending videos files from gallery and mp3 files such of features are still,missing for wp8.

Dats a fault on wp....it does not 'allow' sharing vids...:/

Yes coz of Microsoft lock ios but we can hope it will ad in future ..

Whatsapp experience in WP is very poor compared to android or ios,because we can't attach any video or audio files from the gallery..Seriously! this cannot be accepted..Microsoft do something (we know that You are not allowing this access) or you will keep losing your potential users to android and ios..

You can't attach audio in ios either... DRM brah

my cousin has an iphone 5 and he can send both audio and video files..

Honestly? I'd rather have a lot of updates than no updates at all. It shows that the devs actually care about their users on every platform, not just those that start with an i or an A.

I'm getting really tired of these minor updates... Not even worth updating.

My quotation is why they still hvnt made changes for video attachment
How could I upload n download video on, whatsapp
The whatsapp team should hv to fix this issue 1st

Its not whatsapps fail, Microsoft doesn't allow that yet for third party apps, maybe wp8.1 will change it, but whatsapp for now can bring multiple image sending and background wallpaper, to make app more attractive

not only whatsapp,u cannot attach video and audio from wechat,hike or line..SO its the fault of Microsoft only not others..

Not going to update untill there is something significant.

When are they gonna fix the crashing bug? It happens when i scroll up old messages

It would be very nice of them to add the option to change the notification tone to a personalized one.

Daniel, there was an update to the OS's Arabic and Persian keyboard, yesterday. Not sure if Whatsapp was just updating compatibility.

Updated to this version, still no sound for new messages and notifications. They arrive only when application is opened. This update is totally a waste.

I did have major problems registering a number on whatsapp in winphone last week, first the SMS never arrives, in the countdown part, if the screen went off, it would freeze at 3:37 and one couldn't have the option for voice call code. I had to do the process preventing the screen to go off in order to get the voice call. Glad it was fixed.

Hello, there's no sound and notifications when there's new message. It only comes when i open the application. I have set off the automatic update for date+time. still not working. somebody please help. thanks...

If you are facing Notification issue w.r.t whatsapp, the only workaround is to Hard Reset your phone. I was facing the same issue after the recent updates and tried all the other fixes but none of them worked. Post hard reset, all the push notifications work like a charm. PS - Hard Reset mat jeopardize the OS since i encountered the spinning gears problem and i had to brick my phone using Nokia Software Updater.

Well its a welcome update but idk whether anyone else has had this problem or its just i, but you cant go bak through your threads long enough without the app crashing. Any same experiences? Lovely app though used it since my days of symbian 60

media in a chat contact is under info is sorted monthwise..easy to check and delet...