WhatsApp getting new history settings to help you easily clear past conversations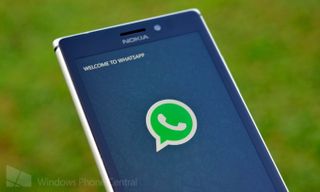 WhatsApp, the popular cross-platform messenger, will soon sport the ability for you to easily clear messages in conversations. The beta version of the app (2.11.309) has been bumped with this functionality, showing off exactly what's on the way to the live release.
If you've been holding out for a way to effectively clear messages older than a certain date, without removing the entire conversation then this will be for you.
The new feature will be located in the Settings area, between screen rotation settings and blocked contacts. Three options will be available (as shown below): clear all messages, those older than 30 days, or messages older than 6 months. It's a pain should conversations become too large to store, or you may wish to simply remove history from your device.
It's worth noting that this new feature covers all conversations and not individual threads. If you choose one of the above options, the wipe will affect all current conversations with WhatsApp contacts.
There's no word on when this feature will be introduced in the live release of WhatsApp, but we can't imagine it being far off. If you don't already have WhatsApp for Windows Phone, you can download the app from the store for free.
via: Windows Phone Central forums (alv3st3r )
Rich Edmonds is Senior Editor of PC hardware at Windows Central, covering everything related to PC components and NAS. He's been involved in technology for more than a decade and knows a thing or two about the magic inside a PC chassis. You can follow him over on Twitter at @RichEdmonds.
Good to see Whatsapp being updated so frequently..even on WP7

Its always been a good app

Right. I have an issue with not being able to send audio files unless I record it myself.

OS limitation, not WhatsApp's fault

Not completely. The youtube app that Microsoft produced was able to select video's from the library, and it was definitely an app. So there must be a way, just nobody knows.

"the youtube app that Microsoft produced" you already gave the answer ;) Third party developers can't access anything but pictures, that's why you can't send a video or audio file on whatsap,, unless you record it using whatsapp

Glade to see they are are working hard on it

Boom!!! Good feature coming, i hope it also clears media from previous conversations as well... up to yesterday i uninstalled and reinstalled whatsapp and didnt restore msgs from backup.... got back like 2 gigs + of space on my phone O_O!!!... keep the updates coming!!!! Background changes!!! New UI for 2014!!!! :)

Yesss! Now I can remove all the flirty talks I have with girls.
Will just keep the study part.
:P

I think he means custom colour background or wallpapers instead of boring black(my opinion) like present.

Ok. Stand corrected. My bad. Statement is quantified. Thanks:)

It is. Its so awful to show WhatsApp to oda friends who can actually change background.

yea i mean custom backgrounds/wallpaper changes :)

We want to attach / download videos!

mmmm....interesting...tell us more about it !


Man I'm tired of hearing this complaint. IT IS AN OS LIMITATION. STOP BITCHING ABOUT IT IN THE COMMENTS SECTION!

Yes, but Nokia managed to circumvent it in the nokia video upload app, so I think they can too if they get in touch with MS somehow....!!! I really really want this feature.

Nokia is device manufacturer, hence MS has provided special access. Same goes with HTC. MS should provide access to all developers.

Nokia actually has a good relationship with Whatsapp so they should be able to help out here.

Ha ha, it is not just about relationship. They also consider company policies.
Also they cannot provide permission to just WhatsApp and leave other developers.

Yeah, but seeing how important this is for whatsapp, they should allow them if they really care about their users. But I guess only Nokia does care, we don't even know for sure if the next version of WP is in the works, if it even is. All MS cares about is Windows..Nokia probably regrets getting on this platform..

Agree. May be if WhatsApp and other developers raise concerns, MS may change

Ha! If that happened then hell would freeze over. MS never listens, remember? Remember our long awaited file manager feature? Lol. Lots like these but not a word from MS. I could go on, but I've got a life lol

Check WPTorrent. They gave the option to save any and all files as MP3s in the Music + Videos Hub. You can easily extract them from the Music folder when connected to the PC, change back the extensions to what they were and voila! I think that's a neat workaround. I guess that can be implemented into Whatsapp too, of course only till the OS limitations can be tampered with. Good Wishes, Salams...

Whatsapp is constantly update its app. While line still enjoying the pride on iOS and android. Makes windowsphone further behind. Here, line is more popular than whatsapp due to full of feature in line than wuzzup

Here's what we need instead/more importantly:
1. A way to download and save Audio Clips and Videos received on the conversations. Yes, photos can be saved, and yes, videos and audios stay inside the phone, but we need a way to get them to the computer. Hint: Check WPTorrent, they found a way around it, you can save the files as ".mp3" formats in the Music + Videos, which can then be shifted to the computer and renamed to proper extensions.
2. We need the option to send videos from anywhere on the phone, and not just making them then and there and only within the app.
3. Sending a voice message by holding the Mic Icon on the left and sending an Audio Clip are different. They need to merge. The Audio Clips remain in the Media Content whereas the other Voice Message doesn't (so they can't be listened to or forwarded later on).
4. A way to save the Profile Pictures of the Contacts when viewed on Full Screen. Hint: Android had the option, iOS doesn't, but WP8 should.
5. There's still a small bug when you click on the Contacts the name to see the Media Content and their Profile, their Profile Picture zooms back in. It's not a big deal, but it's still a bug.
6. We need a new UI, personally, I love this one, so it's not a big deal, but still...
7. Wallpaper option?
8. I find the option of All Contacts a bit useless, but that's just me. If there is a use, and someone did use it, please let me know.
Good Wishes, Salams...

+620 All excellent and valid points.

Is it now possible to restore backup files after a hard reset or a purchase of a new phone?

I can't say about the purchase of a new phone, but I recently hard-reset my phone and upon re-installing Whatsapp, I was able to get back the last 300 (approx.) messages in all the conversations I had had prior to the reset. But none of the Media Content was recovered (Pictures, Videos, Audio Clips, etc). I had hoped to get back at least one of my Conversation completely, but it only went back till the latest 300 or so messages. Don't stick to what happened in my case, it must've been rare or something I did or didn't do. I'd make sure and look around Forums before doing anything 'regrettable' :). It's always safe to manually back-up content and then reset. Also, I was supposed to get an App List of the apps I had before the reset, but they didn't show, so I'd recommend saving the lists as Screenshots or writing them down in a list on a notepad or something. Hope this was helpful. Good Wishes, Salams...

Thanks for the detailed response to my question, I find it very informative.

You're welcome. Good Wishes, Salams...

I wish I could. My father recently passed away and I have a lot of voice messages from him that I don't want to lose. I know I would eventually lose them, but I am hoping Whatsapp would come up with a way to email or save conversations with all audio files.

I'm sorry for your loss. My sincerest condolences and prayers for your father and hope you and your family find the patience to endure such a loss. Amen. And I hope they provide the option soon. I checked on Android recently and they have the option to attach the Media too when emailing a conversation. We all have our reasons to see that option being available to us in WP8 too. Good Wishes, Salams...

It is possible to forward voice messages (I have done it) and they are received as normal audio files that play in the media player. Perhaps you could forward them to someone with a version that can save the files?

Yes, but that can only be done to Audio Clips that are recorded via the Attach button. The Voice Messages sent via holding the Mic Icon left of the Text Bar cannot be forwarded. They can only be listened to if you scroll up a Conversation to that point. And yes, I saved a few of my important Audio Clips by forwarding them to an Android and extracting them from there. But that requires having another phone which isn't a very good option, let alone be easy. Good Wishes, Salams...

I have done it, you can forward them. Long press brings up a forward option. I have just done it now just to double check!


Oh, alright. I think they can be forwarded as long as they're visible on the Conversation, like if you scroll up and find them there. But I wanted to forward some old ones, but Whatsapp kept crashing when I scrolled up the Conversation to a few hundred messages, and they weren't visible in the Media Content where you can see all the media sent by that Contact. The Audio Clips are saved and visible in the Media Content, but even those can't be forwarded if they are way back in the Conversation where you can't scroll up to. Just to be clear, when I say Audio Clip, I mean the one you can send from the Attach button, the one that has to be recorded and then used. The Voice Messages I refer to are the ones that you can send like walkie-talkie messages by holding the Mic Icon on the left of the Text Bar. I don't know what both are called officially, so I made up these names. Thanks. Good Wishes, Salams...

Yeah you made excellent points...MS has to develop these features..or else..i have to change to the other platform by my next buy..

Thanks! But even after all the limitations of the OS and its effect on certain apps, I'll still stick to my Lumia 920. But yes, the compromise on part of the users shouldn't be taken leniently by MS. They need to provide their users with features on par with other OS like Android and iOS, if they need to attract converts too. Good Wishes, Salams...

Gleek came up in their version 1.91 "Custom Notification Sounds". Its an amazing feature, WHATSAPP needs to get his hands on that. Right now is only a pull of 6 diferent preloaded sounds but still that way where there is 3 people in the room and someon receives a notification you can actually tell who got it.

Here is number 4.
http://twitter.com/Nawzil8/status/405407435076407296

I seem to be having issues with opening attachments (photos, videos, and voice) since the last update. I see the thumbnails but three times now, I haven't been able to open them unless I reboot my phone. Then I can open them. Has anyone else experienced this on their WP8?

Whatsapp devs are impressive on this platform.

Great!
My 2.5GB of whatsapp data says thanks! :D

2.5 GB? even my uc browser with porn isn't that big. O.o

Here are few suggestions for whatsapp.
1. Still when you scroll to old conversations, whats app crashes. Whats the need for this feature then? :/
2. Better UI.
3. Ability to hide last seen.
4. Set wallpapers.
5. I'd like whats app to start faster than it is now. A lot of my friends mock windows phone because of this.
6. Still the app functions arent smooth enough. Needs polishing.

Agreed. And also:
7. The notifications are more than once delayed during a day. And no, it's not the slow Wifi or the Data. The point of using Whatsapp is to get and see the message as soon as they're received.
8. Thanks a ton for being able to Pin A Conversation to the Start Screen, but we'd all love a timestamp on that too. This said, all of us appreciate the great work you're doing Whatsapp, keep it up!

9. Remove that bloody vibration when two messages come in while you are in the app. Drains the brains out of my battery! These are the features we need. Not a half made feature that applies to all chats instead of individual chats. This feature of "clear history" is useful for contact to contact basis. You don't talk to all the contacts exactly same amount of time. You may have only one day worth of stuff to save for one friend in a month whereas 28 days for the other!

Agreed. There should be an option to clear history, in both manners, 30 Days Older or Completely, for each Conversation. And also for all Conversations. Also, although that vibration is annoying, but I think we should get an option to mute the vibration or choose a sound for that instead or completely mute it while within the app. 10. I think all apps may have the option to Upload content to SkyDrive. And till Whatsapp/MS/Whoever Is Responsible find a way to save Content from within the app, we might use the option to Upload the Videos, Audio Clips, etc (All media that can't be saved currently) to our SkyDrive. Good Wishes, Salams...

This.
I'm waiting a way to backup/restore conversation through skydrive for more than a year. I've conversations trapped in my old WP7 and no way to extract them.

You asked for it, you are getting it soon.
http://twitter.com/Nawzil8/status/405407435076407296

I forgot one more thing... Not displaying rest of push notifications when whats app has been opened once. Sometimes when you receive a lot of messages, it really annoys the heck out of you.

WhatsApp takes 0,5GB on my phone. I recently deleted all my convo history but the storage check still says whatsapp takes that 0,5GB. And the most of that 500MB is "application info". So is there a way to make that wa smaller, or do I have to accept that it keeps growing and growing?

Maybe its the images and videos you received that are taking up that space, delete them and then check.

They were deleted at the same time; I only have media in the convos that I've recieved after vanishing my history. I also have set that the pics aren't saved automatically (I think that doesn't count anyway)

To clear up some storage, and when you're willing to delete all data, I usually prefer Uninstalling and Re-Installing the app completely. Try that, it might clear up that space. Good Wishes, Salams...

I dont know if its only me, but for me is rellay annoying that when you have more than 20 messages in a single conversation and you go in, you have to scroll and search the point where those messages started. what do you think?

Agreed. And sometimes there's a bug when you've scrolled much up and try to scroll down again wa starts to throw you back up and it's really annoying. Also sometimes whatsapp won't let you open an audio note or a pic. It's super frustrating!:/

won't let you open an audio note or a pic and video if you scroll too fast. this usually happens to me in group chat. if you slowly scroll down to next page and come back to file you want open it opens then..

Damn you, I don't want to clear them, I want to save them. But also because of "Windows Phone limitations" it can't send all my chat history via email.

Good to see constant support from whatsapp team for both WP7 and WP8.

Inb4 ui and sending vid.. Oh. Rats.

I can't wait for a big update...

Push notifications are improved! Love whats app

I wish we can toggle on/off our online status. I believe iOS has this feature.

Custom notification sounds and ability to search history are my two biggest requests, along with being able to send a previously taken video

Hope they will add support for audio files and background pic

WhatsApp has an option to backup your data, but I don't see an option to restore from it. Where does the backed up content go? I just switched phones and would like to move my conversations across phones. I can email conversations, but I would have to do that for every contact/group. Has anyone done this?

The backup is for as you want to reinstal the app, so after you instal it again, it will ask you if you want to use the backup.

Apparently that doesn't work if you switch phones (in my case it also involved moving from Focus S (WP7.5) to 8X (WP8)

How can one join the beta? (I can't google now)

I don't think they should work on anything till they get it to run without nasty battery drain.

1) I hope they fix issue (in group chat usually) when you scroll down too fast media files doesnt open. If you load next page scrolling donw SLOWLY and come back to file it will open. 2) If you go too far in conversation (scrolling down) the app 100% will crash. In group chat I want to check what I missed (sometimes I miss up to 250-300 messages in one night) and scrolling down after 10+ pages app crashes.

I hope to have the Backup/Restore via Cloud/skydrive. Current backup/restore is meaningless if we need hard reset or switch to new WP.

Custom notification tones please!!

After the last update on the battery life with this App. awful, do something with it pls: X I had to turn off the background watshapp: X
Windows Central Newsletter
Get the best of Windows Central in in your inbox, every day!
Thank you for signing up to Windows Central. You will receive a verification email shortly.
There was a problem. Please refresh the page and try again.