WhatsApp officially launches video calling for everyone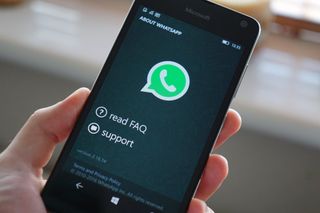 Following a short period of beta testing, WhatsApp has begun rolling out video calling to everyone. Windows Phone users will find that video calling is available in the latest update to the messaging app, along with some other features that were previously only found in the beta version of the app.
From WhatsApp:
In addition to video calling, it looks like you'll now be able to draw on and add emojis to images before sending them. This feature was added to the beta not long ago, and is very much like Snapchat in its implementation.
Do note that in order to make a video call, both WhatsApp users must be using the updated version of the app. For Windows Phone users, you'll want to make sure you're on version 2.16.688.
Have you had a chance to check out WhatsApp video calling yet? Let us know what you think in the comments!
Thanks Amandeep, Punyasloka, and Akshay for the tips!
Download WhatsApp from the Windows Store (opens in new tab)
Windows Central Newsletter
Get the best of Windows Central in in your inbox, every day!
Dan Thorp-Lancaster is the former Editor-in-Chief of Windows Central. He began working with Windows Central, Android Central, and iMore as a news writer in 2014 and is obsessed with tech of all sorts. You can follow Dan on Twitter @DthorpL and Instagram @heyitsdtl.
I have to give props to them for adding so much to WhatsApp for people across the platforms and the world.

I think the video calling update is still not available to Android users. I don't see the update on Play Store.

Now just to make it faster!!

Needs to be a W10M app for that to happen. In the meantime...keep on resuming...

I just came to check if windows was included in "everyone"..just waiting for a w10 app, with new UI..this one looks so old!

And will they ever update those screenshots?

It's an 8.1 app. It will always be "Resuming...".

WhatsApp video calling for the likes of Skype and the others. UWP for the Win(dows), someday! But I'll just skip the video calling part of it as long as there's Skype. I just need it for W10.

This is the best news ever!! Though it won't be as frequent as the call.. I may use it to you know demonstrate things etc.. This is so awesome!

what about making it a UW app? any work on that?

I have updated WhatsApp, but no video calling feature.

Use receiver
icon in the up right corner of the screen to get access to video calling.

In this update we can send gif images to convert the video in to 6 second

I also couldn't see any option at first. Then I went to one of my groups and long pressed on one of the contacts and then I was able to see the video calling feature as third option after message and voice call options. All the best!

Yes wating for w10 version...

Well i just tested it with my1 mbps connection and the clarity was horrible with Boxed images all over. Maybe it'll get better with time, Skype still works fantastic atleast for now.

Skype is best with video and audio hands down no questions asked.

Skype isn't on Windows Phone (you know, the OS that 85% of all Windows phone users use). WhatsApp is. Microsoft is driving customers towards competing services.

Yup but the reality is now that in my circle, WhatsApp is more prevalent... Most my skype video is with skype for business

Exactly. When Microsoft acquired Skype, it was, by far, the most popular, most known, and most used VOIP. Since then, it has stagnated, if not regressed, leading it to be surpassed by a slew of competitors like Whatsapp, LINE, etc. And even more vexing is Microsoft's lack of support for Skype on their own platforms (Windows phone, Windows RT, etc.). Ridiculous.

Skype preview is still laggy and crash too.
But still the king of MS's video calling apps. Let's see will WhatsApp rule in term video call?

Good. Now, can you please improve the UI? You know, make it more beautiful? Even tho I don't make WP8.1 apps anymore (UWP FTW), I still know that you can make a better UI than this.

typo, version number wrong in the article.

I didn't get any.Still on previous update.

Its not here on my phone, pls tell me how to get it

The person whom you are trying to call don't have video calling...so that call button will not give you two options of audio call and video call.

Funny coincidence or....? :D Skype preview and Whatsapp have updates when I check now :D

How do you make a video call. I don't see any interface changes.

The video icon only shows up in the calls tab :p

I updated my whatsapp and cant make video calls... I also checked my version and it shows 2.16.288. Is that the latest version?

If you use WhatsApp beta you will be pretty familiar with this update

Well the qr code in the article takes me to the store and shows Ive already installed 2.16.288 not 2.16.688

Weird, I have had WhatsApp video calling for 5-6 mos now.

Nothing so far. Probably wrong information!

Maybe only for US users. LOL

In beta version its available
https://www.windowscentral.com/e?link=https2F%2Fclick.linksynergy.co...

Not yet. Still in .288 version...

.288 version is the one with video calling option (use receiver icon)

Yes, but this is wrong information that it's launched for everyone.

FU Skype, fire the whole Skype department, idiots!

I can't see a video call... Just voice call...

So it's a bad update like Facebook messenger where still I can't find the button for video calls or voice calls...

Top right corner of the conversation. Press the button which looks like a telephone symbol. You're welcome...

.688? I see no such update. It's .288 now.
But I'm glad it's here! Let's wait

Typo. 288 is the latest version.

Now, Skype for Consumers is dead. As in stone dead! Microsoft, I told(ed) you. LOL

I don't have it in my update

I updated but video calling still not working

Should it be version 688 or 288 i downloaded just now

Hey,
I'm from India, this feature is still not on my version. I have the latest 216.288.

May be they haven't released it outside US. I have it in my Beta, so hoping it will be sometime soon in production for all countries.

Everyone has version 288. This article is fake...

I have the 288 and i just had 2 calls video

Not available, only in the beta version

I got the new features in the photo editing page. I didn't see any Video Calls, though.

Me too bro. Edit option is there and video is not

.288 version is latest and I have option for video call

Is thid update for all platforns?

Updated but where to find video option?

Long press on call button. EDIT: You just have to press the call button, but if you aren't able to see the two options (voice call and video call), like I wasn't too, uninstalling and reinstalling the app works for the issue.

I'm just wondering who let those people write fake articles!

Where is the video feature? After updating, I can't find it.

Apparently not everyone is getting this feature, not yet. Some people have others don't (including me)

Friends if you installed WhatsApp.288 then tell your friend to video call you it will appear

Tell your friends to update.

I still can't believe they still haven't added rich text support for Windows

Ummm not seeing the video call option even after updating....anything I haven't done?

There's no separate icon. It's the icon at the top right with the telephone symbol.

still app scaling issue persists.... don't know when they would develop a UWP app... by the time Windows consumer market is dead... nice strategy.

85% of Windows Phone users are still on 8.1. Why make a UWP for just the small 15% when you can have one for all?

atleast they should resolve scaling issue.

Has been released to windows 10m yet?

Can they launch voice and video calling on messenger for windows 10 Mobile ....

This is a fake post. Remember the name Dan Thorp-Lancaster

Can't test the video call, none of my friend use Windows Phone, all of my friends, colleagues, family members use Android & IOS which they can't seems to find the video call option.

HEHE this is the lock in the coffin of skype.

So what does this mean for Skype? WhatsApp I find better for messaging. I also rarely make phone calls. But I do use Skype for long distance - with a plan ($$). If I no longer need a plan ($$), I will dump Skype.

A new way to do job interviews. Dont know if it is better as skype but we just have to see

Works for me. Looks good!

Finally Windows first!! Well done WhatsApp!!!

Yes this work in windows phone 8.1

Guys ... I mailed WhatsApp ,they replied... First they told that this feature will be for BETA TESTERS only and within today or tomoro you will get the same as public... I updated yesterday itself but the video call option was enabled this morning only... so update the app ,check now or evening ...you will get it

Let's rate it 5 stars!! Now!!

Guys its working in .288 version. In chatting page of any your friend, just press call button on right top corner. U will get both video call and voice call option. This article is genuine... Even yesterday I couldn't discover it.

its working on. .288 version but video quality is poor ... Need many improvement

Not yet received. Lumia 730

I think, for upcoming STATUS feature (which will be replacing current 'WhatsApp Status') WhatsApp must develop an all new UWP with whole new UI. With current UI, It'll be impossible to implement.

Think the reason that's not been done yet is because the majority of Windows Phone users are still on wp8.1.

Article is true but version typo .288 instead of .688. Click on Call button in the chat and you can find the Voice/Video call option. Working fine for me.. Lumia 950 DS, India

Hello. This is 2.16.288 version and the video call icon can be found viewing the contact profile by tapping "Info" in the three dots of the top right.

Anyone having issues with their Lumia 640? The screen is stuck at Loading. This has been since Build 14986, and continues with Build 15014.
Windows Central Newsletter
Thank you for signing up to Windows Central. You will receive a verification email shortly.
There was a problem. Please refresh the page and try again.