WhatsApp picks up a minor update with bug fixes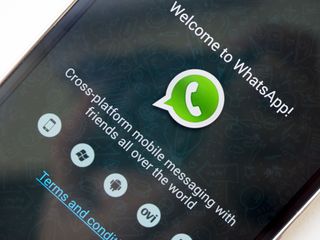 WhatsApp has picked up an update for Windows Phone with bug fixes. The changelog listed still notes changes introduced in the last update, including starred messages, a new camera interface, and a new photo and video upload interface.
It looks like today's update is geared at squashing any lingering bugs that may have surfaced in last week's update. Download the latest version of WhatsApp from the link below, and let us know how you're liking starred messages in the comments.
Download WhatsApp from the Windows Store (opens in new tab)
Thanks everyone for the tips!
I hope it should fix the random crashes while typing.
Edit: For some odd reasons I weren't able to play any recorded message on my chats. Tapping any recorded message just won't do anything. Check if anyone has this BUG or it's just me :/

Hope they removed 5mb limit for emailed .txt document. (can't update now)

Im having the exact same issue.

I noticed the same issue as well. Before the update I could have listened, but whenever I recorded an audio note with whatsapp it deepened my voice (with the windows voice recorder was ok) And the deepened voice playback was not only on my phone the receiver side noticed as well that it is deeper.

Yup that is a problem with latest update. Can we have an update to sort out the updated update please.

These guys were testing app suspension for better multitasking in beta a while back, hope they release it to public soon. Tired of WhatsApp resuming screens

If it makes you feel better, i haven't seen any resuming screens on it with W10 yet...

Once it was taking less than second to open the group chat with 1000+ unread msgs.. But its lagging even I open the group chat with 100+ unread msgs..
Scrolling faster in favourites list will make screen black and shows the contacts slower.... Telegram Messenger is best in features and none of my friends use it .
WhatsApp sucks but 400 of my friends use it

Well at least they know how to make apps completely suck on this platform, MSFT should hold a class on how to make efficient apps deny submissions from subpar apps that work horribly slow and crash frequently. **** windows Central could help l, infrequent updates but the app is very stable

Agree, this app sucks wind, you can't even turn off photos from auto saving to your phone and its featureless compared to iOS.

You can, just switch off auto download in the settings

When are they going to give us a new design?

expect it in a couple months when windows 10 mobile has rolled out to a majority of users.

I don't care about the design, just enable actionable notifications that's enough!

THIISSSS Posted via the Windows Central App for Android

Won't that it unfair btw,users will be able to reply with being online?

Waiting Whatssapp for W10

I suffered from some bugs...
1.in app camera flash bug(fixed)
2.if u set images auto download to never it will never download image even if u press that download button on image(not tried...may be fixed)
3.privacy settings bug(if u have good connection still 'sometimes' not always... it shows can't update settings while offline) this is fixed now I think so...

I also have that 2nd problem

About The 2nd ... That problem will occur if you click on the download button. Try to click on the image (not in the center where the button is). I don't know why it happens but if u click on the image and not the download button, it will work fine.

I figured that out too... weird but it works if you press on the side indeed :) I also have this problem with the new camera in Whatsapp, when I make a portrait pictue, it automatically rotates it to landscape when finished... In landscape mode there is no problem. And I do like that it shows the last recent pictures, but it also takes away 1/3 of the screen ....

Actually it works when you press outside the button. :) hope they fix

I have the same 2nd problem, but there's a way around it. Instead of taping the download icon in the center of the picture tap on the side of the picture and the image will download without any issues.

Yup...pressing outside the download circle does the job

In 2nd case, I guess they changed the way to download pics, I'm testing through many wp devices, and until now, looks like double tap out the arrow is the "new" way to download

Ok, looks like they fixed the bug where media wasn't able to download manually when disabled to download automatically.

That was my major issue! It was really annoying!!!!

It downloaded if you tapped on the music icon..i tried tapping everywhere, and found that! LOL even pics were not downloading on tapping on download icon..

The current WhatsApp has large fonts on W10M.. Does anybody notice that??

I did. I can't even read 4 messages in a single screen.

Yes they are huge.
Just like messenger
Hate it

A new feature is not to be able to play voice messages anymore...

Yes, and it blows! I hesitated to get the update after I read your observation, hoping it wouldn't happen to me. Now, I regret getting the update. Why would they remove the ability to listen to your audio messages??

They are missing alot of key features like video compression built in, the ability to download music (having the file stored under music), having the ability to send more than a 16MB file, new emotions, the ability to set a passcode for WhatsApp, different fonts, custom music for alerts (texts or calls from different persons), Cortana usage,true multi tasking, able to respond via notification bar etc....

Yes!!! Being able to respond via notification bar would be fantastic. Watching movies on my phone while messaging via WhatsApp would be much more efficient.

Yeah reply via notification bar would be so much easier than having to open the app

That feature might be implemented with win10 mobile.

Also the ability to crop photos and automatically adding a blurred canvas is still missing on WP.

guys with WhatsApp update..i got an update for facebook beta too

Am I the only one who's unable to listen(play) the voice messages ?

There were time I had that issue

I have the exact same thing. Rather irrating. I don't use voice notes much but i know 3 days ago it was working and after the update today - previous and new voice notes don't want to play.

Hope In-app Camera has improved. Flash wasn't working and auto focus always get the images blurred while actually snapping the photo. Also, the in app camera interface is horrible, so much blank space is down there which actually do not even show the full view that can be taken from the camera.

Same here. Voice msg can't play!!

Already mailed them about this issue hope they fix it ASAP coz this ain't a minor bug they should fix it soon.

When I disable auto download for images, I couldn't download images at manually, hoped that's fixed.

With the last update I wasn't able to download pics when I tapped on them....this update seems to have fixed the issue!

In call mode, for some reason, the app wouldn't end the call even if the other party did. Hope that is fix.

For my 720, the resuming time has reduced drastically if the app is in the background. But the first time the app is opened takes a **** lot of time. Resuming....loading.....and then loads. In the contrary Hike is superfast.

Yea I faced the image download problem too

Has the Telegram link block been implemented in this release?

The dedicated camera button still doesn't work for me.

Voice notes can't play. Need to fix it

The same on l830 after update. WTF?

What about new smiley packs?? Dont want to wait for a month..

What the ****! Voice notes don't play! How on earth does a BUG FIX create more bugs? Incompetent numpties!!

worst thing I did this year was getting this phone I HATE IT

Need whatsapp for windows 10 mobile.

Isn't already on the store (or at least, the same version as WP8.x)? If you are referring to actionable notifications, or other W10 utilities... Well, maybe they are working on them (or, at least, i hope so)

Couldn't download images...

WhatsApp now supports Google Drive conversations backup on Android... How about windows phone ? I dream to come back to wp with my old conv from my Moto Posted via the Windows Central App for Android

This is a wonderful feature, especialy if you change phones...you keep your whatsapp the same in many phone...but not on WP

This used to be posible but they removed OneDrive backups one year ago.

After update can't play voice messages

Me either :'(
I hope another update comes out soon... I use VNs....

Pictures are not downloading from unsaved contacts.

"Now working good....no crashing....no too much loading....सब धकाधक....i m loving starred msg....धन्यवाद वाट्सएप."

Can't update always getting store error since yesturday

I dont see no update. Is this a old news?
My phone is running whatsapp v2.12.222

Exactly my thoughts... I'm also running that version and I see no updates available.

Waitin' the storage information per contact

Voice notes not working after recent updates

Is the latest version 2.12.222 ?

I cannot listen to voicenotes after this update :(

Strange i update via cellular it says wifi required

After the update I'm not able to listen the voice messages,not even that ones that I recorded.....

I can't listen to msgs now

Yeah , me neither. Can't play voice notes after update.
Lumia 950, Windows 10 mobile

Can't listen to voice notes either..............I swear I reggret buying this phone eversince I got it

The are so focus on their devices but not their OS, especially for their mobile... its a waste. This is the only app that is almost uptodate like the other apps on other OS yet they still choose to messed it up. I have to use webwhatsapp to actually hear a VN. This is crap, i am so disapointed. I am a fan, but i am also honest, this is CRAP!!!!

My Dear imagine some us who had windows phones for years. It has more good days than bad with a bit app lack syndorme.

yeah but why did you get it in the first place? I know why I did but why did you? it has NO advantage neither it can even be called functionally ok

KMT, cant play any of my VN...smh

OneDrive also got update...

I had to find some solace here voice notes are not working seems I am not the only one thank god!!! Also I was experiencing the images not downloading.As usual we are at the mercy of Microsoft hope whatsapp fixes soon.
Windows Central Newsletter
Thank you for signing up to Windows Central. You will receive a verification email shortly.
There was a problem. Please refresh the page and try again.