WhatsApp voice calling for Windows Phone is coming soon, as announced over a year ago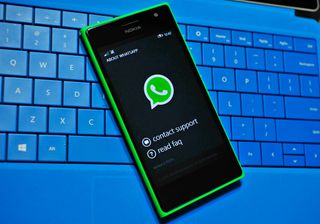 One benefit of doing this job is you tend to have a bird's eye view of the mobile landscape. Specifically I mean you tend to know the history of every bit of software and hardware, unlike the casual consumer.
Case in point is WhatsApp and voice calling. New articles are making their way around the internet noting WhatsApp's voice calling feature as coming to Windows Phone "soon" and "in the works".
There is no doubt that this is the case. After all, WhatsApp did announce that Windows Phone would get the feature. The thing is they announced it back in February, 2014.
Of course, you may point to the recent development of 'translation strings' mentioning 'Hang up, Incoming call, Outgoing call' and such. Sure, we also heard that back in April, 2014 when requests for those very translations were put out for Hindi. Considering WhatsApp was aiming for a Spring 2014 release of this new VOIP feature, everyone thought we were on the cusp of release. Whoops.
WhatsOld is WhatsNew again
So here we are in April, 2015 and this voice calling feature is still "coming soon" and "in the works". I want to be clear that I do not doubt that voice calling is coming to Windows Phone. There is nothing suggesting that plans on this have changed since February, 2014.
This point though brings me back though to my opening line: some of you likely do not recall the February, 2014 WhatsApp proclamation about this coming to Windows Phone. So for you, this is new news. Fair enough.
Irrespective, until bits of this feature actually start appearing in the private beta of WhatsApp (last updated on March 27), I just do not see the big deal just yet. We have heard "coming soon" for a long time now, as even iOS users do not yet have this voice calling feature (and it just launched on Android in wide release only a few days ago).
So, let's wait until we see something substantive first before getting too excited.
Daniel Rubino is the Executive Editor of Windows Central, head reviewer, podcast co-host, and analyst. He has been covering Microsoft here since 2007, back when this site was called WMExperts (and later Windows Phone Central). His interests include Windows, Microsoft Surface, laptops, next-gen computing, and arguing with people on the internet.
I thought the article was about the update. -_-

As usual they are trolling WMPU.

No, not really. We had a lot of tips on it, so figured it was time to address it...with a hint of Monday morning snark, of course.

I could tell this was coming the minute I saw your tweet. Haha :P

Virtual points to you, you had us all fooled. Also, you're 5 days late

5 days late on a non-story with no news about something that does not yet exist. I'm so embarrassed.

I'm saying you could have used that title on April Fools' :P You have to agree that it was just a tiny bit misleading, I was ready to check the store for updates and tell my friends!

Let us know when it shows up on the private beta please.

The funny thing is, Android just got the update last week and iOS is stated as coming soon and apple fans aren't complaining.

That trolling is something wc should be above lol

I have not mentioned any specific sites, that is all on you guys. But if you want me to, this story was actually in response to this article. I don't think you guys know as much as you think you know ;)

Come on, Daniel. Are you actually saying that you look up that site now and then?

You should have replied to this :P http://pressandupdate.com/whatsapp-voice-calling-feature-now-available-f... (this comment box is really ancient...)

Cmmon Daniel you sound a bit irritated. Relax :)
Also We will prefer and Trust WC anyday over NDTV gadgets for news related to Windows. You guys have a reputation for that. *thumbs up*

"I don't think you guys know as much as you think you know..." Yup, you're right, there are a lot of verbose and narcissistic characters around here.

lol I don't think any WC user would even read NDTV-G for WP news. That'd almost be an insult. Half the times they just seem to lift-off your articles.

We have three tips this morning on that article, so yeah, my guess is people still read 'em :/

Daniel it sounds like you are not being aware that people just wanna help by sending these tips. Why having a tip function on your site only by snubbing people away for doing so. Also, articles like these may also have been collected by Cortana, being shown in the "daily overview" on your Windows Phone as "new news". Cause let's be honest. Who's reading ndtv on a daily bases...

I think you are "getting" your own tip feature on your site wrong. Sounds like whenever you get a tip from some (faithful) reader, you are thinking the message behind the tip is "hey here is a tip because I know more than you". You should be reading it this way: "hey here is a tip, I hope it has been of help". Constantly snubbing away your readers is not the right thing to do (and you DO, in the comments sections of your articles in any case). Remember, these readers made your site what it is today. My 2 cents.

I too have been wondering why almost every wp site was saying whatsapp was confirmed coming soon. If only thing we had was a confirmation from a year ago and a translated text to Italian. Maybe it is to hide the fact that if whatsapp voice doesn't come to windows phone same time as iOS, it will be dead.

Why did they bring it to blackberry before WP or even IOS?!

Was gonna say that. The calling feature is on BB10

I thought it had arrived to windows phone.

That's why you should all read the article first

Just reading the headline will tell me what the artical is about. So I came to know after reading the artical -_-

My guess is they were waiting for 8.1.1 deployment

Abhishek Baxi wrote the 2014 article, as far as I remember.

And you posted "First i did it mamma! " Comment ,as far as i remember.
/jk\

And you weren't on WC in April, 2014....As far as I remember.

Would be great if we had a search feature to look for old messages first

Yeah. I think that it had that function before, but in an update (don't know which), the function was removed.

True. It had it, it wasn't great but it was there. They removed it long time ago, (5+ updates ago) have no idea. And everytime I see new update first thing I check is that Search. Hope they bring it back

Yup we had that feature until an update removed it

I'm still waiting for the option to select multiple messages...

I can wait(Well, do not point out that I have absolutely no choice :-P)

Yeah. I don't get the hype over this feature. Mobile operators already provide packs for reduced local calling rates, and the "normal" calling is far more reliable than VoIP. Of course, international calls are cheaper but I won't be using this for local calls.

This is actually more commonly used by ppl who call and message abroad a lot and even locally in countries where Mobile operators still dont offer packages that will make charges easier on the pockets.
---------
Basically, Whatsapp will be no different to Viber except, Whatsapp has a much larger userbase. While i personally always prefer to use Skype, people find it quicker and easier to use Viber for calls, so Whatsapp with calling feature will give Viber a run for its money and could prove to be more convenient for people who would be already msging on WhatsApp, as they can just hit 'call'

That's just your opinion based on what has happened in the past.... But it will someday arrive sooner or later . So lets hope for the positive thing to happen.....

Same with Dual Sim. I asked the developers of Whatsapp last year about that and they told me that they are working on this. Nothing so far...

At first, I thought they were announcing the update

Its always windows phone backward among new features and new apps, then Android and iOS.

Read the article.
Android is the only platform that has this feature. iOS has yet to receive the update...

Wouldn't it be great if WP would get this feature before iOS... Just a thought..!! :D

We are already getting features before iOS...
Namely, the Whatsapp internet browser chat feature (not sure what it is called).
I'm pretty sure iOS still don't have that feature - yet we've had it for a few months now :)

R u using that feature, it is useful to you, not for me, as calling would benefit me surely. Airtel,charging many money in calls.

It's not like you don't have options! Viber, Skype etc...
Whatsapp calling will be useful - but I dare say Viber and Skype will work better...

I know, though I tell you that before windows iOS getting the feature second after android.

First it will come to iOS then Windows Phone. Oh God Why?

Guessing market share? Android < iOS < Windows Phone < BlackBerry < webOS

*contains less than 1% of: Symbian, MeeGo, Firefox OS, Ubuntu Mobile, Jolla Sailfish and Java ME

Oh! You missed Samsung's Latest Tizen OS.

Whatsapp have it in beta on BlackBerry 10 Posted via the Windows Central App for Android

I think snapchat have some anger on wp cause even WhatsApp supporting wp. Marketshare doesn't matter here.....

what surprises me more is there are so many good camera phones with WP. being a photo messaging app, they should actually support WP.

Recently stumbled upon WhatsApp and I love it. I personally wouldn't have much use for that feature but I'd love to see it happen. Then developers and programmers that make free texting apps will pursue the same feature. A win for all. NR

First solve the loading and resuming problem and performance.

Yeah, I'm getting those 'resuming' screens now when I hit the notification. Very annoying.

Resuming problem is not WhatsApp problem its the windows 8.1 problem
And in windows 10 there is no resuming problem even on my 512mb ram device like 720
Its so so so smooth though its only first preview version of windows 10 on mobile so you will automatically happy after installing windows 10 problem related resuming...

W10 has no resuming issue? No more 'resuming'?

Yeah using windows 10 tp on my dual core 720 with 512mb ram
As far as I used since launch day
There is no resume bug
Yeah if there are so many apps running in background then its taking some time to launch but still its not showing any loading and resuming and one more good news is by which m impressed so much is so far not even one app is crashed....

You can probably make a video demonstrating that. This is unheard of. And many users like me will be delighted about 'Resuming' going away.

Yes everyone could have cracked windows 10 till February end after then Microsoft have fixed the cracking bug so I don't know whether it can be cracked out now but if you want to try to crack Windows 10 on any Windows phone hip and visit
http://www.xda-developers.com/?welcome=1&referer=http%3A%2F%2Fwww.xda-de...
You can see video of Windows 10 running on Lumia 520
It is I think 8-10 min long
It's available on YouTube
You will find almost your answers
Whether resuming bug is there or not
App crashing gone or not etc
Good luck friends....

Then splash screen for system apps(music-seriously,video,battery saver,storage sense,calendar etc.,) ?would be awful if they add splash screen to people sense,dialer ,office*,cortana,camera,outlook,photos as they are made in to apps.

Still it's so early to say
So far by first preview release m very much impressed..

Bahahaha.. Yes! Resuming is removed and replaced by a BLACK SCREEN

It's not replaced it's still first preview brother and its so fast even on dual core
512mb devices
I didn't expect this good result in first preview of Windows 10 so I m so much happy by Microsoft after buggy 8.1

They should, but that doesn't mean they should stop working on new feature entirely. Although, I don't have any resuming thing at all. Device specific?

The article clearly says..."getting"..! It didn't state..whatsapp gets the update..!....so....we are also waiting......! And here it goes getting=waiting....!

Meanwhile WhatsApp web hasn't available on IE yet..

suppose they will directly start work with Spartan after official W10 release.
IE is gonna go out of business soon.

He will always be there he's legend

that would be quite a long wait, more than a few months, they should support ie by now

I think that will come along with support of Windows 10

Lets get that awesome WP10TP update tomorrow

As if we dont know... Prrrr

Why they are not allowing the feature to share mp3 files

Not supported by WP for now.. Will change in W10 hopefully

actually it is supported. WP8.1 added file sharing features.
telegram messenger already supports it.

But i cannot save received audio files!!! To my files

Thank god. I didn't want to live in a world where every friend was asking me.... "Arey tere mein whatsapp calling aaya kya? Call Kariyo. " which simply meant You sick bastard your phone doesn't have whatsapp calling. Skype is too 1980s for these new whatsapp calling feature users. :/ Give it to give it tome. So that I can hold my head high. :P

Sweet..... By 2016 this should be rolling out to WP.

One day monkeys might fly out of my butt.... =[

Wow, this article was so meaningful... NOT!

You think I wanted to write this? Nope.

Daniel's got bosses too, you know.

I explain WHY I wrote in the article. Many people here do not know that this feature was announced as coming to Windows Phone a year ago. We are constantly getting "tips" that this is happening. When that happens, you can say "Well, they're just dumb" or step up and answer the need. That need is some people do not know about the history of WhatsApp and this feature, so we're putting it into context. I've said it before: we do not write every article for the hardcore news reader. The world is a bigger place.

I think u have bad day lol

We already know WhatsApp Calling is coming to Windows Phone ... We just waiting for the official date of release!!!

Where's Windows 10 update??

How about voice call on Facebook Messenger?

This article doesn't convey anything new, rather it's heading is misleading. I thought it got updated with calling feature

No shit. Every article written on this topic about this feature gets the same nod. I even literally point out that there is nothing new here.

That's true, Dan. But there is chance that people who are unaware of the article you mentioned, can get confused; especially with the article title..

'No shit'?!
You are so dismissive of valid criticism.
The article title IS misleading. When read in isolation, it suggests Whatsapp has been updated with that calling feature - whereas that is or course not the case.
If you don't want to receive such criticism, think about the wording.

The article is not misleading. It clearly states IT IS GETTING voice calling, not Whatsapp UPDATED with voice calling. Learn to comprehend what you read.

Yes, it clearly states it is getting voice calling....then proceeds to say that there is no timeline for a release - and that the feature hasn't even entered the private beta!!
I know these cats have to sell ads...but article titles like this don't help the cause!
In fact, I have just been reading WMPU, and am struck by how much Windows Phone specific content they have. It's a breath of fresh air.

I am dismissing your criticism and do not see your point. Sorry. I stand behind this article and if you felt robbed by reading it, well, life is long, you WILL recover.

I guess you never got to read the article with fresh eyes.
If you did, you would realise that the title is not an accurate reflection of the content.
By all means dismiss my criticism....but keep in mind that we all want Windows Phone to do well - and by extension, we all want this website to be the best voice for that news.
It's obviously your choice in all this...but for people like me, it is frustrating seeing article titles that do not accurately reflect the content.

Man hush the f up u can't take what you like to give. Even BlackBerry10 has the calling feature already and so would IOS before Windows Phone. Your article is crap. Deal with it.

I want forwarding msgs to multiple persons also..if it will come I will be happy

How is this different than Skype calling?

Everyone uses Whatsapp. No one uses Skype.
That's the difference :)

Ah jes, I forgot I lived in the technological hub of the world where no one uses WhatsApp

Where are you from? I presumed you were South American or Spanish...
I live in Europe - and everyone here seems to use Whatsapp ahead of everything else. I figured it was just the US that was the last bastion of normal SMS and Skype :)

San Jose, California, I'm not even Hispanic though lol

Haha...it's amazing that you Americans invented Viber, Whatsapp etc, yet it is the rest of the world that uses it!!
I guess we tend to travel more often than you all do (internationally), so Whatsapp and Viber etc do a great job of mitigating against annoying roaming costs!
Anyway, here's a hello from England :)

And Skype on WP is a joke.

It's always worked wonderfully for me, even video calls.

And just today my buddy msgd me that he wana call me on WhatsApp and i was like.. ' Windows phone getting optimized and better version... Till then call me on gsm network'.. :D

I take it you haven't heard of Viber?!

Heard it...used it... Worst call experience... Thnku

Really?! I've been using it in preference to Skype for a while simply because notifications are more reliable, and call quality is at least as good on a 0.8Mbp/s connection

Tested on same speed... Skype gives better voice quality, no cracking, no delay in voice... Skype video calls work flawless...but on viber i cant even get quality voice call on same speed... May be personal bad experience..

I've certainly had issues with Viber...but on balance, I prefer it to Skype simply because it ties in with my phone number, and has a better notification system.
I'll try and get back into using Skype as it is v.good. They just need to move beyond the old fashioned username thing before it loses relevance.

Just give me the option to send mp3 please... Atleast. -_-'

Whatsapp for blackberry 10 has had this feature for a while. So they developed it for that before iOS really? Wow

Is the WhatsApp app just a repackaged Android app?

No its a fully native app.

What on earth does "repackaged" mean in this context? Do you have an MBA?

Just means is it classed as native but really only an android port. Like the viber for blackberry 10 app. The title makes you think its a native build but when you install it its just the android app tweaked and delivered through the bb app store. That's what he means by repackaged

To be fair, its only available to other platforms for a short while now (Android just last week) but i doubt it would be of much interest. I don't see many people use it and would rather see some other changes, stability fixes and performance improvements.

It's wrong cos it doesn't look like Android/iOS... /s

Ho and we need a real UI... Not an ungly swipe xD

what's wrong with the current ui?

Idc about the calling feature.. I've tried it on android & it sucks..

Not of much interest to me either given how well Viber works.

First let us get mp3 upload

Is it still possible to sign up for the private beta?

Negative Ghost Rider, the pattern is full.

Why not use Skype? It's is far better, accessible by laptop, phone and tablet. There are huge problems of people not hearing each other's voice on a WhatsApp call.

Android guys were teasing me :'( because they already got it. I hope IOS and windows gets at same time :|

Just think of them being guinea pigs to be tested on until it arrives on WP !!!

Yeah I said and tried to explain these stuff to 'em about testing and stuff, they are idiots and they least know about any thing, all they keep on saying is android is good just because they have games, but the launch of dead trigger 2 and dungeon hunter 5 made their mouth shut after seeing the graphics and smoothness of it on my Lumia 730 and even my mums Lumia 532. :p

Opening links in Whatsapp should be more important than calls

What's the point of this article again? So just because something was reported last year, it's no news even if others have updated info, simply because it did not appear here first as usual?

VoIP is ban in the UAE, so this feature will be useless to the UAE residents.

So excited that we finally had the update, but :(
Does this match skype? Anyone used on android?

Skype is a far more proven technology - one which scales v.v.well on all data connection speeds (which is why it tends to be used by news organisations when reporting back from conflict zones).
I would imagine Whatsapp will be pretty average, and then improve gradually (like most Facebook offerings!)

What phone is that in the headline image?

This article made me give up reading this web site, there are more sources which are more reliable and with less fan boy like editors available...

Which ones do you recommend? I've been meaning to seek out other websites as this one has big time lost its way.

"This article made me give up reading this web site,"

Later.

glad the feature isn't here yet, it's quite crappy on android

Hm i fore one not going to like that update, i use whatsapp because i can reacte whenever i see fit.

When in India? ....... *snort* I live in Pittsburgh, Pennsylvania. I just wanted to join in the Monday snark. I couldn't resist.

I think it would come soon to us wp users. Whatsapp has never put wp in the dark. We get updated often.

Whatsapp certainly did put us in the dark! They removed the app entirely for a couple of weeks about a year back, and didn't engage with us at all!

Better than having a story that says "WhatsApp pulls off support for Windows Phone". We had enough already. By the way (OT) when is the Facebook app ever gonna get updated again?

Facebook already have that right ?

Miss this a lot. Please bring it back.

WhatsApp video call for windows phone coming soooooooooooon!

I just wish they would put out an update that always, reliably, without fail, gave notifications. Because the windows version doesn't.

Why not choosing a title like "WhatsApp Voice Calling Feature Coming to Windows Phone SOON" like the article you mentioned this was written in response to? Saying "WhatsApp GETTING voice calling on Windows Phone" is extremely misleading... smh

Honestly, did not see it as misleading. i get it, things can be read multiple ways. Language is funny like that and sometimes, these things happen. We're moving on now.

I have high hopes for this. Calling quality has got to be better than Viber.

Why doesn't Facebook Messenger have voice calling either, especially since both apps, FB Messenger and WhatsApp, are owned by Facebook?! As I recall, this was also mentioned as 'coming soon' about a year ago.

Haha...with windows phone,every thing is coming soon...we'll probably wait till...2016

WhatsApp should also look into adding more than 1 phone number in case of Dual SIM phones.

when the android and iphone user gets bored then we gets the update always

Wait guys....n wt abt multiple select option for deleting msgs like android phones....v need dis option as well....ASAP !!

Whatsapp video calls for android users http://adf.ly/1DWQe1

No pbm..! Will wait for voice calling in hike, it is truly coming soon...!

Whatsapp video calls http://adf.ly/1DSqYK

We still wait for de update for sending music through WhatsApp

Still waiting for WhatsApp calling

WP is a fucked up dude, everything for us come late,

Sale down windows phone until whatapp calling........

please do the voice calling option ASAP..

Microsoft have really made things simple for developers, if they cannot bring update of voice and new material design for us they can simply just port the latest version of Android over

When are v getting WhatsApp calling its been ages waiting for it on wp

How much time does I take to do beta test

Hello guys if you want to know how to do International free video call so click on this link >> <a href="http://whatsappstatuspics.com/how-to-do-whatsapp-free-international-call... To Do Whatsapp Free International Calls – Video Call</a>

When we got it in beta...

Absolutely worst place to put the call button -.-
Windows Central Newsletter
Get the best of Windows Central in in your inbox, every day!
Thank you for signing up to Windows Central. You will receive a verification email shortly.
There was a problem. Please refresh the page and try again.