Latest WhatsApp update adds Hindi language support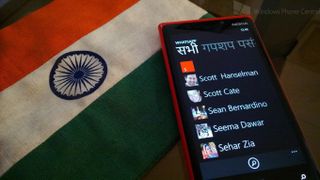 While almost every other day, I post about the growing Windows Phone app ecosystem in India (and get jealous rants from folks here from Brazil), the growth is rubbing on the global players as well.
In its latest update, WhatsApp has added support for Hindi language. Hindi, along with English, is the official language of India. Globally, behind Mandarin, Spanish, and English, Hindi is the fourth most widely spoken language.
WhatsApp has stepped on the gas in the past few months with continuous progressive updates. Within the month of December 2013, version 2.11.340 added the ability to send pre-recorded videos and multiple images, and was followed with version 2.11.344 that included few bug fixes.
The latest update – version 2.11.350 – adds the support for Hindi, which makes WhatsApp available in 32 languages now, and some under-the-hood bug fixes. The faster update cycle is awesome, especially for an almost ubiquitous app.
If you've set up your Windows Phone with Hindi language, go ahead and update WhatsApp from the Windows Phone Store. Or like me, just give it a spin and enjoy some gup-shup!
Thanks Vasu for the tip!
No it doesn't. It works really well on my 920. I get all the notifications...

Its sucks a big time! You are lucky ;)

Viber is the slowest app in the world.... Hate it...

It works well on my 620 n my friend's 925, got notifications on time.

I keep getting:"oops an error has occured. Plz try again"

I second that. Viber works okay if you barely use it but when I started using it daily, it started lagging and crashing.. When you make a call, there's a possibility than even when you end it, it will keep saying there's a call going o, leaving you to restart your device. They need to update it, it's so far behind the iOS/Android versions and it's poorly made. WhatsApp, on the other hand, is fast, never gets stuck and much more reliable. Wish it had voice calling. My girlfriend and I use this for texting now and only use Viber for voice calling. LINE is a good alternative for Viber.

Use LINE. Better quality of audio .

If u have any problem with getting Notifications on time, Just Remove da app and Reinstall.. It will fix that case..
(aaand its not onlly for Viber,its the same with every other app, same as Skype and Whatsapp) i had haard time getting Notifications from Viber and skype.. i just reinstaled them and now works great :)

Turbo powered now methinks!!

I think it should remove the splash screen so it looks like a native app.

Nah. I do love any app's splash screen. Even more, I think twitter should has splash screen too.

But it's not a native app...

Native apps such as Calendar or Contacts just launch their start pages without showing a splash screen, that saves time.

Volume wise WP is second to android in India(2013), so guess there's a large market to cater to

Call+sms filter by nokia updated along with 6tag

Yeah right wpcentral already covered that don't u read

I read very well, so far i don't see any article on those topics. Maybe you were dreaming or something

http://www.wpcentral.com/nokia-updates-its-callsms-filter-bug-fixes

WhatsApp still needs cosmetic updates to make it shine

the only update every WhatsApp user wants right now is that to allow us to decide weather to save a pic or not...which have been recieved...

You can disable auto save, and save the ones you want manually. I'd rather not get dialogue requests

That option was removed one or two updates ago

Yes, i want this update - but the update i wanted more is getting acces to skydrive again.

https://twitter.com/vasujain/status/420792183176695808

OMG! Daniel and Abhishek both replied to me ! Epic moment !

Backup won't restore -_-
another bug :/

Am I the only one who have problems with picture attachments in whatsapp? Since almost a month I cannot attach pictures from skydrive albums because I don't see those albums in the picker and I also see older albums which I previously have deleted....

I can't see SkyDrive either

Yeah the only workaround is to first go to SkyDrive and save a pic to phone and then send it whatsapp, ya wouldn't wanna be in a rush!!

I did some email with the whatsapp support about this and their answer was: Hi, Thanks for your message. Sorry for the delay! We have received many emails recently, and we do our best to answer them all. Thank you for your patience. Please note that you can access to local folders, skydrive or facebook folders currently cannot be accessed. If you have any other questions or concerns, please feel free to contact us. We would be happy to help! (censored employee name) WhatsApp Support Team

hmm, 'currently cannot' are the keywords of hope that they'll fix it sometime soon...?

I love Hindi support! Yus!

Good update. Some bugs have been fixed what I used to face. Keep it up developers.

Please WhatsApp..background chat themes please. :-)

A problem I'm having is that pictures taken inside the app are sending as squares and the pictures are being squished. I wouldn't want to reinstall because I have important things inside certain conversations that I dont want to delete. Help?

Where is the option to change language to Hindi ??

To change phone's language... Settings > language+region > Phone language

Does anyone know how to send downloaded youtube videos

Is that a windows limitation cuz its there on android

Did china got black update today? Last week it was posted that they were gonna release black update for them??

Absolutely right place to ask this question !

I'm in China, I have a 720. I just read on a website that they've postponed the update for tomorrow!

Cool. And what about rest of the world??

Nice to see bug fixes and Hindi language added. Good news for all the Indian folks using Whatsapp.

Not for all Indians, but all Hindi speaking Indians.

The stupid connectivity error is still there upon exiting the app! I'm sure that the network is working fine on my phone.

text size is screwed up with d update. whatever i type is in large font

Crashing problem is still there

Does anyone know how much whatsapp is worth? Can Nokia not just buy it on the basis that Microsoft will absorb it into it's line-up of native-esque apps akin to iMessage?

Skype for messaging doesn't cut it at the moment

Whatsapp has already rejected a $1 Billion bid from Google, the Founder-CEO wants to maintain the service independent and Ad-free.

Microsoft should never get WhatsApp. Let them improve Skype first

The vibration when a new message arrives also seems different since this update. It used to be a couple of short vibrations, now it vibrates just once. Or so it seems.

Nice they brought out a new update but still the images made in portrait mode are squeezed, which I think is far more important than a new language... And is it just me or did they made the font a little bit bigger again?

Why they took off the option to disable autosave images?

This option was not removed in the current update. It was removed in a previous update I think 2 prior to this one. I too liked that feature. Sucks that they removed it.

"(and get jealous rants from folks here from Brazil)"... hahahahaha

After the update the font appears so big while typing the text. the smaller font looked very neat.

Whatsapp is still creepy compared to android. I can't still send videos cause videoscaling does not exist on this phone. You can't even do the email trick because you can't download videofiles from email. Things that were workin like charm on wm, seems like a big effort for wp... Bad

Need Urdu language but the problem is that there is no Urdu language in Windows Phone 8(Keyboard) :(

Is it just me who now have 99 notification and still shown even after i read it.

I guess its just you. The whatsapp notifications are working properly for me.

Hi everyone, Since the previous update there is a bug that they haven't fixed yet. It occurs when I want to send to a contact a picture taken inside whatsapp app; it changes de proportions of the image. It doesn't happen when you attach a photo from the gallery. Does anybody have this problem? thank you

i have the problem that it sometimes turns the picture clockwise 90° - but not everytime. still sucks.

Image, video gets compressed automatically ... Also, it depends on wch phn u r sending to...

Can anyone pls tell me when Windows phone 8.1 coming to India

Abhi nahi, abhi to pehle iska beta version aayega jo ki test hota rahega..... Aur aayega to sabke liye saath hi ayega... Oct'14 k baad hi.... Filhaal gdr3 aane wala hai

Fuck!! I've been waiting fr this update!!! :D :D thanks fr the info guys!! :)

How to change language of WhatsApp to Hindi ?

Change the phone language to Hindi (language under settings) and restart the phone. Bingo!!

Oh . I thought it would be an inapp setting. Anyway, thankyou

I cant take pictures from the app because it ruins them x(.... also I would love to be able to open a conversation and to start in the first unread msg! its anoying trying to find where to start reading specially in groups... thats all I ask for...

a really positive thing for the windows phone platform in India. I'd personally think the loading time (of whatsapp) is a bit high though

[Off-topic] Beautiful script ... I love that kind of script language (like hindi, burmese, mongolian and others).

God, i'm sooo relieved, this app finally gets Hindi support. Who needs image-autosave-disablement, ringtone customization and hide-my-online-status anyway?!

I was wondering if anyone knew of a way to backup conversations entirely, including all media so if I do restart whatsapp, it'll be like I never did. Because my problem right now is when I send pictures within the app, the picture's proportions are changed and the imaged look squeezed. Another issue I have with this update is the font became larger once again. Whatsapp should fix this this first or ALONG a language addition. Jeez -_-

Re-imtroduced the crappy audio-background agent. Also for you?

I face issue when some one send me hindi language msg it receive at phone like rectangular boxes at my Lumia 800. Please provide the solution

Issue faced only at Watssup app
Windows Central Newsletter
Get the best of Windows Central in in your inbox, every day!
Thank you for signing up to Windows Central. You will receive a verification email shortly.
There was a problem. Please refresh the page and try again.