Get this now: WhatsApp Video Optimizer for Windows Phone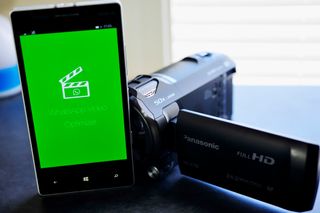 WhatsApp is one of the most popular messaging clients around, especially for Windows Phone users. One limitation though with the app is the inability to send particular videos due to their size. Whatsapp force-edits (shortens) your video to meet the 16 MB requirement for sending videos, which is a bit odd.
Luckily, there is now a solution through a free third-party app called WhatsApp Video Optimizer.
The app is free and simple to use. All it does is compress and reduce the resolution of your video until it reaches the appropriate size for WhatsApp. Even better, when it has completed the task, it can hand the video off to WhatsApp directly to streamline the process.
I shot a 4K video on my Lumia Icon and even though it was just 13 seconds in length it still came in at a massive 97 MB. No way could that be shared in WhatsApp. However, using the WhatsApp Video Optimizer, the video was shrunk down to 14 MB. Sure, resolution was reduced from 4K to 640x360, but the framerate and quality remained – and for mobile, that is all that matters.
WhatsApp Video Optimizer comes with a few options:
Encoding speed (Slow/HQ or Fast/LQ)
Output folder (videos are saved to a new folder called WhatsApp Optimized)
Option to open WhatsApp after the task is complete
Optionally record video within the app
Depending on your device hardware, video quality, and length, the processing time can vary. It took less than a minute for that 4K video at 13 seconds, but that was with a high-end 2.2 GHz CPU. Still, this is certainly better than nothing.
Since the videos can output to a folder, you can later re-use them for any other application too like Facebook, email, etc.
Overall, WhatsApp Video Optimizer is the ideal app. It is free (though it has ads), and it solves a problem that bothers many people. Now that some PureView Lumias can do 4K video, WhatsApp Video Optimizer is a must-have app for your collection!
Via: Windows Mania; Thanks, Alberto S., for the tip!
Daniel Rubino is the Executive Editor of Windows Central, head reviewer, podcast co-host, and analyst. He has been covering Microsoft here since 2007, back when this site was called WMExperts (and later Windows Phone Central). His interests include Windows, Microsoft Surface, laptops, next-gen computing, and arguing with people on the internet.
Nice app ... Will download now

I received a video with 24mb..how..?

Probably from an iPhone or an Android device.

Solution to WhatsApp video nice.

this is great, downloading this app now

That's just the kind of app I've been looking for! I don't want to sacrifice video quality on my 1020 (1080P/30FPS)...but keeping it at that quality stopped me from sharing videos via Whatsapp.
This app solves that problem :). Excellent.
Now if only Microsoft would pull their collective thumbs out of their collective bums and release the software fix for the freezing issue that is dogging our 1020's!!

There's also 'video compressor' app. Does the same thing

The convenience of auto compressing it to the Whatsapp video file size limits (and auto sending it to Whatsapp) makes this a much nicer app to use...
Simplicity is why I got my mum a Windows Phone - and this app helps keep things super simple :)

Cool. Will check this app out too!!

I had that app too before reading this post, but you have to pay to be able to convert video to be compatible for WhatsApp sharing, and I have no means of paying for things online so I never used it. This is free so yay! :D

Yes, video compressor does the sane job but for optimize to WhatsApp quality you have to do in app purchase. But it was worth I paid for the app.

so you don't want to sacrifice quality, but when an app does it for you it's ok? all this app does is sacrificing quality and send it via whatsapp

It converts the original video into a shareable form.
Think of it like the jpg+RAW set up when taking photos. Using this app, I have the original high quality video, but also have a small video ready for sharing...
I'm not sure why you are questioning the benefits of this app?

Do the videos have to be sent to WhatsApp or can I share the compressed version via other methods (FB, email, etc.)?

Since they are output to a folder and you can choose to not have it auto-sent to WhatsApp, you can use the new smaller videos for anything at any time.

Thanks for sharing this app Daniel It's very important for me.

Thanks for the heads up on this app, Dan. My mum can finally share the videos she takes of her granddaughter!
On a separate note, is there any chance you could do a similar article to The Register. Our Lumia 1020's are suffering horribly from the freeze glitch that came out 6 months ago...yet Microsoft isn't talking to us, and it is leaving a while host of people on Microsoft's forums utterly disillusioned. It's as if Microsoft don't want to keep us as customers. Windows Central has the clout to fight our corner and get some kind of response from Microsoft;
http://www.theregister.co.uk/2015/02/12/windows_phone_update_breaks_lumi...
Thank you :)

And I thought WhatsApp got an update!

Even if there was an official update. We won't get this feature.

Heck yeah. It's about time.

Why do I need another app for such simple task whatsapp should provide at first place. Come on whatsy.... !!!!!

It's a simple task through your eyes. Are you a developer?

Mm...but WhatsApp earn money, and they should invest that money on improvements for their service...

as a developer i can say its pretty easy, microsoft gives all the needed function to do it in less than 10 lines of code, you just need a little fine-tuning of transcoder option. More info: https://msdn.microsoft.com/en-us/library/windows/apps/bg182883.aspx

Thank you.
But please improve the performance of the WhatsApp application on Lumia 720

I wish all my mates were on telegram messenger, 1.5 GB videos no biggie!!!

I use Telegram too and I never go back to whatsapp. My close friends and family use it also ;-)

Me too!! I had used it... It's way better than WhatsApp (and Free!! *--*) But none of my friends use it T_T

Wow, Nice camera! :) which model is it? Is it good for an average consumer like me, looking to buy one
Sent via my dazzling white Lumia 620

Panasonic HC-V750/ HC-V750K
Pricing varies: ₹36,000-40000 or $600-700

Nice, wish WhatsApp will do this on its own like it does on other platforms. The app DOES have ads.

The solution to send big files with WhatsApp is... Telegram. 1.5 GB per file..

Good luck sharing your video with (almost) no one...

No one?... I wouldn't say....I use Telegram the 80% of the times, and I suggest Telegram to who don't know it. My Telegram friends list is growing fast and most of them are persons who understood the power of Telegram, and so the possibilities. Also, on Windows Phone, Telegram is really light, fast in opening, and it just works. Also a friend on mine, on iPhone, writing me on W.A. told me "let's go on Telegram, because W.A. gives problems". I guess won't take that long for telegram to become a very strong contender...


And you think many people have access to WiFi!! .

Not for me, but cool for general compression

No thats not all that matters >_>

It seems....an useful App.
But....Not working on my L920.

I have been using video compressor and it does the job

This. This app is basically a copy of Video Compressor.

Why it cant access the Xbox video app? Microsoft should allow apps to access Xbox video

Or you could just use Telegram!

Good, but an app called Video Compressor has been around for a long while, and it does exactly the same thing. It's free, and if you pay for it, it let's you set the exact bitrate or filesize of your liking. So I'm not going to download this one, nothing new.

So you have to pay for the same functionality on the other app that you get for free with this one?! Sounds like this app has a clear advantage!

Now how about a Whatsapp Song Sender?

Great idea! I will add a function in whatsapp video optimizer to make it easier to send music through whatsapp!

That would actually really be appreciated

This is wonderful and exactly what I've been looking for!!!!

I always use the camcorder function within Whatsapp... But I agree, this should be default on Whatsapp. With Android it compresses automatically when you upload an already made video to Whatsapp.

Lots of video compresser app r there

Brilliant!! Whatsapp should be capable of doing that automatically.

I use the Video Compressor http://www.windowsphone.com/en-us/store/app/video-compressor/aee53163-df... http://cdn.marketplaceimages.windowsphone.com/v8/images/6456dacb-df8f-4d...

Ah thank you for this app!! Finally!

Most people don't know Telegram.

That or not really bothered in moving to a service, which hardly anyone in their social circle use it.

And there goes another idea lol.
Downloading now, the 16mb limit is so frustrating!

Actually...it has adds...

What'sapp is joking with us I can't send an mp3 through WhatsApp its sad.

And when someone sends you an mp3 you can't know where it disappears to.. Everytime you want to listen to the song you must go the app

Thanks so much for the great heads up Daniel! Being an avid and daily hardcore whatsapp user I have run into this problem quite a couple of times and its good to know that there is a simple and streamlined solution now! Keep up the great work WPC! ;)

I'm still struggling to understand why I would want to use this app. Can you provide some more concrete examples of why I would want to use this app function?

Send someone a 4K video in WhatsApp that you shot on vacation. You can't.

Just tested with a 4k clip, but heats my L1520 up. I prefer Movie Creator (beta) to reduce file size for sharing ;-,

Thanks you...... let's me try

Hi all I am the developer of Whatsapp Video Optimizer. I made this app because I make a lot of videos when i'm with my friends and they always ask me to send them through afterwards. Before I made this app I used moviemaker or video compressor to do this, but the problem (for me) with those apps is that you can't select multiple files to convert, so you have to wait before a conversion is done before you can select the next file to convert. I was also in a hurry to make this app so I could add it to a DVLUP challenge, so the app isn't what it's supposed to be yet. I am going to add a lot of new features in the coming updates and I am going to spend a lot more time on the design so stay tuned :) If you have any feature suggestions you can always use the feedback option in the app.

You have my full support .

Great idea for an app. Saddly not working on Lumia 920.

Great app Virgil...keep up the good work :)
(Lumia 1020)

Thanks for making this app. It is simple and does what it needs to do. But what kinda turned me off is that I cannot launch it from the main WP photo gallery under the "edit" or "share" icons. At least, I don't see it there. I always browse my photos through the stock gallery app, so having to open the app and browse again makes me do the same task twice.

Daniel pls update the article by adding video compressor app it's better app than this....

You have to pay for the same functionality on video compressor...
For those of us that simply want a quick and simple way to share videos on Whatsapp, this is perfect!

Try a couple of optimization, the files are corrupted. This app just not working.

Wish we could also send videos not recorded from camera i.e from gallery

Its not working properly in my 520

just use telegram, it doesn't have these incredibly low filesize limits

Finally some assitance with whatsapp video size!!!!!!!

Wow it worked! Compressed my 1020's 125mb vid with exact frame rate at a smaller sendable size!

Will have to download to my 925 later.

Use telegram or share OneDrive link Ftw :D y these apps are getting developed ? We need WhatsApp team allow huge Gb files and they should learn lot from telegram

I just paid and downloaded this app, and it's NOT working!!! I have tried multiple times doing all steps and it does NOT work!!!
Windows Central Newsletter
Get the best of Windows Central in in your inbox, every day!
Thank you for signing up to Windows Central. You will receive a verification email shortly.
There was a problem. Please refresh the page and try again.