Sneak Peek: WhatsApp for Windows Phone getting new background agent, more in upcoming release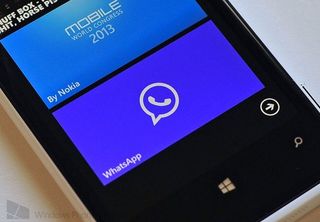 Good news for WhatsApp users, an upcoming update will greatly enhance user experience of the popular messenger app and we have the full details.
Currently in beta, the last version is 2.9.69 and the team looks to be aiming for a 3.0 release in the near future. Head past the break for all the exciting specifics!
The biggest change will make a lot of users happy: WhatsApp is finally ditching the music API that constantly leaves a blank song "streaming", a method that "keeps alive" the connection to the WhatsApp service. Instead, they have completely re-written the background agent so that it behaves like every other Windows Phone app, including access to it in the Settings > Background Tasks section (see image above).
Other additions include larger image support (so inline images are easier to view), notification fixes and fast resume. In other words, this may be the big update many of us have been wanting with this service.
WhatsApp has been working with Nokia to greatly improve the messaging platform and with the last few release, it has become much better. Now, with version 3.0 on the horizon, WhatsApp finally looks to be coming into its own for Windows Phone. Below is the latest Changelog, though more features may be added before this gets released to the public:
- v2.9.63 attempts to fix hanging on WP8
- v2.9.69 (submitted on 16-04)
In addition to UI improvements we've rewritten our background agent code for increased performance (biggest plus no more music API usage)
New smileys
Fixes notification issues for WP8 users.
Users can now see smileys on the double wide tile.
Fast resume. (If the app is open and you click on the incoming notification it opens as if in Android, very fast really)
On the start-up now it ask you to backup your chat history.
Large images shown
We've also heard back from the WhatsApp team regarding the geotagging issue that we reported on recently. They are working with Microsoft to fix the problem and take user privacy seriously. Though they cannot provide an ETA for a fix to that, they are working on it.
Thanks to E. for the screenshots and information!
Daniel Rubino is the Executive Editor of Windows Central, head reviewer, podcast co-host, and analyst. He has been covering Microsoft here since 2007, back when this site was called WMExperts (and later Windows Phone Central). His interests include Windows, Microsoft Surface, laptops, next-gen computing, and arguing with people on the internet.
Finally what I have been waiting for

I will re-install once this comes out.

exactly. I wont use this till they fix their shit.

Finally! Happy to hear that :P

Why does it need a background agent if there are push notifications? A BA can only run all 30 mins!?

It might use a background download agent which works a little differently. Only the periodic agent runs every 30 mins

Which agent type? There is only the gps agent which is not allowed in this scenario..

There used to be a background download agent that could be used to continue long downloads I think... Never read how it worked because I have no need to it

But to be honest I suspect it's just being used to kick the push notification channel back into gear should anything go wrong with it :)

Nope! Whatsapp used a background audio agent to poll for updates. And then a background shell task to check for new messages when not in app. No push here.

The background agent is useful, not only for keeping apps 'alive', but it can retrieve new notifications about the app. That's why if you put it off, the push notifications won't run.

The push notifications are nothing to do with background agent

If ever there was an award for a team that has shown dedication to improving their windows phone experience, and then delivered on that promise, it would go to the whatsapp guys. Such an improvement in the last 6 months :)

And yet its a really bad app for such an important app which is directly supported/reviewed by nokia/ms

I can honestly say that the current build functions 100% of the time for me, it's fast and elegant as well so I'd be curious as to why you think it's so bad?

I'm with rsuter on this one. For such an important app and for something that's bigger than Twitter, it really should be better. This new update looks to fix a lot of what's broken about the app that I hate but currently there's no fast app launch, resuming takes longer than a fresh launch, and the app crashes if left to sleep. I'm willing to bet that even with this new update, scrolling through past messages will still be slow and tedious to get through unless you guys can confirm otherwise. Location stuff also doesn't work as well as Android and we can attach any videos. I would like to see Bing intergration however just like PingMe had.

You sir have taken the words out of my mind!
I want to save and send videos from my collection!!!

There are enough developers not supporting the platform so appreciate the ones that do and actually continue to make their apps better for WP. If that's to much to ask then drop your WP and get yourself an Android device.

Current version really sucks...crashes a lot...hopefully new version will bring stability

Have you tried it on BB10? It's way worse. Fact is, they're trying to improve it, so we can back off on the criticism. I use it everyday now and it's much better than it was 6 months ago.

Yeah but bb10 has it after some months, we had to wait more than a year on wp7...

You're talking about the old client though no? My statement was regarding the improvement to the state it's in now :)

1st rule of WPCentral: You do not question Daniel Rubino
2nd rule of WPCentral: You do not question Daniel Rubino

Question him all you like :) just expect him to respond when he feels strongly enough ;) same with any of us really

Be careful guys, the royalty accusations may start soon. Facts are the app is better than 90% of the apps on the market. Its an app that's going to be used no matter how bad it is, people need it, & yet, they're doing everything possible to get even better. This replaced Kik for me simply for their dedication. Thanks for updating us guys.

I didn't want to use Kik because the people using it simply creeped me out. Just go and check the reviews :P

had the exact same reaction. also the performance of kik was worse than whatsapp. message delivery less reliable, and battery drainage just as bad.

What are you talking about!? Sure there were some contact glitches in the beginning but now it's perfect! You get notifications on time, you can share videos, you can quickly resume the app, app won't die when you put the phone to sleep, so please enlighten me!

when at home and on a dodgy wifi and 4g connection notifications can be 30 min slow, uploading messages can be significantly delayed and the same goes for downloading. even when internet works just fine in other apps... Also send smileys is currently a hit and miss affair. never really know what it is you are sending.

Totally agree that the app sucks on another platform, but that's not the way to compare it, the version on a Nokia e5 was so brilliant, OMG I used it round the clock until I dropped the phone into water for the 2nd time & the phone died on me.
I had paid 1/3rd (actually even less than that) for that phone than the Lumia 820.
I appreciate that they acknowledge the issue & work on it, but the time taken is awfully long... Won't you WPers agree?

It's already much improved from earlier versions, and it's good to know the reliance on the Audio API is being dropped. That was the one outstanding issue as it would interrupt music playback and even be listed in history in Xbox Music. Very annoying if one tried to resume playback and instead there was only silence due to having received a WhatsApp message.

Sweet. Looking forward to updating!

Thanks to Nokia for supporting guys @ Whatsapp! :)

Yippy kaye!! Any ETA on the release of 3.0?

I take it this is for wp8 only?

Ballmer style, "nokia, Nokia, NOKIA!!!!!" ...because, as far as I'm concerned, they're a huge reason why we've got developers committing to bringing official and first-rate WhatsApp, Foursquare, Tumblr and apparently even Facebook experiences to Windows Phone. They managed it with Rovio and Electronic Arts, and are reaching out to Instagram in various capacities.
Go Nokia!

Great update! This is what I'm waiting for, as I occasionally get upset with the 'streaming' blank music, replacing musics I was pausing.

they better update this thang because It freaks the hell outta me.

Well, kudos to Whatsapp. I know we all have complaints but at least they are demonstrating the will to improve it for the better, to support this OS, etc. You can't ask for anything more and I certainly appreciate it.

I never liked whatsapp but was forced to use it because of everyone else does. But their dedication has caught my attention and leaves me no choice to ditch LINE, who shows 0 support for this platform. If I was to be picky, video upload will be very VERY welcome too.

I like Viber a lot but it doesn't support sending stuff. Hope Whatsapp will do what they promise! Hope Tango will release anything soon as well if I may say off topic!

Well good news, just got an update for LINE. Now with fast-app resume and improved performance.

I'm really digging their transparency and wanting to update their app to feature parity with other platforms. They'll always get my money for that alone. We need more devs like whatsapp.

Nobody I know uses this...alas :(

I know a whole one person that uses this. Everyone I know has unlimited text, so there is no need to use it. The one person that does use it, lives in Europe, so she has a good reason to use it.

I know 100 people who use it and around 20-30 communicate with me regularly using Whatsapp, Its great to send Unlimited International texts, photos, etc.

Hope Large Tile notifications are fixes. It's not always showing details.

Indeed, and then I also hope it animates through all unread messages (A)

This for us wp7 users as well ?

I want to set custom notification sound for WhatsAPP ???? Anyone?

Have Lumia 920

Not allowed in Windows Phone yet.

Allowed on wp8, apps like im+ and jitalk use their own sounds

So which app is better for messaging, viber or whatsapp? Why? Also, the text editor on this website sucks when using full browser on my 920. I have to always switch to plain text in order for it to work. IT SUCKS!!!!!!!!!! hopefully that gets someone's attention :-P

I have the same problem, really annoying

Download the WPCental app... Problem solved.

The problem is when I click on links from the wpcentral's twitter feed, they open up on the web browser and not the app. It would be cool if links opened up the app.

Fair enough! Yes, that would be cool implementation in the app. (Take note WPCentral) hahaha

I might install it again once it runs in the background. At least to try.

Damn it guys.....whatsapp still doesn't verify for me........i got a L920.....and I still have to use my Omnia 7 to check my whatsapp messages........somebody....anybody help me please

Check the date and time on your phone. I had this issue and that fixed it.

What about sending and saving videos?

Woohoo! I have 90+ friends on Whatsapp, probably 30% of them active users, so this is great.

It's nice to see them ditching audio API though I personally never had battery issues, it was annoying to take over from my music player.

And for the love of god @wpcentral.....I've read some comments with ppl having the same issue am having and u guys won't even dig into it....i even sent u an email with my problem and still nothing....

Not your personal army, sorry. Nor are we WhatsApp tech support. We do look into things and sometimes there is a story, sometimes there is not. We can't respond to nor report on every bug or problem people have with Windows Phone apps, we're not a support service.

Harsh mate...i did contact whatsapp service, but they basically told me to read the FAQ.....
I had no one else to ask but u guys....

Have you tried the forums here? You may have some luck there!

Sadly, I did......no luck

Check system date and time!

Yeah....read that somewhere....also didn't work....rebooted my phone 3 times.....still.....i have been trying since whatsapp made its way to wp8.......i really don't know what else to do

Really looking forward for the release. Whatsapp is one of the most frequent apps I use. But will there be any update to add video sharing?

Unable to share music/videos from your Music+Videos library is NOT WhatsApp's fault, that'll be WP.

Took them only about 2 years but I guess better late than never.

im starting to like whatsapp again :)

Finally!!!!! Really looking forward to this!

Hallelujah effing hallelujah! This is the best article I've read in the history of WPC!

Why use this if you have pay

so you can talk to your friends, in chat groups too, who have different OS'. and if those friends are in another country, txting them would be costly because of international texts. i use whatsapp alot more than i do txting and having a fun group chat with my buddies. sending media is much easier than txting.

and for $1/year (free for many!), its worth it! if you cant afford $1/year for something you would use a lot, you shouldnt be owning a $200+ phone.

When do you reckon it will come out? I can't wait!

"On the start-up now it ask you to backup your chat history."
An import/export feature would be nice.

because 2.9.4 is the currect public release for everyone. The other versions are in-house/nokia in-house.

Finally! Now I just want to be able to send videos which were previously saved on my phone and then Im totally happy :) any rumor on a release date?

this is good news, but still no news on whether or not we can send MP3s/music and video directly from our phone through the app? all of that, and the changes above, just as long as its stable it'll be a 5 star app finally!

That won't happen until MS updates the API, hopefully in the next major release.

We need to change UI the black background is boring

The option for a light background would be great. Of course, you can always change the OS background to light and it will carry over.

Awesome!! Looking forward to the update..

are we able to send songs nd videos that are stored in our phone ?? anyone please tell me

Im almost a 100% happy with this possible release, but they need to bring only one feature more for it to be perfect. They need to be integrated into people hub

+1, API fix and people hub and it would be pretty much perfect!

Dont think WhatsApp can do much about that, it's Microsoft to let WhatsApp in the People Hub. But its not a bad idea ive to admit.

MS needs to release an API for communication apps to be able to integrate with people hub, that way I dont need the whatsapp tile in my screen, I only need the people I usually talk to in my start screen and I will get notifications each time they talk to me, I can start a conversation or continue one from their pined icon, just like they sold us the people hub.


Yes, I totally agree, that would be legen.... wait for it... darrrrrrry!
have you to submitted that to MS?

actually you can go onto the windows phone forum and vote for this feature to be implemented. So go forth and vote!

Does anyone know if we will be able to send "existing" videos with this new release?

It's unclear at this point. I think the issue has to do with access to the file directory.

What's gonna happen with WP7.8? Are going to receive those updates? And what about the music agent? I hope it keeps working the same way it works now because we don't have an option to keep the WiFi on all the time.

Go Whatspp Go!!! looking forward to it :)

I just want a stable WhatsApp. I've just shifted from an S3 to the Lumia 820. And the phone is amazing, but whatsapp performance is buggy. There are no notifications and its just a mess. I have to manually tap on the app to get it to work. If this fixes it I'd be willing to donate money to whatsapp for no goddamn reason. Please make it work. You've got my 5 quid on this next build.

F the BB, I'm looking forward to this! WP7 and WP8?

Why will you buy a WP7 now? Get WP8 like Lumia 920 or 928,catwalk whenever it releases.

Good improvements. I only hope they give us the option to change the font size (like the images)... :(

1) Still can't Attach Video files from video library 2) Still can't Save video files from chat
3) Still can't Mute group chat for more than a week
4) Still can't Stop phone from vibrating when message is received ( even when vibrate is off on phone )
5) Still a battery hog ( maybe )
Oh great! 5 to go.

Will they finally tell us how to restore from these so called "back-up's"??

You get the option of restoring your chat history after you install WhatsApp. Of course, that's assuming you already have a backup to begin with.

Next time you have a question, just read the WhatsApp FAQ: http://www.whatsapp.com/faq/en/wp/23607796

Restoring back-ups works only when you uninstall the app and reinstall it (assuming you had made a backup). The first time you run the app after reinstalling, it gives you the option to restore your chats.
Restoring will not work if you have reset the phone or flashed a firmware. The 'backup' isnt made in the cloud or connected to your microsoft account, its more of a file on your phone that gets deleted on resetting the phone.

I could be wrong but is it really Whatsapp's fault that we cannot send or save video in the app? If I remember correctly, Microsoft does not have such API for 3rd party app to do such thing. Not just whatsapp, other instant messaging app like Line, Wechat, etc also can't do such thing.

It is useless untill it allows to send Audio/Videos files stored on phone. Before switching to WP8 i was using android and it was easy to share audio/videos with my friends but now, a month has passed and I am unable to send any Audio/Video file to my friends. So 'm totally cut off. I find whatsapp for window just useless application.

Its far from being useless. It does, what it was intended for: Sending messages and pictures.

So with the absence of the audio API thing, our battery will not drain as fast as before right?

We won't know until they release it. Last I read, the battery drain happened while using the app and not outside of it.

Isn't this a futile exercise? I thought Whatsapp is being bought out by Google? For sure that'll mean the end of Whatsapp development for WinPhone

That rumour was denied by WhatsApp so no, it isn't futile.

I'm very happy about this!! :) :) but what's there for 7.8 users?? :(

Almost perfect.
Only thing missing for me is Notification Sound for new messages in Active Chat.
Because When I am WhatsApp-ing while watching TV or using laptop etc, and the other party is typing or thinking what to type.. I don't watnt to keep staring at my phone's screen.

It's like that with text messages too (with a slight difference). If you have a conversation open in the default Messaging app for SMS, the first message you receive makes a sound and subsequent messages are silent.

You can hit the home screen after sending a message or lock your phone. That way, you'll get a sound notification as well as a toast notification which you can press to open the conversation.

finally! I have to use whatsapp daily, hopefully this will fix most of the problems with it

Love the fast resume fix... Looking forward to it...

Hey guys anyone have any idea when we can expect WhatsApp in the store?
I am really dying for this update.

It'll be out when it's ready. I don't think they have a public deadline.

2 things that I would love to add...
1.- Hability to set the colors in the conversation ...independently of the color I have in my main screen.... With certain colors it is dificult to read the text....
2.- Possibility to change font size is very important... specialy for us using glasses .......(I am an ex BB user and this feature was great there)....
Looking forward for the upgrade.....!!!!!
Regards to all !!!!

Can we add existing videos in the future release? How about using front camera in video recordings? Is battery consumption any better?

I hope the update includes the ability to attach already existing images/audio/video.. and the ability to save received audio/videos..

No it is not included yet.

How do you block contacts in whatsapp for WP8?

Goto settings and you should be able to see block list, tap it open and add people.

Daniel any ETA on when the update is finally supposed to hit the store? Its already been almost 15 days since the sneak peek. :)

Here's what I would recommend for you Windows Phone 7.x users, unless the article specifically mentions 7.x then assume it's just for WP8.

Is this available in the market yet...windows store still shows 2.9.4 version.

Would be great if someone could confirm if this is gonna be for 7.8 also... Please please...

When the update will arrive on Windows Phone 8. badly waiting.

This app is crucial and needs crucial updates. It really really sucks. It's my biggest complaints coming from Android. Update it. Update it. Update it.

one month and still waiting for the update

Another month, and still waiting. This is absolutely ridiculous and a real shame from the whatsapp team to announce sneak peaks at least 70 days before the release. They forgot.

How about changing your notifications sound?
Will that we fixed?

It's been 3 month now .... The updates havn't reach to indonesia win market ... Still waiting ....

The notifcation problems are getting worse and worse. I now get a notification every 15 to 30 minutes of messages I received hours ago. 3 months in beta, nothing but complaining users and still no update? This is ridiculous beyond words.
This stupid app has gotten me into trouble more than once because I didn't reply/react to my gf's message. She owns an iPhone, so has no understanding for these stupid bugs...

Still waiting for feature to send audio files/media stored in phone.

still waiting to increase the fonts size
the present fonts are small and it need to increase the size

I must confess, it beats me to a pulp as to why Nokia/MS chose to make Windows Phone 8 OS so rigid & rather very boring. With my Nokia Lumia I feel so caged, as though my already heightened hopes induced by the barrage of endless media hype, have been completely shattered. Whatsapp cannot upload music & videos from either phone memory or SD card. Its inability to measure up with more flexible & evolving OSs like the iPhone & Android is rather worrisome. The recently released BBM Messenger is already being savored by millions of iPhone & Android users while WP8 OS is still crawling thousands of miles behind. I am a big fan of windows phone 8, Lumia in particular, but believe me when I say I AM DEEPLY & UTTERLY DISAPPOINTED IN WP8 for being such a rigid, boring & closed OS - a product of selfish & egotistically clumsy business disoriented folks. They have to find a way of loosening the rigid strings in this boring OS or watch their already waning consumer base crash to its limit. Am out!!!!
Windows Central Newsletter
Get the best of Windows Central in in your inbox, every day!
Thank you for signing up to Windows Central. You will receive a verification email shortly.
There was a problem. Please refresh the page and try again.