Where to pre-order everything Microsoft announced last week
Be amongst the first to rock one of Microsoft's newly announced devices by pre-ordering from any of these distributors.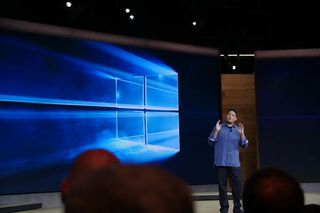 We got our fill during the Microsoft event in NYC last week with all the awesome tech that was revealed including the Microsoft Band 2, Surface Pro 4, Surface Book, and Lumia 950/XL. Here's a roundup of online retailers in the U.S. that are taking pre-orders for most of the devices announced, including the original Microsoft Band that got a $70 price drop from its $199 price tag. For international pre-orders, check the Microsoft Store in your region. What devices are you most looking forward to getting your hands on?
Microsoft Surface Book
The 13.5-inch Surface Book will pack Windows 10 Pro and starts at $1,499 for the minimum 128GB, Core Intel i5 CPU with 8GB of RAM. You can get even more power — up to 512GB of storage, a Core Intel i7 chip and 16GB of RAM for a heftier $2,699.
Pre-order from Amazon (opens in new tab) Pre-order from Microsoft (opens in new tab) Pre-order from Best Buy (opens in new tab)
Microsoft Surface Pro 4
Starting at $899, the new 12.3-inch Surface Pro 4's base model features 128GB of storage, an Intel Core m3 chip, and 4GB of RAM. There are 8GB and 16GB versions to consider before jumping to the ultimate 256GB, Intel Core i7 model. The Surface Pro 4 runs on Windows 10 Pro and includes a Surface Pen.
Pre-order from Amazon (opens in new tab) Pre-order from Microsoft (opens in new tab) Pre-order from Best Buy (opens in new tab)
Microsoft Lumia 950
The 5.2-inch Lumia 950 features a 1.8Ghz hexa-core Snapdragon 808 CPU, 20MP rear camera, 3,000mAh battery, USB-C fast charging, and wireless charging support. Starting in November, you'll be able to snag an unlocked Lumia 950 directly from Microsoft for $549 in the U.S. and £499.99 in the UK. It will also be available from AT&T, however no release date has been announced yet.
Learn more at AT&T (opens in new tab) Learn more at Microsoft (opens in new tab)
Microsoft Lumia 950 XL
Sporting a larger 5.7-inch display is the Lumia 950 XL, running Windows 10 and packing an octa-core Snapdragon 810 CPU, 3GB of RAM, and a 3,340mAh removable battery. The Lumia 950 XL will be available directly from Microsoft for $649.99 next month, as well as AT&T.
Pre-order from Microsoft (opens in new tab)
Microsoft Band 2
If you're interested in making the upgrade to the new Microsoft Band 2, you can pre-order it for $249.99 in small, medium, and large wrist sizes. You can pair it up with your Windows Phone, Android, or iPhone and enjoy tracking a number of activities as well as emails, texts, and more.
Pre-order from Amazon (opens in new tab) Pre-order from Microsoft (opens in new tab) Pre-order from Best Buy (opens in new tab)
Microsoft Band (price drop)
The predecessor to the new Microsoft Band 2 has been lowered in price after the announcement last week, available for only $129.99 directly from Microsoft — a $70 reduction from its original $199 price tag. The original Microsoft Band is still a great accessory to pair with your smartphone, providing easy tracking for all your activities on its 1.4-inch TFT display.
$120 from Amazon (opens in new tab) $129.99 from Microsoft (opens in new tab) $129.99 from Best Buy (opens in new tab)
Really want that 950xl day one UK but three uk haven't said a word about it

I think this applies for most UK carriers. Carphone Warehouse does have a "notify me when the phone is available" option on their site, but that's about it.

Very unlikely three will stock any 950 range based on the fact that the manager I spoke to said they haven't had a Nokia premium device in over a year and wouldn't be changing that anytime soon.

I think the got the 920 around 5 months after everyone else. I seem to think there is mentions of it in the forums (possibly in the o2 discussion).

Because Nokia is no more?

Just follow the links in this article.. or .. do you mean this is where can you order the stuff - in the US! I tried to order mine from FNAC.PT .. still no luck with the creditcard payment but you might be lucky ordering it there. or use unlockedphones or whatever

L950 in india...how to pre order?

Will the 950XL Preorder from MS work on LTE 1800 outside of the US

At DPK (German Partner Conference) Microsoft today said that Windows Hello (IRIS scanner) will only work on phones sold directly by Microsoft but not on those sold by carriers in the beginning. Apparently carriers maybe have security concerns and maybe want to wait a little more. So if you rely on the IRIS scanner better don't get a carrier-950 but one from Microsoft directly.

What? That sounds weird, why would carriers have any say in what security measures their users utilize?

Cool....i will pm you my shipping address.

I would love to have one of the phones

I thought MS dropped the price of the band to $99 to match Best Buy?

I want to order my Lumia 950. When AT&T, when?

Take copious amounts of salt with this, but...
When I was in the MS store last week, the guy there (the one person I talked to who actually seemed to know more than I did about anything) said he heard the phones were scheduled for late November (ie. around the 26th) That makes sense since we still aren't really close to RTM with the mobile OS. Just sayin'... if you're thinking early November, think again.

I wouldn't doubt that. I was thinking like the 20th. I think the 1520 hit on the 18th of November a couple years ago (within a week of that at least)

I have been told December by Carphone Warehouse.

By the time this phone drops I'll lose interest. Posted via the Windows Central App for Android

Where can i pre order the 950xl or 950 in the US cant find it

"email me when available" is NOT the same as "Pre-Order" who made this terrible tease?

Got my 950XL preordered at my local MS Store, but no news on the Continuum dock? The store says it will have them. I wanna be clear to them I wanna get one day one.

Preordered for pick up at the store?

Yeah. The day after the announcement of all the new phones and devices I got word that the microsoft stores had some or all of the new devices and they could be checked out and even preordered. So the closest one to my work is in Stanford here in Northerm California. Went down there, got to check out the 950XL. They didn't have the 950 or the Surface Book sadly. I wanted to check out the 950 as well but I had my eyes set on the XL. GOt to mess around with it for like 10 min and had a long chat with one of the reps there. Very knowledgable and passionate about everything Microsoft, especially all the new hardware. And yeah pickup from the store. Normally they want a $25 deposit, but they waved it. They will call when they get in and I can go pick it up on launch day. He said they are a little flexible too so if I can't get down there they day they are available I can come get it a day or two later. Your milage may vary though on the flexibility of your local store or if they will wave the $25 deposit. Only down side is we have to wait till November.... sometime. :) // J

AFFILIATE LINK CENTRAL.
Not cool.

So att is going to carry the 950 and the XL? Both out next month? this year? next year?

Come on man, it only shows that you can only pre order the 950

"The Lumia 950 XL will be available directly from Microsoft for $649.99 next month, as well as AT&T." From that statement, I'm understanding that AT&T will have the Lumia 950 XL next month (US). This is the first time I'm hearing this. What is your source for this bit of info?

Yes, please clarify this. I'm hoping I can buy a 950 XL from AT&T.

Preordered the i7 surfacebook. Good thing it didn't have a release date yet. I can hold of on buying ramen noodles and chip for a few weeks. Already sold the SP3 and hopefully selling my htc one will soften the blow of also pre-ordering the 950 whenever it becomes available. I'm on so many notification listed to make sure I get one before it sells out at the speed of light.

I just pre ordered a 950 XL at the Microsoft store at Yorkdale in Toronto for $0... I played around with it for a bit but very simple stuff nothing extreme... Very light but I noticed that just above the home button the screen and the back part heats up a lot... How come the liquid cooling isn't working good?

Preorder without even seeing the subject of your order in real life? Without anybody had given a full and detailed review? Dont people learn from the "never buy any MSFT hardware which is revision 1.0 unless you clearly know all its defects before handing the cash to the sales person" story? Those, who dont learn from their own past mistakes, are doomed to make the same wrong decisions over and over again (until their life ends).

This is not everything, you did not include the 550. It is not yet available for pre-order.

I would never pre-order anything thing hardware related at Amazon. Best Buy is always my first choice!

You can't preorder anything at the Argentina Microsoft Store because they don't sell phones, they don't sell any hardware, to be more precise.

Sadly still no news on Surface Book for/in UK, there is more interest on that than Surface Pro 4 however no one is able to pre-order.

Was the 950 XL ever avilable from the MS Store? Not sure if they sold out or are waiting for a solid release date to open preorders.

I'm hoping for a bundle package with a 950 and Band 2. Or a trade-in option for the Band 1 to get the Band 2 in the US. :)

Yeah, I would like to see some bundle offers. I'm sure there are lots of people who want to order a selection of these products together. Given they are all premium devices, it would be nice to see some bundles.

So you mean to tell me that at&t is not selling the freakin 950 XL. Microsoft needs to offer a payment plan. I am not understanding this right about now.

You guys sure 950 will be available unlocked from Microsoft? The talk in the forums and from my own experience going to a store, they only had 950 XLs on display and for pre-order. I'd like to hopefully get official word on this sometime soon. I along with others are worried 950 will be only sold at AT&T and not direct from MSFT at their stores in the US

I went into the store in Dallas and they only had the 950XL on display but were accepting pre-orders for both units.

Any idea when lumia 950 will be available in Mexico? Posted via the Windows Central App for Android

Not available for pre-order until next month. The link in the article is misleading.

R they still neglecting India? That will b a big mistake once again....
Windows Central Newsletter
Thank you for signing up to Windows Central. You will receive a verification email shortly.
There was a problem. Please refresh the page and try again.