Where's My Perry and Where's My Water for Windows Phone 8 will both be free starting tomorrow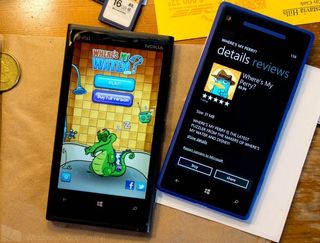 What's better than a highly popular, well received game going free for a day? How about two highly popular, well received games going free for a day. Starting tomorrow, Disney has made their two games for Windows Phone 8 free for 24 hours. Both Where's My Water? and Where's My Perry? will drop from $0.99 to nada, zip, zilch, f-r-e-e.
If you're a kid at heart or have kids, you'll want to take advantage of the offer. Both games feature Disney characters Agent P and Swampy in fun puzzles. When we first looked at the games a month ago we described them as:
Bookmark this page and check back tomorrow to download the games. Don't forget these are just for Windows Phone 8, sorry 7.X friends. You can find Where's My Water? here and Where's My Perry? right here in the Windows Phone Store, use the QR codes below, or swipe to the right in the Windows Phone Central app.
Source: Windows Phone Twitter
They were worth the $.99. Glad to have helped support the dev so they can offer it free.

Which is your favorite between the two?

Where's my Water is pretty awesome.

They're both fun, and have different challenges. I'd say where's my water due to the various mechanics and number of levels.

I don't like that as WP7 owner I can't even share WP8 stuff. I need to pass on the savings! In this instance I'll share the story, but this is a silly Store restriction.

https://www.change.org/petitions/instagram-make-instagram-available-on-w...
please guys sign in this site for Instagram, just 335 sign need

Only for windows 8 phone ??

Only *free* for Windows Phone *for now*, yes. If you mean to ask about availability of these games on other platforms, games are always released on iOS and Android first. If you mean to ask about the free deals on your own phone's, then go to the other phone's websites to find out about the free deals.

I love them both! I get into grooves where I just play one until I complete several levels, then switch to the other :D

It's not just $0.99. You have to buy the more advanced levels like "Cranky's Story" too. Also, I don't know if it's just me, but this game loves to crash when I'm listening to Xbox Music at the same time. Fun game, though.

+1 Need to pay for more levels

Question: when you pay for the additional levels on one phone, do you have to buy them over again on your next phone? I don't know how Microsoft handles PDLC.

Good Question. If Tentacles™ ever comes out for WP8, I'll be able to find out...

I paid for Tentacles™ on Wp7, I really hope they update it for WP8, I want this game to finish up the achivements on it, it's one game that I really enjoyed...

My daughter loves where's my water!

Yay I have them free on my surface so I didn't see the need to buy them again for wp8

Wish they were Xbox live enabled. MS really needs to rework their live approval system to make it more cost effective to make a live enabled game if they want this platform to take off. I buy games on wp8 for live achievements.

Lets hope Disney makes more apps like Disney mobile magic.

:)

But mobile magic is Verizon's job. They make the app.

I asked Disney about My Disney Experience which you use to book the new fastpass+at home and they said to keep looking at the google store?? Looks like i will have to use my wife's iphone in Walt Disney World.

Damn... I'm getting my Lumia 920 on Sunday. Can't even grab them on the web store without having a phone linked to my account :(

Can you "buy" these on windowsphone.com? I don't have a wp8 but these would be nice when I get one

$0.99 I think you guys can afford them when you have a Windows Phone to play them on....

I love where's my water. I find myself saying "ok one more level" and play 6.

Love these WP8-only games. They usually run better and look better than games that support both. WP7 hardwares are little weak.

So I bought both Where's My Water and Where's My Perry when they both first came out. I have to say I regret buying Perry since it's almost identical the Wheres my Water. Just different characters and a little different types of actions levels. I'm really liking Water though. I've only played the first few levels of Perry so maybe can someone tell me if in the later levels it will be more different compared to Water? Also, I've noticed great battery drain when playing either of these games.

How do you bookmark this? By saving to list?

Is this America-only? Because I've looked on the UK WP web-store and they're don't appear to be even listed. Granted, I don't own a WP8 device (yet), which is why I was using the web store. I was hoping I could "purchase" them and download them when I do eventually get my hands on some WP8 goodness.

I think so, my marketplace is still saying £0.99.. :(

It could change at US midnight, which is 6-9 hours behind us depending on which part of it one is in.

No, you can't purchase unless you own a compatible device

It's aggrivating that games such as these are not WP7 compatible.

,+1 these win 8 only apps are becoming a daily bore as win 7 is becoming alienated a little sooner than I hoped for.

Yeah have them free on Windows 8 and Android but wouldn't mind having it on Windows Phone 8 as well. Just have to actually play them now...

I bought Where's My Perry? a few weeks ago with my rewards credits. Great game, I'll get Where's My Water? tomorrow :)

still not free in Windows Store India?

Just for WP8!?
Nooooo............

Wich store is available ?

It is still 0,99 € for me :(

Still showing ₹ 55 in India.

And still 7,90 kr in Sweden.

It is tomorrow, and it is still not free :O

Come on guys.. Be patient.. Complain after the whole world passed Jan 17.. :D

I used to have Wheres my Water on my old iPhone, might have to pick up the full vers on the 8X. Not too sure on the Perry one.


i think 'where's my water' is more fun than angry birds.

When is tomorrow? It's 2:30a PST, still not free.

Italy Lumia 920 still 0.99 €

It's 2:30 PM here in GMT +3, it's like 6AM in New York. It's still not free

WMW is still $0.99 here in Chicago right now.

Played Where's My Water on my iPad months ago and finished it already. Really enjoyed it and worth every penny. Where's My Perry, on the other hand, feels like a clone of the former. Luckily I downloaded the trial version. Otherwise, I'd be hopping mad if I had bought the full version.

Doubt I'd get Where's My Water even if I own a WP8 device as I have already played it on the iPad, but still a great addition nonetheless. ;)

I bought both games ... yet I have never played them. Duh!!!!

I just checked in the app store and they are both still .99 cents.

If they were really only .99 cents how would they give you the .01 cents change? Shave off the edge of a penny and send it to you? LOL

When is it going to be free?

Still not free here in NYC,...

It's 2pm, getting restless now lol

Not free in Toronto either

Still not free here.... If they were $0.99 with xbox live achivements I would buy them...but, if they are free I will grab them both....just when is the question, as I dont want to miss them for free


still not free in CT. I wonder if this is just a hoax for us to buy it.

They've added a "free" trial (there was none before). I guess it's "free," for 10 days.
Misleading.

Upon looking it doesn't show a free trial for me either.

It shows up for me as featured app (Where's my water). It now shows available with a free trial. I didn't check Where's my Perry.

Not free yet in Arizona but I'll keep checking.

I may be wrong but Sam sabri had filed the news on 17th. He meant it will be free tomorrow.viz 18th!Its 17th evening here in India.

Instead of saying "tomorrow," Sam really should say the day they will be free... "It will be be free this Thursday" Because of the time difference and where he is when he posts it, tomorrow could mean a couple of things. I truly appreaciate the heads up with stories like this, but why not just post this sort of thing WHEN it goes free instead of forcing 100's of people to keep checking on their own. Actually provide some value with this site and post actual whens not what you typically do which is post a "it will at some random point in the future" sort of article.

The Windows Phone Blog also shows this deal, for Jan 17th specified.
http://blogs.windows.com/windows_phone/b/windowsphone/archive/2013/01/16...
Don't know when will they go free, I am still waiting. They are not available free in India yet.

900 am central time in new Orleans not free and free trial was already in place before this I want my two free games scam

Still .99 cents this morning

This was just a false advertisement, they are 99cents, yet they promised free. Sorry if I could support every developer I would, if the game is good, I'll buy it next month. I hate the argument that i could just "avoid" a coffee at Starbucks but too bad I dont spend my money recklessly. Shame on WP central

Free is th US is now released. And you sounded so sure about what you were saying too. smh.

It wasn't available when I wrote that, so stfu!

Just dl'ed full versions free, right now.

its free now in the UK store
http://www.windowsphone.com/en-gb/store/app/where-my-water/15e6bf4d-b1ea-4b21-9301-fbf27fa00c2a
http://www.windowsphone.com/en-gb/store/app/where-my-perry/73165b83-0398-4c7e-a4cb-9ac422b1fe81


its free in the US too!!!


It still shows as $0.99 for me at the moment

The link in Nokia Saudi Facebook seems to work. It says that its free but can't seem to connect to the store. The traffic must be jamming the site.

Now free in India too :-) yayy...

Finally! It's free guys. Wooot3

You have to follow the link in the WP Central app. I searched the store, 99¢. Went through the link, free. Checked the store again, 99¢.

I'm trying to get Where's My Perry? but it says it is not for my device. I have a Lumia 920 in the US on AT&T. What device is it for? I installed the other one.

Worked for me on my US ATT 920.

Android ToS on WinPho8 app! Where's My Water.
http://sdrv.ms/USRhuG

Both showing up for free now....downloading now...

Was just coming here to say this. Downloading it now!

The store has been updated, it is free now!

Ok Cool, I got them now for free! Thanks!

Achievements have really messed me up as a gamer. The logical part of my brain knows they're meaningless, yet I still trudge through games that suck simply for the gamerscore - while achievement-less games that I genuinely enjoy get played only once or twice.

Both are not working for me eventhough i used the code and tried the link in the wpcetral app.
Windows Central Newsletter
Thank you for signing up to Windows Central. You will receive a verification email shortly.
There was a problem. Please refresh the page and try again.