Which Microsoft Edge preview channel should you choose?
There are going to be a total of four Edge channels for you to choose from, so which one is for you?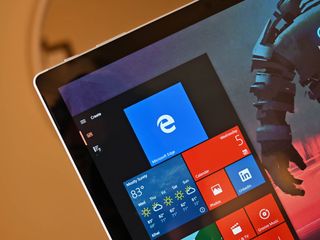 (Image credit: Windows Central)
The new Microsoft Edge with Chromium is finally here in prerelease form, and it's available via multipe preview channels. If you're new to this method of building and using a web browser, the new test channels can be somewhat daunting. So, we've laid out all the preview channels to try and make it easier for you to decide which channel suits you best.
There are four channels for you to choose from when it comes to using the new Microsoft Edge. Here's a rundown of them all.
Edge Canary
The canary channel is designed for those who want to live on the very bleeding edge of new features and changes. It's the channel for developers and enthusiasts who want to begin testing the latest features as they are being built. As such, this makes the canary channel the most unstable channel of them all due to unfinished features and changes being checked in for testing.
Unlike the other channels, this channel is updated most, almost daily in fact. While not every new build has new features to test, you can guarantee something has changed every time a new build is installed, even if it's small or unnoticeable. Because of the frequency in updates, it's possible that a new build could break something. Edge Canary isn't for the faint of heart.
Edge Dev
The developer channel is a little more relaxed when it comes to update cadence. This channel is updated about once a week and is a little more stable because it's testing features that have already been in testing with Insiders in the canary channel. Because it's updated on a weekly cadence, these updates may include more features and changes at one time.
The developer channel is excellent for those who don't want to be bombarded by daily browser updates but do want to test new features as they are still in development. This channel is designed primarily for developers building extensions and web applications that need to check their solutions to ensure upcoming changes don't break anything.
Edge Beta
This is the channel for most users and enthusiasts who just want access to upcoming features early, but don't want to risk stability and browser performance. By the time new features are hitting this channel, they will have been in development and testing for several weeks, meaning they should be much more stable and ready for prime time.
The beta channel is updated every six weeks, making updates few and far between. But you can be assured that every new update will include at least one notable new feature or change, and that every new update will perform relatively well without risk of any catastrophic failures or broken features.
Edge Stable
The production channel is the one that most people will be using. This is the channel that the regular, default version of the new Edge is set to. This is the stable channel, on an update cadence of about six weeks. It receives only stable new features and changes that have been in testing by the beta, dev, and canary channels for weeks.
If you don't want to worry about unfinished features or stability problems, and just want a browser that works, the stable channel is the one for you. The stable channel isn't available just yet, but it will be coming later this year.
Which one should you choose?
If you're still not sure about which channel is best for you, I'd recommend going for the most stable version available. Right now, that's the beta channel. Even in the more risky Canary and Dev channels, the new Edge is very stable, but that can't always be guaranteed. You will always be able to ensure stability with the beta and stable channels, so that's the one we're ultimately going to recommend for people who aren't sure which one to go for.
If you're happy to test unfinished features at the risk of less stability, the beta and dev channels will be great for you. The canary channel is for those who want to live on the bleeding edge, regardless of how stable or not the builds are.
Windows Central Newsletter
Get the best of Windows Central in your inbox, every day!
Zac Bowden is a Senior Editor at Windows Central. Bringing you exclusive coverage into the world of Windows on PCs, tablets, phones, and more. Also an avid collector of rare Microsoft prototype devices! Keep in touch on Twitter: @zacbowden.
Is MS posting about when updates are released and what they include somewhere (I'm guessing not). Would be interesting to know what to look for. If there are updates, I mean. I'm using the Dev version, but haven't received any updates since installing it on 4/8. (If the Dev updates are released weekly, I'm not getting them.)

Agreed!! I am very happy with how it is performing already but weekly updates and how you get them hasn't been answered.

The updates get installed automatically.

They get updated automatically, in fact, WC just reported 17 hours ago that it got its first weekly update. "https://www.windowscentral.com/microsoft-edge-dev-channel-gets-first-wee... When there is an update, you will see a green sync icon top right of your browser, placing a cursor on it will tell you an update is available and to go to settings, at settings, click on "About Microsoft Edge", A test will show in the browser frame that say to complete update, restart and just click on the restart button.
You will not lose any open tab or anything, it updates fast and opens everything you had open before pressing the browser restart

Shame they couldn't implement this auto update function on their regular edge browser. It literally runs horrible compared to the chromium version.

There haven't been any updates to the Dev version yet and it should update automagically.
Might be worth following their twitter account @MSEdgeDev

An update has been just released for Edge Dev taking the version to 75.x.

I will wait for the stable version to arrive. Then, I'll compare its performance with classic edge. If its more efficient and has all the features of classic edge along with a new logo, only then I'll change my default browser and username.

As long as it's UI is so close to Chrome/ium, none of those 🤔

they use chromium. so what do u expect? if u don't like it, use an alternative browser.

I use the canary channel, it does not feel canary's definition at all because it is that good, I have the Dev Channel as well and have not gotten any reason to roll to it because of the Canary channel goodness.

I just run Canary, that way I can see the updates etc. Plenty of other browser options if that quits working or crashes.

I downloaded and installed a canary version last week, it was ok, I had a look which is all I wanted to do, but I see no reason to change from the browser I use as for me there is no advantage. I doubt I will bother to download another version. i uninstalled it now anyway.

For many years Maxthon and then Maxthon Cloud has been my default browser. Although I also have Chrome installed, mainly for Google related activities, it has never been a favorite of mine.
The new Edge changed everything. Edge Dev is already my new default browser.
Looking forward to the stable version.

Has MS added PW sync yet with any of the channels? I think Favorite sync has been there for sometime. No PW yet?

I can't confirm, because I use LastPass for passwords, but both the Beta and Dev versions now show password syncing enabled in settings.