Whirlwind FX Atom review: 60 percent size, 100 percent awesome
For the gamer who needs to save on space without sacrificing quality.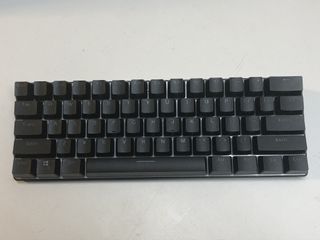 (Image credit: Windows Central)
While the full suite of keys you'll find on standard-size keyboards is great for productivity work, many of them will likely go untouched if you're primarily using your keyboard for gaming. This led to the emergence of the 60% keyboard form factor — a term that describes gamer-focused boards that have 40% of the keys removed. As a result of the lower key count, these keyboards are shorter and lighter than other options.
Prior to this review, I had never tried out 60% keyboards, so when Whirlwind FX contacted me and asked if I wanted to test out its new Whirlwind FX Atom 60% keyboard, I jumped at the opportunity. And after testing it out for a few weeks, I can confidently say that, while it's not the right keyboard for a writer by day, gamer by night type like me, it's nevertheless one of the best keyboards available. That's especially true if you're a gamer that wants to save space on your desktop, get rid of keys you're not going to use, and take your keyboard wherever you go.
Bottom line: Aside from some wobbly stands, the Whirlwind FX Atom is a durable, high-performance 60% keyboard that feels amazing to play games on. The reactive RGB lighting is pretty sweet, too.
For
Excellent build and design
Several different Cherry MX switches available
N-key rollover and 3000Hz polling rate
Snazzy reactive RGB
Against
Stands are slightly wobbly
Typeface won't be for everyone
Whirlwind FX Atom: Price and availability
The Whirlwind FX Atom is priced at $100 and can be purchased from Amazon or directly from Whirlwind FX itself.
Whirlwind FX Atom: What you'll love about this keyboard
First and foremost, the thing I love most about this keyboard is that it has a fantastic build and design that makes it both durable and comfortable to game on. The double shot ABS matte keycaps are easy on the fingers, and the switches actuate without any noticeable issues at all (no doubt assisted by the keyboard's lubricated stabilizers). The board chassis itself is also very rigid, so you don't have to worry about flex. If you've never used a 60% keyboard before, it'll feel weird at first, but once you do you'll have an excellent experience gaming on this keyboard.
Secondly, this keyboard comes with full N-key rollover and an excellent 3000Hz polling rate. The former ensures that rapid inputs won't be delayed, and the latter guarantees your inputs will be reported to the computer instantaneously — both of which are very beneficial advantages for gaming. You also have the choice between Cherry MX Red, Blue, and Brown switches (I picked Red).
Finally, I really love what Whirlwind FX is doing with the RGB on this board. In addition to typical RGB features like being able to customize colors and patterns, Whirlwind FX's SignalRGB software also comes with integration for over 50 different games, with more being added weekly. This reactive RGB causes the lighting to shift based on what's happening in-game. For example, in Skyrim, the keyboard will change colors based on when you're taking damage, regaining mana, and attacking enemies. You can view the entire list of integrated games here, and if a game you like to play isn't on it, you can submit a request for Whirlwind FX for integration.
Whirlwind FX Atom: What you'll love less about this keyboard
There are only two things I dislike about this keyboard. Firstly, the foldable stands on the back of the board are slightly wobbly. The keyboard stays propped up on them fine, but there's a decent chance that you'll accidentally flip one or both of the stands up if you unintentionally scoot the keyboard forwards while playing.
Secondly — and much more subjectively — the typeface on the keyboard is a bit weird for my tastes. I don't like how many of the characters have strikethroughs, but if you think it looks cool, you'll love it.
Whirlwind FX Atom: Competition
In terms of a competing 60% keyboard that gives the Whirlwind FX Atom a run for its money, we recommend the Ducky Channel One 2 Mini as a solid alternative. It has all of the same features that the Whirlwind FX Atom has aside from the reactive RGB, and also comes with premium PBT keycaps that trump the Whirlwind FX's ABS ones. However, it costs $20 more and also has a much "louder" overall aesthetic thanks to the white chassis and sizable Ducky brand logos on the spacebar and back of the board. I would personally choose the Whirlwind FX Atom, but the Ducky Channel One 2 Mini shouldn't be overlooked.
Whirlwind FX Atom: Should you buy it?
You should buy this if ...
You need a high-performance gaming keyboard
You want something portable and space-conscious
You don't need all of the keys on a standard keyboard
You like snazzy, reactive RGB
You shouldn't buy this if...
You need something for lots of typing
You don't care about portability or saving space
You want a keyboard with a metal chassis
You'd prefer to go wireless
Ultimately, if you're in need of a space-conscious gaming keyboard with great performance, the Whirlwind FX Atom is a superb option. The reactive RGB lighting is a really cool bonus, and while the slightly wobbly stands are a bit annoying, they're hardly a serious problem. Overall, this keyboard is fantastic.
You probably won't like this keyboard (or any other 60% keyboard, for that matter) if you plan to do a lot of typing when you're not gaming, though. If a full-sized gaming keyboard that will also serve well for typing is what you're after, don't miss our roundup of all of the best gaming keyboards available. Also, make sure to check out our list of the best keyboards for some great productivity-focused options as well.
Get the Windows Central Newsletter
All the latest news, reviews, and guides for Windows and Xbox diehards.
Brendan Lowry is a Windows Central writer and Oakland University graduate with a burning passion for video games, of which he's been an avid fan since childhood. You'll find him doing reviews, editorials, and general coverage on everything Xbox and PC. Follow him on Twitter.