Do you plan to buy Microsoft's Surface Earbuds? (poll)
If Microsoft were to make headphones that compete directly with Apple's AirPods, who exactly would they be for?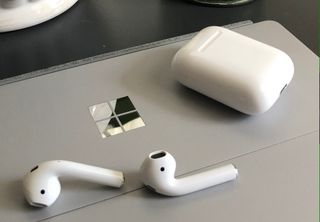 This week, Microsoft launched Surface Earbuds in 24 markets, and will begin shipping next week. You can order them now, and are available in Glacier White. Surface Earbuds join the Surface Headphones as Microsoft's second pair of wireless headphones. The question is, which is better, and will you be buying the Earbuds over the Headphones?
In-ear or over-ear?
Microsoft has had the Surface Headphones for some time, but I find them to be overkill sometimes. I don't enjoy wearing over-ear headphones at the gym or on a hot summers day. For that, I prefer in-ear headphones, which I also think are more popular and are preferred by most thanks to their small size, lower price, and ease of use. I own a pair of Surface Headphones, but I rarely go outside with them, as I feel like they're too big.
Surface Earbuds, on the other hand, are going to be my go-to headphones for going out and about, because they're much more discrete and easier to carry around. Surface Headphones make sense for long-haul travel, but if you're just going out to the park for the day, or to and from work, the earbud form factor is much more preferred. I've been using the Samsung Galaxy Buds+, and I really like them.
I think Surface Earbuds are going to be a real contender in the wireless earbuds space. Surface Headphones compete alongside the likes of Bose, Beats, and Sony over-ear headphones. Surface Earbuds compete alongside AirPods, Pixel Buds, Galaxy Buds, and the many other wireless buds accessories on the market today.
Can Microsoft gain traction in an already crowded wireless audio accessory market, especially considering it doesn't have any mobile platform? The productivity angle is interesting, but will that scare "normal" consumers away who are just looking for a pair of headphones for music? In the meantime, will you be buying the wireless Surface Earbuds? Partake in our poll and let us know exactly what you think in the comments.
Work and Play
(opens in new tab)
Microsoft Surface Earbuds
Crystal-clear audio meets productivity.

Now at a lower price, Microsoft Surface Earbuds bring the first truly wireless earbuds to the premium product lineup, promising comfortable, hassle-free listening on mobile and PC. They ship packed with touch controls and AI-enhanced voice features.
Get the Windows Central Newsletter
All the latest news, reviews, and guides for Windows and Xbox diehards.
Zac Bowden is a Senior Editor at Windows Central. Bringing you exclusive coverage into the world of Windows on PCs, tablets, phones, and more. Also an avid collector of rare Microsoft prototype devices! Keep in touch on Twitter: @zacbowden.
So cortana is dead, put alexa or google assistant inside

You can call up Alexa through Cortana

But why would you? Just do Alexa directly. Alexa works much better on my Xbox One X than Cortana ever did alone. Microsoft basically handed Cortana development over to Amazon. Cortana may run in the background, but Microsoft has exited the consumer space, and that includes Cortana.

I would buy as long as they are under $200

Yeah there really needs to be a "Depends on the price" option.

The price is $199. If you can get an education of government discount the price is $179. I have pre-ordered the earbuds of $179.

I hate in-ear devices in general. So, these are a nonstarter.

I used to be the same way but now I don't mind them.
I was really hoping MS would continue on this design.
https://mspoweruser.com/microsoft-want-to-be-a-headphone-company-invests...

Wow that's pretty cool stuff

You must not wear glasses then.

A smartwatch would be nice so that I can change tracks while riding my bike... I still have to use corded BT headphones with controls, because that's the only safe way to change tracks on two wheels at 80 mph. Of course, even with the watch I'd still have to be at a stop, but it beats pulling over completely to get my phone out. I'll go buy a watch, and see if I don't die. 🤷🏾‍♂️

Smart watches aren't great on a bike because you need two hands to use them. They work for notifications and Wear OS gives you some control with gestures, but not for music. I have definitely used my nose to switch tracks though! You could attach it directly to the handlebars! Gonna try this!

https://tse2.mm.bing.net/th?id=OGC.adb4a4d0a3fc7e16b70b7d74e3da8251&pid=...

Are you saying your helmet does not have all the music listening technology embedded in it?!

Earbuds would have to have some feature that completely distinguishes them from any other generic or premium earbud. I definitely would not pay more than $50 unless they have some outstanding feature that no other earbuds have that would be useful to me.

Probably not, though its a cool concept. Microsoft burnt me on surface rt, band, phone ....... Not sure i will buy any Microsoft hardware again in this lifetime.

I have to agree with you. My Microsoft fanboyism died a few years ago. Nothing they've done in the last 2 or 3 years has been exciting or really interesting. I jumped all over the Xbox One X, my last Microsoft purchase, but have been largely disappointing. Constant problems with it, all software related. I think you'd have to be a diehard fanboy to buy these, and I don't think there are many of those folks left.

If they allowed Google Assistant for those who don't rely heavily on Cortana, I could be interested. But as it stands, Cortana is growing less and less useful, so getting a Cortana specific device seems odd. If it could just kickstart whatever assistant you have as default, that'd be much better. Then it'd cross platform (except maybe iOS, not sure how assistants work there) and have much wider appeal. I don't think these would increase the value of Cortana, so this would only help, not hurt them.

They have already confirmed that it will work with what ever your default assistant is. If you pair with apple it will launch siri. if you pair with android it will pair with google or what ever assistant is default. If you pair with windows 10 it will launch cortana and use all your O365 stuff.

People say how great the AirPods are. I don't get it. I've found greatness though in the Jabra 65t. I'm glad we have so much choice in products these days. So people can get whatever gives them the best experience. The best product is the one that works for you.

Add noise cancellation and i am sold. Else all earbuds are pretty much same.

Agreed, but then they would need a bigger battery.

I'd love to own the Headphones but they're a little too expensive for my tastes, the noise canceling isn't perfect yet, and I really need a matte black color option haha. Earbuds? I'm not a fan, personally, but depending on just how good they are, maybe a consideration for taking walks and such. They have to at least be better than the Pixel Buds, which aren't that great.

I already have the Bose Soundsport Free, so I'd have to see how the reviews compare them. That is a pretty high bar for Microsoft to make on a first try.

I doubt it would come to the Netherlands anyway.

Only if they sound better and offer more functionality than my Sennheiser momentum true wireless buds.

Nah, not a fan of the bud design.

Honestly, bottom line, Microsoft should not be messing around with earphones without a mobile device to go along with them. Hell, they don't even have a streaming music service to offer. Seriously, if they want people to buy their mobile audio devices, they should have an actual mobile device to go with it. It's nonsensical

Don't you see the writing on the wall? They are first ensuring the peripherals are available in the Surface eco-system (whilst still working on future Core-OS), when all the peripherals are put in the market place. A new portable mobile device with phone capabilities will be introduced. They will take the time they need. Whenever MS has an idea they believe in they keep iterating until the market is ready for it and then re-launch. Examples OneNote, MS Mouse, Surface Pro 1 vs 6 etc. They will have their MS Courier in a Surface form factor for prosumers and business on day or another. If they truly believe in it nobody will stop the MS Juggernaut.

if that was the plan, they would be investing in UWP, as apps will make or break a device, not the peripherals.

This is silly thinking. Microsoft's only focus these days is Azure. They have no interest in the consumer space because the dollars are in the enterprise for Microsoft. That's why they've exited the consumer market except for Xbox. Everything else they do is enterprise first.

This image is a concept design by a 3rd party, we honestly have no idea what the design looks like. You may not think much of Apple's design but they are selling billions of dollars a year of AirPods - clearly consumers have spoken.

Definitely a strange market for MS to be dabbling in without their own software to push for using it. I do think there is a huge market for wireless ear buds though, so if they want to just make great hardware it could still be a good purchase. Right now I am using the Sennheiser Momentum's which I love but they aren't perfect. Definitely room for competition to raise the level.

I think you just bought the losing bet though... I'm cool with my Surface Book, Surface Laptop 2, and Sculpt Comfort... But the Arc Touch BT was very crappy compared to the older dongle version.
As for the Surface Headphones, earbuds, and other peripherals, I'm not sold yet... High price and untested reliability

Not buying anymore Microsoft products once bitten twice shy... I'm finished with them... Have some Huawei Freebuds anyway...

This is a joke right!? With Microsoft cancelling so many devices, I am not going to drop coin just to have them pull the plug soon after. I have wasted my time and money on their hardware. No thanks!

I don't see this complaint as making sense. They're earphones, not smartphones. How often are software updates pushed for such things? Even if these got one generation and abandoned, you would still have a pair of earphones just the same as if these got new generations for a decade.

Nope. Like most other consumer products from MS, they'll be great and discontinued & unsupported in 12 mos.

Go ahead MS, make another product to just abandon. They should just end it all and do cloud, cloud, cloud and 365. From a many times over burnt buyer of WP, Band, Zune, Kinect.

That price is joke. These don't even have ANC and not guaranteed support from Microsoft 2 years down the road. Wait for the Galaxy Buds X with ANC, or 50$ more you can get a AirPods Pro with ANC and guaranteed support.

No, I would not even accept them as a gift!

I just recently got the Galaxy Buds. Those are comfy, sleek, have NC and deliver great sound for it's form factor. While I would definitely be interested in Surface Buds I'm not sure I would buy them. They would need to clearly outperform my Galaxy Buds in terms of quality and price.

I personally just picked up Sennheiser Momentum 1st Gen as they were $179. That's a trusted name for audio vs. what I may or may not get with MS. Audio/Video aren't things I often take quality risks on. Idc about battery life if it sounds awful. Since it's a Surface line, I don't see them phasing out the HW like a lot of other comments have said. Surface branding is something they're obviously doing right (for once). And yes, I've been burned on several products prior, I get it.

Just ordered them, they will arrive 2nd h May 2020

Microsoft hasn't proven they can do things right, or at a decent price. These don't have ANC and don't have a design that suggests they're all that great as workout earphones. They're priced on the high-end of the competition, with an unearned implication. of quality. So, without ANC or earhooks, I can't see myself wanting to pay prices on-pair with the top players in the market. On top of that, only the white is available, and I personally don't like the color. If they were $150, and in some better colors, I would have interest. At $200, I'll just keep my Bose and wait to see if Sony makes an exercise-oriented version of their current ones.

I have Sammy's Galaxy Buds and Jabra's 65t's. Prefer the latter over the former. Have recently found that I am getting ear fatigue from needing to wear my headphones so much now that I am WFH, so have gone back to wearing my over-ears (Ultrasone HFI-500 DJ1's; old but still going strong!). So I'm interested in a pair of earbuds that I can wear around work or WFH without looking stupid, that also have great mic's (the Sammy's SUCK in this regard!), and can do some cool things with Word/Powerpoint/Outlook etc.

I am waiting for the dark grey ones.

I think I'll get it, I'm not completely a fan of the design, but I like they choose earbud style instead of in-ear. I already have many in-ears for when I need sound isolation, so an earbud style would be fine for general comfortable earphone to take around. As long as it doesn't fall out, and it seems it doesn't. :) Also the added functionality for powerpoint is useless for me, but if Microsoft could extend this capability further or more customized, it could have potential.