Welcome to the world of Windows Phone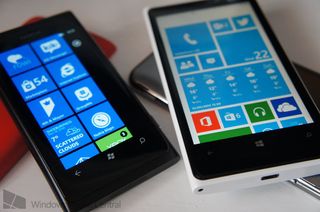 Are you new to Windows Phone, or just the realm of mobile when it comes to Microsoft? If so, then welcome aboard! You're at the right place as Windows Phone Central is the number one online resource for all things Windows Phone. We'll be diving into why you should choose Windows Phone, what makes the platform great for not only personal, but work life too and how you can get involved in the community. So grab a cup of tea and let's dive in.
As this is a guide through the basics of the platform, we're going to assume that everyone reading this will either be new to Windows Phone or smartphones in general. If you're already up on your knowledge, these guides may not be for you. Let's start with some history about the platform itself.
Microsoft's new mobile platform
If you're not up on your smartphone knowledge, Windows Mobile was the old platform that Microsoft developed prior to 2010. Released in October of that same year, Windows Phone 7 (read our review) was the company's attempt to throw up something new to compete against the rising Android and well-established iOS. Starting fresh, Microsoft had a huge mountain to climb in order to get Windows Phone into a comfortable position.
The company has a secret weapon though – the operating system itself.
Live Tiles, a strong focus on typography, just to name a few features of Windows Phone that make it unique compared to competing mobile platforms. The idea (and main selling point) is Microsoft has created a platform for the individual, instead of catering for all consumers. The intuitive user interface offers a new experience that's not presently available on the market with any competitor.
The beauty of Windows Phone is also the support. With a huge software company behind the platform, Windows Phone has received numerous updates and has been tied into Microsoft's "three screens" vision – integrating Windows Phone with Windows 8 and Xbox for numerous benefits. Microsoft has years of experience when it comes to operating system development and deployment, which surely gives the company an upper-hand in the competitive mobile industry.
Moving on up to 7.8 + 8
As noted above, Windows Phone has progressed through multiple updates, some minor while a few have added features and functionality to further enhance the user experience. Windows Phone 7.5 was released in early 2011. It was then revealed that Microsoft would be refreshing Windows Phone with a second generation, replacing the CE architecture with the Windows NT Kernel. Cue Windows Phone 8, which was launched in October 2012, two years after Windows Phone 7 hit the market.
First generation hardware is not eligible for the major software upgrade (think of it as unable to move from Windows XP to Windows 7 or 8 on a desktop PC due to hardware limitations), and so Microsoft also released Windows Phone 7.8 – an update for existing consumers with older hardware to enjoy a few added benefits, but not receiving all the bonuses Windows Phone 8 provides. It proved to be a rather confusing concept to begin with, but it's fairly simple to get the head around:
Windows Phone 7.8 – caters for the first generation of the mobile platform, providing a breath of fresh air for older hardware.
Windows Phone 8 – the latest version of Microsoft's mobile operating system, installed on all new hardware.
We've looked at the features sported by Windows Phone 7.8 and it's a worthy upgrade for those who own legacy hardware. So this is where we are today. Windows Phone 8 is the version you'll more-than-likely be purchasing when popping into a store or taking out a new contract with a chosen mobile operator. But why should you choose Windows Phone?
So why choose Windows Phone?
It's a question one has to ask when making a decision, whether it's a new family vehicle or a new smartphone. So why should you choose a Windows Phone? There's a number of reasons that make it a perfect choice for consumers and those who focus on business:
Easy to use – it really is simple to get started. There's no cluttered interface and no learning curve since all system apps (and majority of third-party content) utilise the intuitive layout.
Live Tiles – these flipping, jumping and sizeable squares (and rectangles) provide glance-able information and details from within a pinned app to the user, removing the requirement to fire up the app.
No sluggish performance – unlike competing platforms, there are strict hardware guidelines set by Microsoft to ensure no Windows Phone performs below par (even more affordable hardware).
Service integration – there's connectivity with Microsoft accounts, Exchange and Outlook.com, as well as SmartGlass, social networks and more.
Xbox Live – that's right, folks. Enjoy playing on your Xbox, collecting those achievements and battling online? You can now do all of that while mobile.
Keep in touch – Skype is a part of Microsoft and this shows on Windows Phone. Further integration is planned for the future, but it's always great to communicate with friends and family.
Now, we understand that's a lot to take in, and much of what is promoted by competitors, but you've truly not experienced Windows Phone until you hold one and try it out. There's a high level of customisation and personalisation on Windows Phone too. Don't enjoy Xbox Live? Don't enable it. Never send emails from the phone? Don't set up an account. It's simple and easy to customise the experience to suit individual needs.
There's a lot more to Windows Phone, which we'll be covering the in the tutorials and resources that follow this introduction. If you're eager to learn more then read on, old chap.
A world of entertainment
If you're truly new to the smartphone world, you've been missing out on rich content right at your fingertips. The Windows Phone store (like other app and game catalogues) sports thousands of downloads, both free and commercial. There are thousands of apps available, published by developers from all over the world for consumers to enjoy.
There are the usual 50,000 Twitter apps that compete against one another, but the vast majority of content is both useful and of high quality. Microsoft and OEM partners have managed to build strong foundations for advances to be made, particularly in the big-brand category. Enjoy running from monkeys? Temple Run is available. Love engaging with others on websites and communities? Download and join in the threads with the exclusive Disqus app. There's a lot to choose from.
We'll dive into the Windows Phone store in more detail so be sure to check out the following resource. But apps aren't all that's available in terms of media and content. Say hello to Xbox Music. It's Microsoft's new music service, replacing Zune and provides consumers access to millions of tracks for both streaming and download for offline playback. Costing just $9.99 a month, it's an inexpensive way to build and manage a music collection while on the move.
It's your choice – give it a go!
There's always that thought of doubt that prevents consumers from trying out a Windows Phone. While we've seen a bump in market share for the platform in a number of markets, there are still many questions on the minds of potential owners that then ensure the adoption of a competing platform. Is Windows Phone for everyone? Absolutely not. But no technology is. We can scream and shout from the rooftops at just how awesome Windows Phone is, but that'll do you no good until you hold one in your hand.
Hint: you're definitely going to love it. Be sure to check out our other "101" articles that follow this introduction. Should you jump ship and / or purchase a new Windows Phone, the tutorials are a perfect place to begin. Also, if you're migrating from iPhone or Android, we've got you covered.
Windows Central Newsletter
Get the best of Windows Central in your inbox, every day!
Rich Edmonds was formerly a Senior Editor of PC hardware at Windows Central, covering everything related to PC components and NAS. He's been involved in technology for more than a decade and knows a thing or two about the magic inside a PC chassis. You can follow him on Twitter at @RichEdmonds.
I did since zune...never looked back

Me too. Love Zune forever. S2

The back button on my 8GB JUST stopped working :( Outside of that, still works great and I have used it everyday for the past 5-6 years.

Zune forever. I still have use it on my PC, even though Microsoft discontinued it.

Same here but I also use a Zune HD, that alone means that the Zune software is still essential for me.

same here.. Zune HD for the gym and Zune for personal playback in my home. Lumia 920 for on the go travel and daily driver

Yup, I love the Zune software. I use it all the time for my Zune HD and I used it up until yesterday for my HTC Trophy but am no longer able to with my new Lumia 928.. Ah, compromises.. Wish it was compatible with WP8 but hopefully Microsoft has plans up their sleeves for the WP8 client which, frankly, needs improvement!

Is that weather tile only on wp8?

That looks like Amazing Weather which is available on both WP8 and WP7.8. It is a really well made and beautiful weather app!

Thank you! I needed that since its finally getting hot in Canada

No problem. You won't regret getting it. I have Amazing Weather on my Lumia 920 and my wife has it on her Lumia 900. It works great on WP 7.8 and it is one of the few great weather apps that supports the double wide tile on WP7.8.

No wide tile on Amazing Weather

My wife has the Amazing Weather app on her Lumia 900 with WP7.8 and it is currently pinned to the top of her start screen as a double wide tile (looks just like on the Lumia 920 image in this article).

Yes I had to pin it from inside the app thank you for the help

Oh. Right. No problem. I like how it allows you to choose from within the app what style of live tile you want for the front and back of the live tile for all three sizes of tiles.

Is the radar map animated? The only app I've found that the radar works in is Accuweather.

Not sure what you mean by animated but the radar seems to work as expected for me.

To me, that seems to be the one feature that is missing. I have not found a way to animate the radar. Animation, or "looping" is very helpful, because you can see which direction a storm is moving, as well as whether or not it is diminishing or intensifying.

Oh. That makes sense. I guess because I live in Arizona I don't really use the radar feature very often because it is always sunny and hot here. ;)

I Wish I had the choice of buying a zune in the UK when it launched! Loved it on my WP7x Ahh But yeah WP8 buy it because it is just worth it

I bought one and I'm in the UK. I got it from zunethings.co.uk, I think they are still around.

I'm content with my phone now. But I definitely prefer the Zune HD over others

Ah, I got my Zune HD before WP7 was released though so I use it as my primary portable media player. I don't think the Xbox Music client is that bad though, it's certainly not perfect but at this point it's better than nothing and the only way for it to go is to improve.

I have WP7 but don't know what's in WP8. Not too concerned since I am getting the EOS.

First generation hardware is not eligible for the major software upgrade (think of it moving from Windows Vista to Windows 7 on a desktop PC)

Can't really say that, considering Windows Vista is elgible for an in-place upgrade to Windows 7 and Windows 8. Now XP to 7 or 8 require a fresh install, but if the hardawre supports it, still capable, just not of a good method for non-tech savvy people.

Yeah, I noticed this too. I would say that it's more like trying to install MacOSX on a Windows PC. It's a completely different architecture that's built to work on hardware with, well... specific specifications! WP8 requires hardware support for SecureBoot and UEFI. WP7 hardware doesn't include this. It was built for an entirely different architecture.

Heh, good call. Will update the article accordingly :-)

Been with windows phone since the HTC surround came out, haven't looked at another is since!

Me too. First an HD7, then an Omnia W. Now Lumias 620 and 920. They've all been faultless and smooth as butter.

Is there a way to control rintone volume independently from music and videos and everything else in WP7? because that has been a problem for more than 2 years now and as far as I know Microsoft hasn't done anything to fix it... that and the un-persistent Wi-Fi on WP7... I'm glad that WP8 users had that fixed, but not everyone can aford a new phone every month.

Yeah, I don't know of anyone who can afford to buy a "new phone every month" either. If that's your figure of speech, it doesn't make sense because why should anyone buy a new phone every month. If you have a WP7 right now, eventually you'll upgrade. Just upgrade to WP8 when the time comes - that makes so much more sense and painless, so buying a phone every month is not necessary at all;/

I had,optimus 7 but,it got issue with network in my country.. So wifey gave me an iPhone for Valentine Day last year ( cant say no) but since lumias cant stop tellin her Ima go back to my Windows phone.... 920 all Day everyday

One extra little thing that is fantastic about Windows Phone is its community, so welcome to those new faces.

I went from an Htc Trophy to a Lumia 822. Love the look and feel of wp8! I've had a few close friends move from IPhone to a Lumia 920 and they love it! Can't wait to see what's next!

I've thought about buying a Windows Phone. I like the look of the OS; and, since I bought a Windows 8 Toshiba Laptop, my interest in purchasing a Windows Phone, as a second phone, has significantly increased. I might pick up a Lumia 521- to use as a test device - to see if I can use the OS as my daily driver. I currently use a Galaxy Nexus, that I love. It will be difficult, to say the least. However, I want Windows Phone to succeed.

If you are looking for a budget phone to try windows phone, you can't go wrong with the 521, just beware of its few limitations and then dive in! Forums are a great source of info and help.

Thanks, brother!! I will definitely give it a try!!

You are welcome! Check WalMart.com for reviews on the 521, it has great reviews, people can't believe how cheap it is for such great value. Also, download the WP Central app. :)

Started with an HTC HD7 and never looked back, now on Lumia920 and it's only getting better

I had a Sony xperia,htc hd2,htc diamond,htc hd7,finally switched to a Nokia 920. All Microsoft phones.

ZuneHD started it for me...

Android is the worst OS imo. Buggy and laggy just looks like a jumbled up jigsaw puzzle. Also it is tip of the list for security issues like malware and other stuff. iOS and WP are the cleanest more secure phone OS to have there both easy to use and don't need quad core power to run them. Had an S2 on gingerbread sold it within a few months got an iphone 4S loved it no problems what so ever then had the iphone 5 overrated pile of trash that was so i sold it then went back to android got the xperia T was on ICS for a while then went onto JB got bored of android OS and looked at vids on WP8 loved the look of it so got the Ativ S which i regret I should of got the 920 the only WP to get due to a ton of support from Nokia. Love WP live tiles forever please.

Android is OK imo but it has a lot of rough edges... It needs ALOT more refinements like ios/wp.
iOs is nice, I bought an iPad mini for my dad and he loves it, very easy to use and really good build quality. But WP I think it's the best of both worlds. Being customizable and refined and aside from the lack of apps, it's great!

Honestly, I haven't had a problem with Android. I've been using it, since 2010, and I have yet to encounter a single piece of malware. Granted, I use common sense, when downloading apps and visiting websites. Is my Galaxy Nexus laggy? From time to time, yes. I hope, the Lumia 521 I try out is less laggy. I'm sure it will be; as the reviews I've been reading have touted the 521 as an amazing value, for a budget handset.

Android isn't that bad but it's major problem is that it's trying to be a desktop OS on a phone and that's why it's not as user friendly as WP8. I used to be a Windows Mobile user and that was in the same position that Android is in now.

What is that weather app on the WP8 device on the right (920)? I like the look of that tile a lot...

Amazing Weather HD (see above in this thread)

First came into WP when I bought the HTC Radar in December 2011 as a secondary phone to my Android. After a week of use, I feel in loved with it that it became my primary phone. Have never looked back since then and I'm now a WP fan.

I just upgraded to the 928. Xbox music is not the equal of Zune. I have had Zune for a few years now and I may end the relationship with Xbox music...

No... Its not.
Try Pandora (free for 1 year w/ WP) or Nokia Music, which is free, ad free and you can download songs.

50000 twitter apps?.. What?

So glad that i changed from Blackberry to Windows Phone, why in the world i didn't do the change earlier??? Proud user of my Lumia 920! :)

Beauty, simplicity, bold, unorthodox, these are what WP have that the others don't. What they do have is what I call "mainstream". Eating the same ol shit as everyone else. WP is the best mobile MS came up with. No mess, no fuss. Can't say the for the others.

Unless you want an inexpensive, no contract phone, I wouldn't suggest the 521. You can get a better Nokia WP w/ contract for from FREE to $100. Like the 820, 822, 920, etc. from Verizon & AT&T. These higher end phones run faster and run all apps & games, where the 521 (& low end models like it) will be limited in the compatible apps.

Still have and use my 64GB Zune HD love works like new. Just bought a bluetotth TX for it from amazon for $40 I'll have it tommorow.:)

nice article.. Gonna save it as bookmark and pin it to my home screen and rub it in my friends face when they say WP sucks. (y)

Or just tell them that they are pussies for using apps like instagram and are mindless sheeple following the herd. Then tell them their cameras suck.

And also you don't need the premium WP hardware to be satisfied with Windows Phone either. I had a L920, and as much as I liked it, I "downgraded" to the L620 because of the smaller form factor. I just LOVE this phone despite its much inferior specs. I think it just goes to confirm the appeal of the OS itself, and its ability to run well on a variety of hardware extremely smooth. Very happy Windows Phone 8 owner here. ☺

I got the 822, because of its size (not sure how it compares to the 620) and it has the same processor/RAM of the "high end" models.
... Oh and was free w/ my contract.

Another Zuner here, chewing my nails waiting for my cyan Lumia 920 to arrive.
Do you think my Titan knows? Running very slowly now and getting lots of "Low Storage" messages. I absolutely love this phone, but seeing recent news about HTC's woes and no step up from the Titan with more memory, I used the lower costs with the new Nokias coming out to make my move.
Here's hoping this latest jump into the market of higher end phones on more carriers translates to an even richer experience for those of us sporting the best mobile UI out there.

I think your Titan certainly suspects something :D. I started with a Zune HD as well, still got it and still use it, it's the best media player I've ever used. I had the HD7 but now have an ATIV S. My dad now has the HD7, he's in his 60s, is not tech savvy at all and I get the impression that he finds it much easier to use than the Galaxy Nexus he was using.

It would be great if WPC set up a special section on top of site for new users that will include articles like this. Sort of "WP for dummies" kinda thing. Would make it much easier for new users to read up and learn without resorting to "search" or forums.

Funny you should post a "New to Windows Phone" article now... I just got my first Windows Phone less than 48 hours ago :) I've been a huge fan and admirer of the platform since it's announcement, but never had the opportunity to switch (from Android) before now. So far, I'm loving my Lumia 920... But then again, I knew I would! I look forward to becoming involved in this vibrant and passionate community. :)

Welcome !
Enjoy your new Lumia 920, i have mine 4 weeks from today, very sattisfied! What color do you have?

Greetzz.

I got the "classic" black :) I like the idea of a brightly colored phone, but I don't like to limit my choice of live tile accent color. Also got the Nokia CC-1043 cover (also in black) a whole week before I even had the phone... I've been waiting for this since the 920 was announced @_@ What about you ? What colour do you have? And thanks for the warm welcome! :)

Good, i love black, very stylisch!
I got the Cyan one, i personally love the color blue, i had a Nokia Lumia 900 before the 920, also in Cyan, never got bored of the color!
Greetings !



Office was mentioned zero places in this article, kinda surprising.

Office integration has never worked properly. I have several spreadsheets I edit regularly with Excel 2013 on my Win8 laptop, stored in SkyDrive, and none of them are usable in WP8. Every time I open them, it says "can't edit workbook." So strange, because I have no problems opening and editing any of these files in Office substitute apps for either iOS or Android.

hi,,


i am also facing same problem, can any suggest me best option for this.....

Update your 54 apps on that WP7 please!!

Time to update that old Lumia 800 so you get rid of that ugly round tilenotification counter, bleh.

"Skype is a part of Microsoft and this shows on Windows Phone"
How, exactly?
Virtually every other platform also has a Skype app. What extra does the WP one offer?.

Integration with the phone call UI, this means that when you recieve a Skype call the interface looks exactly like a regular phone call.

Dear Rich
u have a lot of updates in ur Windows phone 7 marketplace.

i switched to WP, about 2 months ago, right before the tide started to turn and wedding ads didnt exist yet. im glad i did. i was with ios since 3gs, and by the time i got to the 5, i was just bored with it. i dont know how people that dont jailbreak deal with the same os, with an added feature here n there. At least when JB'n , u can modify it all , to an extent.There are a couple of things i do miss though.... Customized TextTones, icaughtu, and iblacklist. I hope as WP grows in popularity that MS allows an update to have a custom text tone.this was hard to deal with in the begining. As far as icaughtu, for ppl that dont know, if u use a passcode on ur device, and somebody picks it up and attempts to unlock it, it secretly takes a pic using the FFC, and saves it to my cam roll, and also sends me an email ( if configured ), with the same info, and gps coord's.... i thought this app was super useful, esp if ur device gets stolen. and iblacklist, well thats simple, i can stop "online pharmacy" calls and whatnot by not even ringing my phone. i hope that someone develops apps like this on WP eventually. Besides that, i think my 920 runs smooth, and grows on me more each day. that was my 2 cents :)

Enjoy your new Lumia!

Greetzz.

I swear WPCentral puts out the most random articles at all the wrong times. Lol.

Switched to Windows Phone because of Nokia :)

What phone and what color? Just curious lol Greetzz.

zune desktop application is my go to media player. It's alos the best looking media player hands down.

Just waiting on my 5 inch screen and SD card slot equipped phone to be introduced, and I am in. waiting....waiting....waiting......

Today I received my first WP, Lumia 720.
But I'm not so new about this OS since I follow news, forum, ecc for nearly a year.
I bought a Lumia 620 for my girlfriend last month for her birthday and I had the chance to use for some days.
And finally I'm a WP user too, soooo happy!!!!!!!

Welcome to Windows Phone, glad you like it. I've been a WP owner since the original release on the HD7, I now have an ATIV S and couldn't be happier. Recently I've been seeing more and more people with Windows Phones, sat in Starbucks today I saw a guy with an HTC 8X and yesterday in London, again, in Starbucks, I saw two people with Lumia Windows Phones. That just says to those people who say that "people don't want Windows Phone" that, yes, people do want it but operators are more interested in pushing Android.

thanks for the article.. i am a long time blackberry user, blackberry was always my primary and secondary choice. i was like all other blackberry users very excited for new os (Blackberry 10) especially after RIM leave us years away behind other smart phones users with blackberry 7.1 os . after all that long waiting finally os 10 released with Z10, i bought one, and after two month of used it to be honest i feel disappointment :( i think the new os was more stable than the old one but not 100% stable, central app like BBM,twitter crashed some times while you using them, gestures is tiresome thing, and in top of all that very weak apps collection in general, especially in my region which Blackberry does not even support all blackberry world stuff like music, movie ... etc after that i choose to give try to a new os, and i did my choose was WP, i bought htc 8x after two weeks with playing with it, i can say WP really impressive me amazing os and WP phones has well specifications too, and i think i made change :) last week i sold my Z10 and my playbook too, now i am happy with my new phone :) and i don't think i will change windows phone.

Just hope you don't lock up, reboot, and find out you have the 'bootable option' error.

just dropped my iPhone 4S for the Lumia 928. YES!! First time WP user.

Been an iPhone user since the original, then the 3g, the 4 and finally the 5, but visited a mobile shop with a friend a 2 months ago, started playing with the phones, hated android it really is as crap as people say and then I fell in love with WP8. Now a very happy owner of the HTC 8X for just over a month and it makes ios feel like 'fisher price'. I then also got the Asus Vivo Tab Smart and sold my iPad. Absolutely loving both devices, I guess I'm an ios to W8 / WP8 total convert.