Microsoft releasing Temple Run and five more games today for Windows Phone 8 [Updated]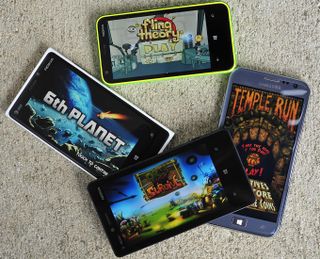 Subway Surfers doesn't look to be coming to Windows Phone anytime soon (the teaser image was just a hoax), but worry not. Windows Phone 8 will soon have a 3D endless runner to its name. Speaking of names, that runner is none other than the original game that started the genre craze: Temple Run from Imangi Studios! We knew it was coming, but this is the first time we've actually played the port for ourselves.
Not only that, but in celebration of GDC week, Microsoft is releasing a number of indie games for Windows Phone 8 today. Read on for actual Windows Phone screenshots, video demo and quick impressions!
Temple Run
First, the bad news: Temple Run will not be an Xbox Live title. That's right, one of the most popular mobile games around, which Microsoft specifically had a hand in bringing to Windows Phone, will not bear the coveted Xbox name. Somebody should write an editorial about that.
Still, a lot of guys, gals, and people of indiscriminate gender just want to play Temple Run on their Windows Phones. They should be able to do that very soon, as the game seems to be pretty much done. The goal is to help a hapless explorer run as far through a danger-filled temple as he collects coins and dodges obstacles.
The controls are simple: tilt left and right to move along the path, swipe left or right to make 90-degree turns, swipe up to jump, and swipe down to slide. If you've played The Gunstringer: Dead Man Running or similar games, then you already know the drill. The input here is extremely natural, surely one of the factors behind the game's success.
The Windows Phone 8 port does look a bit dated graphically – certainly no more advanced than what Windows Phone 7 can accomplish. But once the first game comes along and does well, that certainly paves the way for the sequel. We don't have pricing info yet, but hopefully it will be free and supported by in-app purchases.
6th Planet
This game is a unique combination of digital comic with actual gameplay interspersed between the story sequences. It plays a lot like an advanced version of Lunar Lander. 6th Planet costs 99 cents and you can get it here.
Official description:
Fling Theory
A unique game in which players help a little red creature navigate dangerous obstacles within a scientist's lab. The graphics are cel-shaded and create a great sense of depth when seen in motion. To move the creature around, you pull it back like a slingshot. It's a cool marriage of physics-puzzle style controls with an actual traditional game structure. Get the Windows Phone 8 version for free here.The Windows 8 version costs $2.99 - get it here.
Official description:
Orcs Must Survive
A charming tower defense spin on the console and PC Orcs Must Die series. The spin is that players control the evil orcs and must fend off pesky do-gooding humans. I could do without the black borders (not present on iOS), but otherwise it's quite lovely. The Windows Phone game costs 99 cents and you can get it here. The Windows 8 version costs $2.99 - get it here.
Official description:
Propel Man
Another physics-puzzle-ish game in which you launch a guy out of a catapult. Then you'll have to help him land safely by opening his parachute in time. I'm not digging the controls in this one, but I still need to play it more. Propel Man costs 99 cents and you can get it here.
Official description:
"PROPEL MAN LOVES TO FLY, COME JOIN THE FUN!
Use the Catapult to dispatch the Propel Man to dizzy heights in the sky and cross each level by landing safely past the finish line by deploying your parachute.
FEATURES
Realistic Catapult mechanics, Air resistance and Parachute handling
30 levels with increasing distances and various obstacles
Shop with several upgrades like Laser gun, Rocket Boosters, Jet Parachutes, etc.
4 types of catapults, 16 unique designs
A fun and catchy soundtrack to keep you entertained"
Ruzzle
A Boggle-style word game with online multiplayer. Think of it as a 1- or 2-player version of Wordament. Ruzzle features Facebook integration, a single-player Practice Mode, and support for numerous languages, so it should do pretty well. It's also coming to Windows 8 - hopefully both versions can play against each other. It's listed for $2.99 and can be downloaded here.
Official description:
Lots to look forward to
Clearly Windows Phone 8's support for Native code and multiplatform game engines like Unity is starting to allow for a lot more games to come over. In-app purchases are another feature of the new OS and will be featured in some of the games above. We don't have release dates yet, but we'll let you know as soon as these titles become available!
Update: All but two of the games are available in the WP Store! We'll continue adding their links to this story as they come.
Get the Windows Central Newsletter
All the latest news, reviews, and guides for Windows and Xbox diehards.
Paul Acevedo is the Games Editor at Windows Central. A lifelong gamer, he has written about videogames for over 15 years and reviewed over 350 games for our site. Follow him on Twitter @PaulRAcevedo. Don't hate. Appreciate!