Grab your boards, Subway Surfers coming to Windows Phone [Updated]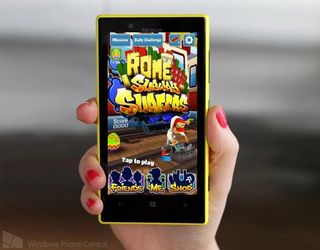 Temple Run and its sequel are two extremely popular games on other mobile platforms that have yet to migrate to Windows Phone. We know one of them is coming eventually, but unfortunately the series creator Imangi has been tight-lipped with details. Still, Temple Run isn't the only 3D endless runner in town.
Subway Surfers from Kiloo also has quite a following on competing platforms. Technically the characters slide, glide and fly around on vehicles as opposed to running, but it's definitely an endless runner at heart. And soon we'll be subway surfing on Windows Phone 8!
Secrets of subway surfing
iOS screenshots
As the name implies, the entire game takes place along subway and train tracks. Players control one of several young graffiti artists who are on the run from the MAN. They must avoid numerous obstacles and even jump on top of trains in their mad dash for freedom.
One reason Subway Surfers has risen in popularity is its highly approachable art style. Whereas Temple Run has kind of a serious, realistic look based on the Indiana Jones movies and the Tomb Raider games, Subway Surfers is much brighter and cartoonier. Both looks are completely valid, but I can see why some people would prefer this game's looks.
Of course, the price surely doesn't hurt either. Subway Surfers is a free-to-play game. The goal is to collect coins and use them to unlock things, just like Gunstringer: Dead Man Running. Not everybody wants to wait though, so some users spend real money on coin packages. Temple Run works the same way.
Other features include four different playable characters, lots of vehicles to unlock, including a jetpack, and social integration that allows users to challenge and help each other. The Windows Phone port will definitely have some social features, as evidenced by the 'Friends' button at the bottom of the title screen.
Windows Phone questions
We learned about the Windows Phone port of Subway Surfers from the Lumia 720 photo at top, which Kiloo posted on the game's Facebook page and Italian site Plaffo initially discovered. From the picture, we can infer that the game probably requires Windows Phone 8 to run. That's no surprise as it's far easier to port iOS games to Windows Phone 8 than 7.
The big question for many of us is whether this game will be Xbox Live-enabled or not. My gut says no, but the game is certainly popular enough to warrant Xbox status. It's just that Xbox Live certification is such an arduous process that many developers choose to bypass it and publish their games as indie titles instead.
Xbox Live or not, we'd love to know when the game will actually be coming out. The Facebook post doesn't say, so we're flying blind on this one. But given the fact that Kiloo has shown the game presumably running on an actual Windows Phone, it's probably fairly close to completion. Let's hope so, as Windows Phone needs a 3D endless runner in a bad way!
We've reached out to Kiloo and will report back if we learn anything more about Subway Surfers.
Source: Facebook; via Plaffo
Update 1
Sorry folks, as it turns out that image and the news for the story come from a faked Facebook account, albeit one with many people unknowingly following/liking it. We're still waiting to hear from the developers directly, but as of right now it's not looking accurate. Here's the real Facebook page for that company. Thanks, 19kev98, for the heads up
Update 2
The game was released on Windows Phone in December!
Windows Central Newsletter
Get the best of Windows Central in in your inbox, every day!
Paul Acevedo is the Games Editor at Windows Central. A lifelong gamer, he has written about videogames for over 15 years and reviewed over 350 games for our site. Follow him on Twitter @PaulRAcevedo. Don't hate. Appreciate!
Huge news!!! This game,is good.. Glad to see it coming to WP.

I am so damn happy. Kept my iPod just to play this, now I can throw it away. May be give it away.

If you give it away. I am available for getting it lol.. Jk. It is good to see more popular apps coming to WP.

You should toss that iPod so others don't get sucked into that ecosystem.

Elop'd that ipod like Elop did to iPhone5 the other day

Now as the update says that its not sure so I would wait to Elop'd that iPod.

Please Microsoft update to me subway surfer your all windows phone lover 512 ram please....this is not impossible for you. Thanks

Yes, I love this game! I play it on my Tab 2 all the time, now on my 920 I'll be able to play it without the lag!

And now the update to the article has made me sad :'(

There's no reason for it not to be on WP7.8 !!! WE ALL NEED THAT GAME ! AND WINDOWS PHONE 7 CAN SURE HANDLE IT ! MUCH BETTER THAN ANDROID I'D BET ! I WOULD BE TOTALLY PISSED OFF IF IT WASN'T FOR WP7 !!! PLEASE, RELEASE IT FOR ALL WINDOWS PHONES ! If I can run PES and assassin's creed my Lumia 900 can sure run subway surfers, WE JUST NEED THAT GAME AND WINDOWS PHONE WILL BE HE BEST OS AROUND !

And a little less COMPLAINing in the forums in the future, thank you <3

My little virgin eyes!!! These...swears!!

It seems every other post on WPC is gaming related these days. Things are looking up.

I wonder if we'll get Sonic's endless runner at the same time as iOS and Android.

Well then, guess that's a no.

I wouldn't wait for it. Apparently its filled to the brim with microtransactions- to the point it effects game play negatively.

Play this game on my iPad all the time. Can't wait to play this on my WP.

Love this game, can't wait to play it!!

I Agree. Cannot Play Temple Run? Maybe This One Is Better. I'm So Excited ;-)

Yea all the apps coming now. 3rd place will soon be ours

We are in third place. Android and iPhone are first and second. (Last time I checked Android overtook iPhone as #1 but I think that changed)

A 3rd place people talk about

As a whole, Windows Phone has not yet passed the entirety of the BlackBerry line of devices.

I guess you forgot about blackberry. They are still in third place.

Lol blackberry is still around?

Ah' picked a whole lot of blackberries last summer...

2013 = the year of Wp!!!! :-) apps and games here we come!!!

Hmm...not sure here. The game looks cool, but I might have to pass on it without Xbox LIVE. I'll still download it for my little brother(s) to play if it's free, but personally, I'm a bit of an Achievement addict. I'd rather pay for it to be Xbox LIVE-enabled than have it free withou personally, but I am obviously not the end-all decider of anything.

First step is admitting it. I too am an achievement addict. Need more gamer points.

Actually, it's not quite that. I don't really care about HOW MANY Achievement points I have. Instead, I care about my completion percentage with Achievements/GamerScore. A couple of months ago or so, I realized that I had earned less than 50% of the possible GamerScore on my account. I wanted to fix that, so I've started replaying some older titles and playing Windows Phone games that are Xbox LIVE-enabled (such as Gun Bros., Asphalt 7, Wordament, and Skulls of the Shogun), with the intention of getting to 50%. Granted, part of why my completion percentage has been dragged down is because Microsoft stupidly tacks on DLC Achievements to an account, even if the person does not have the DLC necessary to earn the achievements (like how MW3 is over 1,600 GamerScore now, but I never got any of the DLC related to the extra 600+).

Keith Wallace, what's your gamertag? I'm a cheevo junkie myself, and have been tackling some older titles and phone games as well. Maybe we can help leach other grind out a few? My gamertag is The Coolester. NOT The Coolestet as my handle here says. Stupid phone keboard! Anyone that wants to grind, send me an invite with a message "let's grind!"

I wish it will be free... :(

I am slayed! They've done it again!

Still waiting for Candy Crush Saga to come out.

hey fucker, candy crush like games are available on symbian and java os, those are the games i played during my childhood, it's so outdated...are u coming from stone age?

Calm down, there's no need for that. I want to play it also because my friends are playing and they talk about it. Even if it is old, nothing wrong with getting the classics.

I loved this game on android lol

OHHHHHHH!!!! Thanks for posting this the other site that wont be mentioned here didn't post back to the original post of the image!! YES!!!

This is THE only app I wanted from Android/iOS. I'm pretty excited because I love this game.

is the Easter Egg an actual Easter Egg? As in it's coming on or near Easter?

Could be, but I'm pretty sure that's just a decoration for Easter. I know the game updates for the holidays such as Halloween and Christmas.

This game looks awesome!!

When I read about the jetpack upgrade I was like "Jetpack Joyride y u not released yet!?"

Never even heard of this game. But will give it a try when its released.

I'm not some kind of pervert or anything, but those fingers holding that 720 sure do turn me on!!!. You guys should use female hands more often.. Yeah, I'm no perv...

Little do you know, Paul doesn't use his own picture because he dresses in drag. That's his own hand in the picture. That's actually the image taken from the game's Facebook page though, not one WPCentral took.

Lol!! Right!! Oh, ok.. The facebook page.

I have nice hands, apparently!

Sweet baby Jesus, WP8 is rising to the top.

I hope it'll be avaible for Windows Phone 7 :-)

Yesssss one of my favorite run/jump games out there. Screw you temple run

I'm happy it will be arriving to windows phones soon! But if it doesn't release for WP7.8 users, im gonna be mad.

Such an important step for Windows Phone. Things going good.

Nice! Tempel Run and Subway Surfers is all I need. Why am I so eager to loose my phone to my kido??

This better not arrive as another Lumia exclusive!!!

Looks like its gonna be Great! :-)

At least Developers with the help of Microsoft should TRY to port apps and games for Windows Phone 7x.
There are many of WP7 user that bought the device not knowing there would be WP8 existing all of the sudden.
I can understand if they can't port THIS game or Batman, Modern Combat 4, Nova 3, Spiderman, etc..
BUT PLEASE GIVE US at least " JET PACK JOYRIDE, SHARK DASH "!!!.. I'm 100% SURE my Lumia 800 can HANDLE that!!


It was mentioned in the article that porting from ios is much easier to wp8 than wp7. That is probably why we are seeing all these games being released. MS released their sdk for wp8 a few months ago and now the developers are finishing their ports. Luckily, the contracts for most wp7 user should be up in the next 1/2 year or so and wp8 devices are now available free on contract. However, those that bought the phone, mostly in Europe, are out of luck.

don't foget those that bought from ASIA.. But atleast give US some QUALITY games.. like Jetpack Joyride..
I understand it is easier to port games on WP8... but WE ALL know that it is 100% Possible that it can be port and can be played on WP7 devices.. if they really wanted to.

This game is SO much better than Temple Run. I am stoked that this is coming to WP. Now if only we could get an announcement on the 928...


WP is seriously growing fast and I love it! This month alone has been one that many apps came out on.

I seriously doubt that facebook page is the real Subway Surfers page; honestly, look at the wording and grammar on some of their posts.
But, if it's true. Yay. (x

That pic, actually belongs to nokia. This pic was posted by them when they launched 720. And they just copy pasted their game screenshot on screen!!! Lol Edit:- sorry to disappoint, but that page says, "This is only a fan page for Subway Surfers"
See it yourself--> https://www.facebook.com/profile.php?v=info&id=379681858741262&refid=17

Exactly. I was trying to explain this to everyone but everyone got mad at me.. :@

I was wondering why the picture of the game running on the phone seemed a bit off.

Giggity. This looks very well done.

I just hope they update it like they do for both ios and android...

Ha? Faked? NOOOOOOOOOÔò...

hello all..
can i know is there any method play WP using analog controller like android+sixaxis..? #newbie

This is REALLY disappointing.. I hope they contact you guys back. :(

Yeah, we are going to keep pursuing a relationship with Kiloo. It's a shame we got duped by that fake page, but the game could still end up happening.

Yeah. I really hope it does come over. I also hope temple run 1, 2, Brave and Oz comes too. (asking too much? Lol)

Damn who the f had to f with us WP users

Its so sad that this page is fake
Hopefully they will release it soooooon

will the game be available for wp 7 . ?????

Was so excited when I read abt it. Sad it turned out be to fake.

Shame was a fake, but does look good. Never played it on any other os. We will see them all come over eventually. Give it 12 months.

Plaffo is Italian, not French.

Never heard about this game it looks nice!

Lol. Trolled :P
Crazy stuff.

bye iOS, hello WP!!! boom

Will it be available for Windows Phone 7.x devices..???


I hope it will come to WP 7.5 to

Awwww but eventually it will come out i think

seems like the demand is here, they shouldn't pass up this opportunity if they can beat temple run to windows phone

This game HAS to be available for windows phone 7.8 users ! Why releasing it only for WP8 ??? My Lumia 900 can undoubtedly handle that game ! We love it, we need it, we want it !!!

You must've missed the first paragraph in which we mention the game coming to WP at all was a hoax. But sadly, even many simplistic games will skip WP7 because it's a lot faster and cheaper to port to WP8.

Oh no, I didn't miss it, but that game has to be on our platform sooner or later... Apps like that missing on windows phone is what keeps it from progressing. Microsoft urges developers to create apps so we now have more than 100,000 apps on the marketplace, but the amount of the apps isn't what matters, it is which apps are there... Temple run and subway surfers are the first things people download when they buy a smartphone, windows phone would be a killer os with such games, but without then, a friend of mine that shares my love for subway surfers bought an iPhone sadly, although she hates apple with all her might, only because she needed subway surfers on her phone. That's the only app she has downloaded along with temple run and social networks offcourse...please, try releasing this game for wp7 and 8. Windows Phone 8 isn't even available on my country ! So you might loose many sales to the iphone, which to me reallyvis a pain in the ass. Sorry for sounding rude, but for the good of windows phone's future, that game has to come soon. Please !

i hav bought nokia lumia620....
i am very much happy abou updation of subwaysurfer on windows phone.....
but i want to confirm that is this game will be played on lumia 620 and till when it shall be updated,....:)

Microsoft is working for wp8.........
Wp7.8 users are moving to other platform...............! Microsoft only survive with new customers not with old customers...

http://www.change.org/de/Petitionen/subway-surfers-for-windows-phone-8-w...

That's a good petition. But watch out; you almost got flagged for spam. You should post an actual comment when sharing links. (And hell, you could still be a bot for all I know.)

Petition for Subway Surfers on Windows Phone. Please sign in. http://www.change.org/petitions/subway-surfers-for-windows-phone-8-we-wa...

Hope.. there wouldnt be a RAM restriction ..like temple run .otherwise we need to wait for 3-4 months to get the compatible version for 512 mb ram phone.

A friend of mine got a working version of this application for windows phone. Check this link http://techietricks.net/subway-surfers-for-windows-phone/ but he reported that he is experiencing game crash for a while.

Fake photo and news too. First of all if it wasn't available for windows phone, how did he play game? And windows phones are not available for size ratio shown here. Look at the length of phone. It looks like a 6inches long phone

It's nice that you looked at the picture, but would reading the first paragraph of the article have been that hard? We never said we played it, either.

That is one diligent railroad security guard. :P

Any news on Subway Surfer for WP yet? Did Devs ever contact you?

They never replied. It's frustrating.

well,paul..they not replied but still the game is here!!don't u think this article is irrelevant now??it misleads now...update it!!

When will it come on 512mb ram devices?

We need this game for 512mb devices ASAP... How can iphone 4 and 4s handle this game even though they are also 512mb ram? Hurry WP!

iOS and WP handle RAM allocation in different ways. Developers have to really squeeze a game down to get it to run on 512 MB devices on WP. Hopefully they will do so soon. :)

Plz provide in Lumia 720 for both subway surfers and temple run 2.. When I download,its says its required 1gb ram or more required. I love this game very much in android mobile. Plz Plz Plz...

When going to release for 512mb ram
Windows Central Newsletter
Thank you for signing up to Windows Central. You will receive a verification email shortly.
There was a problem. Please refresh the page and try again.