The Windows 10 9926 preview build gets updated with a boatload of bug fixes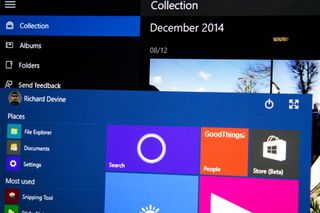 Windows 10 preview users can now download a patch for the current 9926 build, which contains a boatload of bug fixes for the OS since it was launched 12 days ago.
Microsoft's support page has the full list of bug fixes for this new build, which also collects all of the previous patches that have been released for the Windows 10 9926 build:
"XBOX Live-enabled games that require sign-in do not launch, and incorrectly display the message, "To use this app, you need to sign in with the Microsoft account that was used to download it."
The Start Menu fails to launch shortly after install
The shortcut for the new Store (Beta) does not appear on the taskbar
The user remains at the "Please Wait" screen when attempting to sign in with a Smart Card connected
Virtual machines (VMs) lose connectivity to virtual hard drives (VHDs)
Users receive Error 0x8E5E05E2 when installing apps
The system stops responding when installing apps from the Store
There is a delay when opening a new tab in Internet Explorer
The system fails to resume from sleep when connected to multiple monitors with some graphics drivers
The user is presented with the incorrect End-User License Agreement (EULA) during upgrade
The Settings app incorrectly reports that new builds are available, which return error 0x80246017 when attempting to download
The screen doesn't properly refresh after rotating between portrait and landscape
Creating a virtual machine or bringing a HyperV host under management results in error 0x80200065 - "The transfer was paused because the computer is in power-saving mode. The transfer will resume when the computer wakes up."
Windows Remote Desktop Client crashes when playing video or displaying fast moving images in a remote session
Reliability improvements for virtual machine live migrations
Reliability improvements to prevent some system crashes
Reliability improvements to prevent possible data corruption
Increased power efficiency to extend battery life"
Windows 10 preview users can now also download the first public versions of the touch-based Word, Excel and PowerPoint Windows apps.
Source: Microsoft (opens in new tab); Thanks to Gabe for the tip!
it actually feels snappier..

Start menu and action center STILL do not open after install. Liars!

Both start menu and action center worked for me on two different VMs and one physical machine.

Im not running via VM, I straight up installed this on my Venue 8

Does it work well cause I would mind doing the same maybe!

No. It doesn't. It is really difficult to work with on touch-only devices. Nearly all of the improvements, and there are many, have been aimed at making life better for mouse and keyboard users. On touch-only devices Windows 10 is, at present, a major step back from Windows 8.1. I imagine this will be where a lot of the effort goes to from now until shipping, because (bugs aside) they've gotten the mouse and keyboard "problems" 90% solved. Metro and desktop now coexist rather peacefully.

Runs perfectly fine on my Venue 8 Pro. Some other software causing issue?

No, I am particularly smart about software and storage. Maybe its due to mine being a 32GB? Idk... All I know is im factory reseting and reinstalling the 10 ISO.

Yeah...That should work...I had the same issue when I was trying to upgrade from 8.1...then finally installed using ISO and now everything is working fine...

It's not that it doesn't run, although there are lots of well-documented glitches, it's that the interface is really touch unfriendly now. There's lots of hunting and pecking for tiny little targets when swipes with the thumb used to do the trick.

Yep. Still doughnut of death and very sluggish.

I did notice the battery life went download a bit with Win10. I was hoping they would address that.

just give us windows 10 for phones Microsoft..

Yes windows 10 for phone :/

Denim would be a nice start for at&t 1520

Yeah I'm dying for Denim on my AT&T 1520!

They are not releasing denim update in India since December -_-

Its there only on Lumia 530 & 535.

Yes sathish is right. Only for 2 phones. 2 months, 2 phone -_- good going microsoft

Yeh maybe the start menu and action center might actually open for me new...

I was able to it from beginning... (9926 build)

Yeah me too but the previous uild was freakin buggy... Should have been fast ring quality...

Did you try a refresh from the Windows settings app ? The first one refreshing Windows and who keeps all your files.
It helped me to get the start screen back.

Just tried. No joy. Menu use to work, now it doesn't and this update nor a refresh did not help

Is it available for windows 8.1 too because it shares the same Windows Store with Windows 10.
Edit: Sorry looks like I commented on the wrong post, I was asking about the windows apps for Touch version of Office.

no comes through the Windows Store Beta, grey tile, the 8.1 version green, tile is different

The Office touch apps are only available through the beta version of the store which is in the Tech Preview.

I use my laptop too much to have to bother with reinstalling Win8.1 if Win10 poses issues. I did make a disk image, but still.... I remember reading before that Win10TP wasn't really suitable for all touch (tablet) use. Is that still the case? I could risk it on my VivoTab.

Windows 10 isn't suitable period. My test machine has never run worse than it does with Windows 10, aside from the fact that nothing works correctly.

I haven't had any usability problems on my dvp8, and my hp laptop, but the UI still is a cluster in some parts. My ie won't launch from the start menu so I have to type in a URL into Cortana. In some ways it's better than 8, in some ways it's worse. Just dive in, if you have time.

Pin IE to your taskbar, it should work if you open from there. HTH.

I'm running it as my main OS on 3 PCs. Other than minor issues, it runs perfectly fine - and I do everything on it - from games through development in Visual Studio, Sublime Text and ending on Photoshop, Illustrator and After Effects.

Funny, I've had no issues other than typing to Cortana does nothing. Everything else works like a charm.

It's a preview Dude. Preview...

Dude, it's a forum, dude. This is where.you talk about issues.

It is a forum and I agree that it is a place to talk about issues, but we also have to realize that it's a technical preview and issues are to be expected. When people act like it's somehow lacking or inferior when it has issues, it stops being productive.

gorsh mate its almost like you're running an unfinished product as your main os; a tech preview if you will. durrrrrr read before you install.

Partition your hard drive about 50GB and install W10. I did it with my laptop.

Yup lol seriously people nothing beats making a partition on your hard drive and installing the fresh ISO from a usb stick :) all you need is...
- Windows 10 ISO File (about 4 GB)
- EaseUS partition program
- ISO to USB program you'll be running a fresh windows 10 install in less than 1 hour. AND nothing from windows 8.1 gets touched :) win-win

For my aw 18x r2 ive had pagefile issues

I screwed up royally when I deleted the 'Old Windows' folder after a couple of hours when I installed W10 on my little DV8P tablet so I couldn't go back. I know, Stupid Noobie mistake but it was just my play around tablet and then it became a nightmare of bugs but Lo and behold I reverted to the automatic backup on OneDrive and I was back up on Win 8.1 in no time like I had never done anything. Had to re-sort my Start Menu but everything else was just like I had it. I didn't know how well the Onedrive backup would work but I am very pleased and a little surprised it works just like my phone backup.

What's the automatic OneDrive backup? Is that an image that you uploaded yourself....or is it some core backup functionality that I have missed in Windows 8.1?

If you go to OneDrive and click 'get More Storage' it will show options including the device backups that share the Onedrive account like in my case my phone, two tablets, and a main computer. I don't know why MS wouldn't have it as Storage options and then 'get more storage' as an option. I do not rememeber ever doing anything special to cause that to happen although I think there is a setting in the Onedrive app or program on each device to back it up on Onedrive. Its very cool imho and I had used it on my phone but was surprised that it worked almost exactly the same for my tablet. One thing I do want to mention is that i did not have any personal data on my tablet other than on onedrive so I do not know how extensive the backup would be for a device like my main computer and doubt its like a drive image and would not rely on it for anything critical.

Few small hiccups here and there, but nothing to worry about on my end ;)

After downloading this update the preview office apps installed for me. Before that I was experiencing issues.

This :-) I'm downloading the update right now ;-)

Now i can win more crowns in AoE...:)

So, I'm ​out of home here, but i get a quick question. The HDMI and VGA outputs are now working? I really want to try the new build, but my notebook got a broken 17inch screen. Which makes me sad ​ ​ ​

c: I was just thinking about an update yesterday...

Great to see the continued updates. Let me know when they fix the Steam Game crashes and I will go back to the preview :)

The two that I tried before reverting back to Windows 8 were Counter Strike Global Offensive and Battleblock Theater. Both crashed after 20 minutes and it seems others have had the same issue. There seems to be a workaround that seems to work for some people. I didn't mess with it at the time because I wanted to get back to CSGO. Steam itself does not crash, but the games do. I have plenty of other games I could have tried, but those were the two I did before going back to W8.1 I must say that reverting back to W8.1 was incredibly easy!

Might just be those games as I've logged probably close to 40 hrs in Skyrim so far on the Windows 10 Preview and only had one issue (where the entire system hung). Alt + Tab switching is a little wierd but seems to be stable otherwise. Do you have multiple monitors? Nvidia or ATI graphics?

Could be although there have been reports of other games w/ other users. Currently just have the one monitor and have an ATI 7950. On a positive note, it sounds like MS is aware of the issue and working on a fix.

Whats wrong with window store... Nothing download or update... Show 1 kb files all apps on website wp store

Cortana still less responsive...

Just rolled back last night. Too many wake-up issues for me (main driver, so my own fault)

I need help here, when I turn on my Pc, it always shows, 1) windows technical preview. 2) windows roll back... How can I delete windows rollback?

If you upgraded then it will show two option on boot.... Just use full version of preview and do clean install.

That's a feature of the preview builds in case you have issues it allows you to roll back to a previous version. It can be disabled but you would need to use bcdedit and you'd be taking away a way to fix potential issues.

I wiped win 10 and restored 8.1 and I still get that screen at startup...really annoying.

Have they solved the bug where W10 launches the legacy desktop app unbidden upon closing down the last running modern UI app, instead of returning to the start screen? Oh, and have they solved the bug where modern UI apps launch in desktop based windows even when they have been set to the full screen modern UI mode? Keen to hear about those two bugs as they really muck up the immersion of the immersive modern UI.

There's this setting called tablet mode. Not sure you've heard of it.

It's also showing FBL awesome build 9935 what's that??

Ya i got that too, feeling awkward that wpc does not mention it

It's an internal build that was glitchily sent to some. It won't install.

Yahhh me to .. Found it and thought its update to 9935 build

I rolled back two day ago...couldn't stand OneDrive and issue with bluetooth

Hope this fixes the start menu not launching. Mine does not launch at all.

downloading updates..., thanks for the heads up

The Update goes via Windows Update? Isn't there a way to get the update like a .exe external executable program? I need to apply the Update to my Desktop, wich doesn't have an Internet Connection (fail)

You can get an ISO. But what do you mean?

I mean, I got installed build 9926, but in the Computer in wich I install the build doesn't have Internet, so, I can't install the update directly, so, I'm looking for a .exe file with the update, like a Service Pack back in the day

wait so how did you get the preview in the first place? did a mate lend you a disc with the ISO on it?

He said that he downloaded the iso from another pc or laptop then installed in a pc that doesn't have a internet, now he want to wether there is a ISO file for this update !!!

That's right. I download the ISO in my main PC, wich is a Laptop, then, install it in my Desktop (secondary PC), now, I'm looking for the update as a "Patch" or something, but in the info page wich is posted at the bottom of this article doesn't have the standalone update, just a lot of info about it.

But I believe there is no such way to do that with this update, wich is a shame :( I hope I get some Internets in a couple of months but untill then, I'm gonna stick with this build (wich is not half bad!)

Please someone update their experience of a Surface pro. I hope these battery enhancements apply to it as well.

The battery has been much improved. It seems less buggy and works more smooth. Also, you should refrain from using battery saver mode. Keep in high performance

I hope this fixes my issue with my laptops' microphone not working with Cortana!

I feel like I'm in the Twilight Zone here. This is the second update since they released the build, but I can't install updates on my machine. I've reported it several times and I'm really worried they arne't even aware this error exists. Am I the only one getting this error? It says "There were some problems installing updates but we'll try again later" and the error code is 0x80070057. Anyone else getting this when they try installing updates? ANyone have a link to manually download the update? Maybe if this is supposed to fix the other error code that they listed it will fix mine too.

Is your PC in a domain. There is an issue with group policys and the new windows update in windows 10. It is possible via registry hack to force old windows update back and this solves it. Or at least for me :)

I use it at work sometimes and I've connected to network shares while at work using my Network credentials, but I dont think I've done that since switching to w10.

It's probably just trying to install the new internal 9935 build that was accidentally released to the world, it won't install on unauthorized machines, it's a known bug

This started happening as soon as I installed 9926. I get an error as soon as I try to open windows update, like as soon as the update screen appears. It doesn't even show the loading icon. It's as if it's not even making the call to whatever service MS uses to serve updates.

Can I just check that "swipe" down to close an app is not a feature in Win10... I used to like that in 8.x

No its not present (till today at least)

I've swiped down to close... Swipe up for menus is a different thing altogether (doesn't work)

I've noticed that swipe down only works in tablet mode on my installation Stephen

Yeah it's there, only worls in tablet mode though.

Since 9926 my DisplayLink/Plugable is broken (network) and the fan is constantly running on my Surface Pro 3. Last build does seem more shaky and OneDrive is also messed up again. Thrills and spills of living on the bleeding edge :-)

I installed it on my Thinkpad Yoga Pro (i7) and yeah my fan runs a lot more often now and battery life has gone down. Maybe the battery improvement mentioned in this rollup fix will help with that. My Onedrive is also not fully synced with around 200 errors whereas my desktop that's been on 10 for awhile shows no sync issues. I haven't had a chance to troubleshoot it, I plan on setting aside a few hours because I'm worried I'll screw it up and lose data.

Weren't most of these issues patched earlier?
Or is this deja vu?

Yes, but if you didn't get that one, it's included with this new one, plus new stuff/fixes.

Hope it fixes internet explorer constantly crashing on me. Can only use it in inprivate mode.

I just downloaded and applied the update. Now I can't open the store application to check on the new Office apps. I was able to open the store app prior to this update. Anybody else experiencing this? Nevermind.... Restarted the computer again (had already done this after the update) and all is fine. Store now opens again.

I hope they fixed the Taskbar auto-hide (which hasn't worked right since the Preview was first released)! Downloading now!

Is anyone else with a Surface Pro 3 and build 9926 unable to get their screen to rotate? I haven't really been able to find this issue anywhere else online, and I was hoping that today's update would fix it. The issue seems to be that the "Screen Lock" toggle under the Display menu in Settings cannot be turned to off.

When does Outlook mail and calendar for win10 will come out?

I feel windows 10 for phones coming soon next 2 days they will be online :p

Looks like they fixed the search bar popping up whenever you open the Start Menu.

The search bar pops up because you can search by opening the start menu. It's been like that for over a decade, they just changed it's place from within the menu to the taskbar at least for now

I wasn't clear about the problem. When you have the taskbar set to autohide, the search bar pops up above the taskbar and blocks part of the Start Menu.

And it looks naff if you have the taskbar set to small icons. The search box doesn't scale down to fit

If I go to install the preview now on a 8.1 surface pro 3 are the updates included in the update our will it just install the initial 9926 build from a couple of weeks ago and then try to update? I installed that twice, once on a fresh 8.1 machine and hardly got past the lock screen..

My start menu still does not launch :'(

Still doesn't fix the store beta not being able to install anything

+1 doesn't install any updates on the Store.

Installed windows 10 technical preview .. Looks nice ..and fast .. And the UI is great .but my Intel graphics and and graphics was not working so had to go back to windows 8.1 .Hope Intel and AMD update der drivers

I earlier installed Windows 10 Technical Preview but I didn't have much patience to bear the bugs and glitches in my pc, so I reverted back to Windows 8.1. Now I am waiting for final version of Windows 10, till then Windows 8.1 only.

too bad it didn't address any of the hundreds of issues people have reported regarding apps not launching. I still can't access basic apps like mail, photos, camera, or any of the cool new office apps. still get a bunch of error codes such as 0x80073CF1 for mail or 0x80070003 for photo apps when trying to redownload them from Microsoft Store Beta and the regular store reports them as already installed. I can't uninstall them, I can't use them, and I can't reinstall them. Very frustrating.

so the ISO is also updated at insider site??

Great... Black screen after boot. Damn and graphics card and drivers.... :/

My favorite is VMs lose connection to VHDs. Sounds like good times!

I'm curious if this would work on my 16gb Lamina T-801 tablet. I'm running 10 on my main PC and it works great so it would be awesome to have in on the tablet as well.

Still no Wi-Fi fix huh? :|

Is Microsoft solitaire collection working yet on the surface pro 3?

Is metro is actually dead? That was one thing that drew me away from the preview pretty fast.

I'm ecstatic to see all of these people using the preview! I do hope though that we're actively using the windows feedback app and appropriate user voice pages, and w10 forums to properly air out our issues. it's cool and all that we're talking about it here in the comments section, but I would hope that we don't just complain here while not providing Microsoft with feedback that could make the w10 experience that much better.

I run W10 on my work laptop. I like to mess with new stuff and make sure all our tools work with the latest versions. Everything works mostly great for me: Office 2013, Lync 2013, Java (this is big for us all our stuff relies on java) I am able to download apps from the Beta store (didnt try many iheart radio, netflix etc...) I did have two updates for mail/calendar/people that fails same for Reader. I get a pop up saying there is no defualt mail client but settings show outlook (desktop) is set as my defualt. Im running a lenovo T540p and all drivers work and update properly even the Nvidia GT 730m drivers. Steam and Dayz runs good too :) I installed the preview as an upgrade too no fresh install. So far I can do everything I need to without issues. One thing it did fix was not being able to click through certificate errors in IE. None of the workarounds worked for me in 8.1 so I had to use firefox for my work sites that required this. W10 fixed that so I am happy. Only issues that may be w10 related are sometimes I bootup to a black screen, I just reboot and Im good. Lync 2013 hangs sometimes but that may be a combo of BT issues and dual registration since I run Lync on my WP too. I am holding off on my HTPC at home though. 8.1 is fine and my Media Center is all setup with Media Browser so I dont want to mess with it yet.

Oh look... Build 3935 shows up as well now :-) seriously MS, stop us from seeing it

Edit: Nvm, after finalizing the update it seems to have disappeared and reverted me to the fast ring

Not able to open Internet explorer since update. Anyone else?

I'll install it when I get home

does anyone get an error message when trying to run 'check for updates'?

I'm currently on Build 9926, and in Windows Update, I'm getting Error 0x80070057

We're getting there! From what I've seen and read in the insiders feedback, I would guess 1% of issues are solved. Still 99% to go.

Guys, is anyone in there who faced to 0x80080008 error code when trying to update windows 10?

WTF is fbl_awesome1501 9935

Do I spy with my little eye my own nickname on the people tile in that screenshot?!

The update did not help. Win key does not take me to the start screen, taskbar search unfunctional, Store Beta crashes immy. I would have preferred a new build.

Windows 10 at this point isn't supposed to work well... that's why it is a technical preview... the point is so that you can take your suggestions and bugs to Microsoft so they can be fixed and they can take wide spread idea and include them in the os. Posted via Windows Phone Central App

Nice! Updating my gaming laptop soon

They need to fix the "live" tiles. They rarely update. They should also bring the flipping animation back. Flipboard's live tile is dead too.

please make these useful comment on feedback tools on Windows 10 TP. thank you!

Did they fix the issues with the display drivers for Intel HD chipsets and AMD GPUs?

Not yet ..its unusable for people who have Intel and AMD gpu owners ... I just reverted back to windows 8.1

That's a bigggggggggg update.

Still no having love on my AMD laptop... Sigh....

Nothing is working, can't access store or store beta thank you Microsoft.

Is anyone experienicng a problem when trying to open Internet Explorer? As soon as I try to open it a popup comes up saying something is wrong and IE has stopped responding or something like that, and no matter what I do it won't load up the broswer. I have installed all the lastest updates and patches for build 9926, rebooted several times, but still having the same problem. I had to swtich to Firefox for the time being becuase IE is completely useless for me right now. Does anyone know of a solution to this? Also I'm getting a battery icon on my lock screen before I log in even though I'm using a desktop with no battery. I've tried to disable the icon but I can't find it where. Anyone knows how to?

hi i friends
i have upgraded from windows 7 to window 10 technical preview
i have a question that the software i had on windows 7 how do i migrate it to
windows 10 technical preview
such as graphic card software, windows office, and i have may more ....
Thanku..
Windows Central Newsletter
Get the best of Windows Central in in your inbox, every day!
Thank you for signing up to Windows Central. You will receive a verification email shortly.
There was a problem. Please refresh the page and try again.