The Windows 10 Anniversary Update arrives for free this summer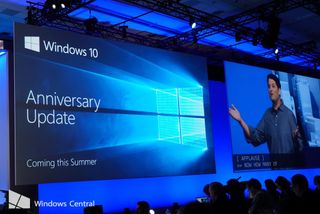 At its Build 2016 conference, Microsoft talked a bit about its upcoming Anniversary Update for Windows 10. The update, shaped by feedback from Microsoft's Windows Insider program, will arrive for free this summer.
Developers will be able to build new capabilities for their Universal Windows Platform apps with the anniversary update, including Windows Hello for biometric security. Microsoft's Edge browser will also receive Hello support for logins.
The Xbox One will also finally get Universal Windows Platform apps with the Anniversary Update. UWP apps will be vetted before being allowed on the console, and with their arrival will also come the ability to use any consumer Xbox One as a development kit.
Stay tuned to the Windows Central live blog of today's keynote for more.
Windows Central Newsletter
Get the best of Windows Central in in your inbox, every day!
Dev kit in your living room. That's huge.

They just have to reiterate or the internet will start rumors. Windows Central for Windows 10-Microsoft Lumia 640

No need to say it's free, is there?

If they didn't say it was free people would immediately say "They did say its free! How much is this going to cost?"

It is suspicious. Does this mean they might charge money for feature updates in the future?

That is what I thought. But I think it more points towards the fact that Dev Kits cost money, and now you can have a dev kit for free.

Most likely what you said.

The strategy for Windows 10 is as follows. At launch Windows 10 was offered as a free upgrade to existing users of Windows 7 Vista through 8.1, this was to drive adoption of the platform. This high user base is then primed to be upsold on to additional services such as extended one drive capacity or Azure services for commercial users. During this period OEM licences for devices with screen in excess of 10 inches continued to be charged. At the end of the 12-month period any new licences be they OEM or consumer will then be subject to charges. Users who have already obtained their Windows 10 licences will continue to be exempt. There is the possibility that additional services and features may offered at an additional cost in the same way Windows Media Centre was under Windows 8. However like Windows Media Centre these are likely to be specialised services targeted at a sub-section of commercial or enthusiast users rather than core functionality.

This is confusing. What they meant by free? Does it mean that it will turn into a subscription product next year which means paying for updates.

I was wondering that myself... last time they charged for an "update" was 98SE if I remember correctly.

Microsoft only makes confusions among users. If they really turn Windows into a subscription or pay to use new features, then I will really switch to Ubuntu.

If I had a penny for everyone i heard saying they were going to do that. Ubuntu is great, but its nowhere near a complete desktop experience and/or equivalent in terms of quality to Windows. Even OSX would be preferable :/

Ubuntu is great? Could've fooled me. After so many years (each one touted to be the year of linux on the desktop) each one a continuation of the long road of disapointments that OS has always been outside the backend role it works well in, its still got no traction except being stolen and used by google to act as the backbone for android.

What do you mean not a complete desktop? I'm using it on my HTPC and it works really good.

Unfortunately some people have this weird perception about Ubuntu (or Linux in general) when comparing it to Windows (or even OS X). They're desktop OS and Ubuntu is complete as needed to be, heck it's more complete out-of-the-box than Windows 10 either, especially with the inclusion of Office Suite (yes, it's not Microsoft Office but its still desktop office suite, better than web versions).

That would be way too stupid for Microsoft to even do that to their now only OS that used by billions of users. Imagine the backlash will happen, it could be even a massive exodus and Microsoft essentially hit themselves in the heart. But at the same time, I have a bad feeling they can even decided to go on stupid route sometimes.

................. It means that you don't have to pay for it. Seriously people, this is ridiculous

I think you're looking too much into it. Free looks good on a slide in a presser. It looks good in headlines. Apple uses free every time it updates OS X. It's marketing.

It means free however, that being said, I imagine at some point they will start to phase computers and devices out saying they'll give a "subpar" performance so it won't be supported. Now when that will occur I don't know, but they want you to purchase a new computer at some point so they can get paid for Windows 10. Unless they think businesses and the the app store are going to give them enough money...

I wonder if it will be free for anyone as an iso. That is, you don't need windows 8 or 8.1 or 7. Just install it if your computer can deal with it. Free for everyone, not just people already on these versions? Hard to say.

No I don't think so as people had 1 year to upgrade so if they remain on 7 / 8 they lose the free upgrade

Windows 10 Millennium Edition

Good to hear they'll still have a tight certification process for xb1 cause they sure as h3ll didn't care about the crap that went into indie section

For this anniversary edition, they should have a feature where if you press a certain button on your keyboard, the entire GUI will switch to a classic Windows 95 shell and pressing that button again will instantly switch back to the modern Windows 10 shell. Kind of like Halo 1 & 2 Anniversary :D

It's called Classic Shell. Posted via my Motorola Startac.

Are they just renaming Redstone - anniversary update?

Likely it's being delayed, so they put together something with more features to release earlier and give it a new name.

They didn't rename anything. Redstone is just a codename and that name will continue to be used, the public name for this update will be "Anniversary Update", and that's it.

Thanks, I was just trying to clarify that Redstone and this Anniversary update are one in the same.

only games for the xbox one will need to be screened through the id@xbox syste. uwp apps do not need to go through this. i read on polygon.

They didn't mention anything about GWX promotion ending...did they? Or how this tied into that or if Win7/8/8.1 qualify/upgrade directly to Anniversary update....

Well that pretty much confirms a July release (possibly July 29 as that's the one year anniversary of Windows 10's release).

Making the "Redstone" update free is a good move. Many still haven't upgraded to Windows 10 and I cannot really blame them. Windows 10 is still have some quirks compared to Windows 8.1 and 7. Not to mention several features they've removed that hopefully gonna comeback on Anniversary Update (with some confirmed will return). First batch of Windows 10 (TH1 and TH2) feels like a "beta test", hopefully this Anniversary Update will have huge improvement from those in terms of feature-set (especially the return of removed ones), stability, reliability, less buggy and quirky/glitchy-free (or almost), usability improvements and maybe performance (optimization, though this is least issues depending on the machine).

"Anniversary Update"? FFS who names these things? What will you call it next year with a name like that? Just call it Windows 10.1 or Windows 11 or Windows 2016

Or Windows 20, but only Core i7 and higher can update to maintain a good customer experience.

Well if you charge for updated in the future RemixOS is comming http://www.jide.com/en/remixos and maybe ReactOS will be usable https://www.reactos.org/
Windows Central Newsletter
Thank you for signing up to Windows Central. You will receive a verification email shortly.
There was a problem. Please refresh the page and try again.