Windows 10 Anniversary Update to include new features for students and teachers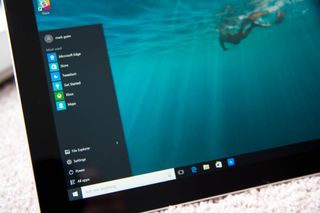 Microsoft wants Windows 10 to be used more in the classroom. Today, the company announced that the upcoming Windows 10 Anniversary Update will include new features created specifically for the education market.
In a blog post, Microsoft's Windows and Devices head Terry Myerson wrote about some of those features. They include new apps that are created for teachers and students:
Microsoft also stated that the update will allow Windows 10 PCs to automatically update outside of class times so that there will be no issues with downloading files during the day.
Myerson also wrote about how the upcoming Windows Ink drawing API will be helpful in the classroom:
Certainly a great place to start !! Hoping it's suitable for the UK ** 950xl and loving it !!

Why would a kid note down a reminder 'call mom tomorrow' ?

Because they're away from home at college?

May be student is from foreign country?

Their parents could be divorced and they live with their dad? A lot of reasons, really.

I hope Windows 10 catches on in classrooms. My school is moving completely to Chromebooks which is horrible. Makes me Glad this is my last year. Only the teachers have Windows laptops now--even the desktops are going. Windows Central for Windows 10-Microsoft Lumia 640

So are Chromebooks a teal thing where you live? Here in Hungary, people just laugh at them :D Posted with the Windows Central app for Windows 10 on my Lumia 535

Chromebooks are stupidly real in America. They're so bad. I'm using one right now and it makes me want to type out this essay on my phone instead. Okay so they're not "the worst thing" but they're bad.

This is so strange. At our university, we use several special programs for all the different professions, but all of them are written for Windows, or at least are multi platform and available for Linux/Unix too but licensed on Windows for the university, so it's impossible here to switch to Chromebooks or macs etc. And it's good :D
And they're finally adopting Windows 10 instead of using Windows 7, or even XP on some older laptops here. Slowly, but they are doing. One strange thing is, that the Windows 10 PCs in the geoinformatics lab are still running build 10240 :D Posted with the Windows Central app for Windows 10 on my Lumia 535

My school uses Google everything unfortunately. Every student has a Google Account provided for them. Windows Central for Windows 10-Microsoft Lumia 640

Our University provided a google account for everyone, but couldn't afford to switch to Chromebooks because our Uni does mostly Engineering & Science, both subjects which need Windows. So, they have Windows 8.1 desktops with i5 and 16 GB of RAM in the computer labs.

Ours are even more stupid. All kids have Google accounts and all the kids have access to 365 accounts, but the district never set up the 365 accounts so every time i try to use a modern MS product that prompts 365 log-in they can't do it. And we paid for this $hit. I am like the only one beating the Anti-Google-Product drum around here.

Our university gave free Windows 7 Pro, and then 8.1 Pro, and then office, and a whole suite of Microsoft Products for free through MSDNAA. Then they fell out with Microsoft over $$$₹₹₹ during renewal, and now the campus I was in doesn't offer it, but students of the same programme but from another campus can avail all this. Sometimes students say "ah, let's do this in Google Sheets" and I'm like dude that's completely useless...

Is it of any use without WiFi? Like to open docs and spreadsheets?

Yes. They have basic offline apps but Windows RT is a thousand times better than them. At least it has real Office and file management. Chromebooks are just an unfortunate fad and in educational institutions like colleges in the US, all I'm seeing these days are Macs and Chromebooks. Really stupid.

Not really. You kind of need Wi-Fi. Windows Central for Windows 10-Microsoft Lumia 640

In which place people dont laugh at them except some noob school management ?

They are pretty laughable.

Districts that don't have the funding to buy other portable computers. Chromebooks are dirt cheap and if all you're doing on them is word processing, they aren't a bad investment. They obviously don't do even a sliver of what another OS could, but I think people overlook how terrible education funding is in a large portion of the United States.

My school switched (mostly) to Macbooks and iPads. The library uses iMacs, they bring Macbooks in the classrooms, the graphics design class uses iMacs and Macbooks, and they sometimes bring iPads into the classrooms for certain assignments. The only Windows computers now are in my computer programming class. Also they use Google apps for everything (gmail, Google Docs, Google Drive, Google Classroom, etc). I'm glad this is my last year also... lol.

My School computers are still running vista and linux haha. Everybody take their laptops to class.

Microsoft, If you want to help students, please release a new Encarta Student version.
I don't mind outdated articles. But it's great for everything in one place.

why put resources into this if you have the internet and everything there ? It makes no financial sense ..

Encarta had a lot of stuff, I remember doing all of my High School projects with it and I always got better information than my classmates who used Wikipedia, plus if integrated to Cortana imagine how productive and useful it would be. Posted via the Windows Central App for Android

It has been proven that Wikipedia is more accurate than most encyclopedia. Microsoft would just be duplicating work already being done.

Ironically, when I bing encarta, the first result is the Wikipedia page about Encarta and the second is encarta.com

Cool. We need more and more of features for education sector.
Windows Central Newsletter
Get the best of Windows Central in in your inbox, every day!
Thank you for signing up to Windows Central. You will receive a verification email shortly.
There was a problem. Please refresh the page and try again.