Windows 10 with Bing SKU reportedly to be used in some China-based tablets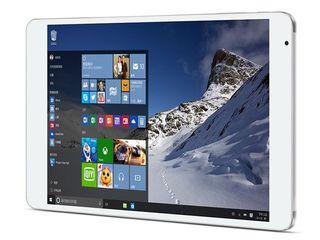 Earlier this year, a product slide for future versions of Intel's Compute Stick showed that Windows 10 will come with Bing installed. While Microsoft has never confirmed that it was going to release this particular SKU of Windows 10, a new report claims that the China-based hardware maker Teclast will start selling cheap tablets that have Windows 10 with Bing installed.
According to Liliputing, Teclast says their 9.7 inch Teclast X98 Air 3G will have Windows 10 with Bing, along with an Intel Atom Z3736F Bay Trail processor, and 2GB of RAM. It will sell the tablet with 64GB of storage in a dual-boot version with Windows 10 with Bing and Android 5.0 Lollipop. Pricing was not revealed, but Teclast says it will start selling tablets outside of China to Europe, the Middle East and Asia in the near future.
Windows 10 with Bing looks like it is similar to Microsoft's Windows 8.1 with Bing that was first offered to PC OEMs in 2014. The SKU,which was only available as a pre-loaded OS on devices, has all of Windows 8.1's features, except that it has Bing set up as the default search engine. People who buy a new PC with Windows 8.1 with Bing pre-installed still have the option to change that search engine default. The SKU was priced lower than the normal Windows 8.1 for PC makers, and that appears to be the strategy for Windows 10 with Bing as well.
Source: Liliputing
It means Bing is the default search engine.

It's ''Windows 10 with bing'' SKU

Confuses... So it just has bing as default search engine... Why not just call it Windows 10 then?

Because on regular Windows installation the computer maker can switch the default if they feel like it. With this SKU they aren't allowed to do so.

They can change the default search - the supplier has to set it to bing (most people wont change) - with normal windows 10 the supplier can set another default search.

So yeah... It's just Windows 10 with Bing as default...

Doesn't windows 10 has Bing as default already??

Because the OEM has branded it for Bing, i.e. leaving everything "Bingish" as much as possible (whilst still allowing the consumer to manually adjust as they see fit). And for that "good deed", they've likey been subsidised (or given a sweeter deal), & hence they can pass on a slightly lower cost to the consumer. Hence Bing edition SKU....

Too lazy to read/comprehend the article bro?

Isn't Bing the default on regular Windows 10 too?

No not always. The OEM can get paid to set its default to another search engine... By Google for example, I've had several Windows machines, in the past, that came with Google as the default search engine.

Confused x 3 What exactly special is that device?

What's the price? Posted via a surface hub

he most special thing is that it dual boots Windows 10 and Android.

China tablets are cheap
If you want similar specs but doesn't want to dual boot with Android, you can find a good one from Onda (Another china brand)

Because labor fee are cheap. Posted via the Windows Central App by OnePlus One

Who cares where the tablet is made, it will be available outside China.

Not only because low labor cost, but the entire manufacturing chain is in China, especially in Shenzhen, that's why WinHEC is held there. Huawei, Foxconn, DJI and so many other big and small OEMs

Because on the first six days of creation God created the world, and the rest are made in China.

I have a China based Windows tablet
Onda V975W runs Windows 8 with Bing, awesome retina screen!
And now I had upgraded it to Windows 10 Home.
Now this Windows 10 with Bing is kinda confusing.
Why isn't my tablet upgrade to Windows 10 with Bing?

Windows 10 with bing just means the supplier HAS to package it with Bing as default, whereas with standard Windows 10, the seller of the device (Dell, Lenovo etc) can be paid to have say Google as default. It doesn't really affect you, since you can easily change the search engine.

I hope the performance is good on those tablets. I updated my Toshiba Encore 2 that had Windows 8.1 (1GB of Ram) with Bing to Windows 10 and now the performance has decreased. Framerate and animation on transitions stutter. I've even turned off the transparent features to help. No luck. MS Edge fonts are smaller and hard to navigate. And touch points are not responsive but in all due respect I'm having touch point responsive issues on my Surface 3 with Windows 10. It's like you have to press on the app icon and hold for a second or two where as I use to be able to lightly touch and the app would open quickly. Also I'm thinking Windows 10 OS takes up lots of space. I'm quickly running out of space and perhaps that my have something to do with the performance. In that I may need to free up space. Which I did have to uninstall some apps to load Windows 10 but still prior to upgrading and nearly maxing the space; Windows 8.1 with Bing ran smoothly on the tablet. I imagine that the continuous updates to Windows 10 will hopefully improve performance but after having a smooth running tablet; I wonder if Windows 10 good for the small cheap lower spec tablets that flooded the markets last year.

What?!?! It can dual boot Android and Windows 10?!? I want that Posted via the Windows Central App for Android

This should be the one that W7and 8 prirates have for free

First, I have no need for any search engine but Bing. My grampa use google. Second, not sure if I trust the chinese
Windows Central Newsletter
Thank you for signing up to Windows Central. You will receive a verification email shortly.
There was a problem. Please refresh the page and try again.