Windows 10 'Blue Screens of Death' may add QR codes to help troubleshoot issues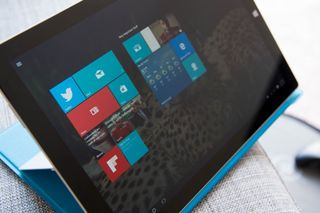 If you encounter the dreaded "Blue Screen of Death" when you use Windows 10, you might also see a QR code show up in the future. Microsoft is quietly testing the addition of QR codes for at least a few Windows 10 users.
Reddit user 'javelinnl' (via Neowin) posted a screenshot of a VM version of Windows 10 with the QR code. In theory, users could use a smartphone and scan the code, which can then take the user to a specific support page. They could get more info on the error and troubleshoot their PC to find out what caused the crash and prevent it from happening again.
Such a QR code, combined in a BSOD alert, could make finding and fixing a Windows 10 issue much faster. There's no word on when, or if, Microsoft might add this new feature for all Windows 10 users.
Will Microsoft bring back native QR reading for Windows 10 Mobile for this to happen?

I would love that to return!

The Bing app for iOS has QR scanning, by the way.

& denso publishes an official app on ios lol

Denso? Like in cars' air conditioners?

Now that Cortana got ears I would like to see it get eyes too to enable this.

They'd probably make a support app that has QR scanning that would show the info in-app.

It just goes to the horrificly generic windows.com/stopcode page on the screen c:

Yea cool. Now, I don't mind to get BSOD at all.

Does this mean the build in qr scanner will return in Windows 10 Mobile?

I think it would be a lot more useful if the error code itself was in the QR code. Having the QR code help you type the website is only so useful. On the page that you go to from the QR code, there's currently no way to actually look up the actual error. Having it take you to the page and automatically search for the specific bugcheck code by passing it in the querystring portion of the URL would be *much* more useful. Posted from Windows Central for Windows 10

I think that will be difficult to implement, I mean it is a BSOD so not much is working at that point. However, I agree it would be great and I don't think its impossible so never say never!

I agree it would be difficult to implement. A good start would even just be to improve the content on the page the static link leads to. Posted from Windows Central for Windows 10

I would hope that it would. Would be strange to have a QR code that didn't have the error, because if I saw a QR code, I wouldn't write down the error, I would just scan the code. Since the blue screen automatically restarts itself after it's done loading without waiting, I might miss the error code entirely and then be stuck on the webpage with no idea what to look for.
However, this is a manually initiated crash, so maybe it would be different for an actual crash. As usual hopefully subject to change a lot since this is still in development.

Thats why it usually stores a log on the Hard disk

I saw this QR code today on my PC with current insider build 14316.

Good cause I have been having a lot of blue screen problems on W10, whilst I had none with 8.1. Annoying.

I had this issue with broadcom wireless drivers. Manually delete them, uninstall your wireless device in device manager, reboot, let windows find drivers online (the OS default wireless driver always works on default)

Did you do any kind of fresh install of windows 10 or just upgrade? Also, are you using an insider build?

How about a link that you can click on from the BSOD that would actually print out the error to your thumb drive. The QR code is good only if you have something to scan it. Both a thumb drive link and QR code would be good. What other phone would you be using beside the L640? I'm just sayin.... *One Windows*

At the BSOD, the OS is no longer running, so the functionality you're looking for just isn't available. However, if the system is bootable afterwards, there *is* a clickable link from inside the Event Viewer. Posted from Windows Central for Windows 10

Understand what your saying.... the reboot option with event viewer sounds better in the thumb drive theory. Crashes can happen fairly quickly not given the OS time to write something to a thumb drive. But, the OS does have time as it's programmed to do, write whatever error to the BSOD after a crash has occured. I'm sure with technology in the future we will see stanby OS's built in a chip on the motherboard designed to talk to the active OS when BSOD's occur. In this case transferring information before the crash occurs to the stanby OS in a chip transferring the info then to your thumb drive. At this point your stanby OS is now your active OS where you will be able to also retreive the BSOD in the now active OS event viewer that you mentioned above.

That would be impossible. A BSOD occurs when the OS crashes and then locks itself down from further operation as to not make things worse. There's nothing you can do at this point except restart your PC.

I haven't seen any BSODs since switcing to Windows 10 from Windows 7. But this addition is great! Posted with the Windows Central app for Windows 10 on HP 250 G1 notebook. It is a scary old monster, I think :D

THis could be actually helpful if the QR code would lead to an page dedicated to the error code in hand, and not just a generic page where you can 'search' for the error message, we have Google for that. Also, it we need QR code support back in WP.

Still waiting new Build for Mobile....... Posted on Lumia 930 with
Windows 10 Mobile

It's not out because of a bug that breaks cellular data. Posted with the Windows Central app for Windows 10 on HP 250 G1 notebook. It is a scary old monster, I think :D

I get them almost daily when using edge post February surface 3 hardware update.

It's already happening. Happened on my PC Build 14316. Recovered too fast to scan though...

Norton has basically broken my PC on the newest Insider build 14316, so I can confirm I've already seen it more than a few times :(

Norton. Wow blast from the past.

Yeah, I trashed Norton a few days ago to stop that.

You can actually use another Windows 10 desktop device to scan the code, not just a smartphone. Windows 10 desktop has multiple QR Code scanners, you just need your device to have a webcam, my Windows 7" Windows 10 tablet could do this.

I can't send my dump log to MS anymore?

I saw the QR code on my PC (trying to access developer options for whatever reason caused a "CRITICAL_PROCESS_DIED" BSOD).

I've seen that as well. By the time I could get an app open to read the QR code the system restarted.

Good for when the machine will not boot. For the rest, they could add the native ability to understand crash dumps and make it more intuitive.

The ASCII face has to go as well: https://twitter.com/Cristoby/status/345925125805338624

It would be nice if Microsoft would have slightly more explicit error messages for all errors, not just a 0x12345678 hex code that means nothing to the average user.

I didn't think ppl still got the BSOD

That's so ******* funny. I don't understand why I'm still getting them as a surface owner.

The sad thing is that old BSODs contained a lot more information. Granted, most people couldn't do much with it, but it was there. Now we have a generic message and a QR that goes to a generic webpage. http://windows.com/stopcode as scanned on my W10M using an app called "QR Code Scanner" - not sure why people are saying they can't scan QR with their phone.

I've seen it, a few times now. ACPI error from 10yo laptop when I remove from docking station and then turn it on, whether from Hibernate (no Standby due to Intel 915GM legacy video) or full shutdown. Something to do with the auto-dim feature, which I have turned off in BIOS. Cool feature tho.

I never find qr to be working for me. If it gives number error just put it into google. Seen one bsod for last two three years. Great work there.

Anybody noticed the error code in the picture? "Manually initiated crash" lol. I know it was just a test done on purpose, but it still looks funny. Think about it, how can a user 'manually initiate' an OS crash? Maybe clicking the restart button? Or how about pulling the plug? Lol.
I'm in IT, so I automatically think in terms of problem solving. This reminds me of the old Helpdesk joke "My retractable coffee cup tray is broken!!"
"I manually initiated a crash and this blue screen came up...HELP!!"
Helpdesk response-"Don't do that again. Would you like the ticket number I just closed for this incident?"
"Suck gas evildoers!"
Windows Central Newsletter
Get the best of Windows Central in in your inbox, every day!
Thank you for signing up to Windows Central. You will receive a verification email shortly.
There was a problem. Please refresh the page and try again.